MOLINE, Ill. — Roasted Radishes with Lemony Pasta
Serves: 10
Prep Time: 10 minutes
Total Time: 35 minutes

All You Need:
2 (8-10 oz. each) bunches red radishes with tops
2 ½ tsp. plus 1/3 cup Gustare Vita olive oil, divided
½ tsp. fine sea salt, plus additional to taste
3 clove(s) garlic, minced
1 (12-oz.) pkg. Good Graces gluten-free penne pasta
2 tsp. lemon zest
½ cup fresh lemon juice
2 tbsp. fresh dill, chopped
1 tsp. Hy-Vee lemon pepper seasoning
½ cup Hy-Vee walnut halves, toasted and slightly chopped
1/3 cup Soirée crumbled traditional feta cheese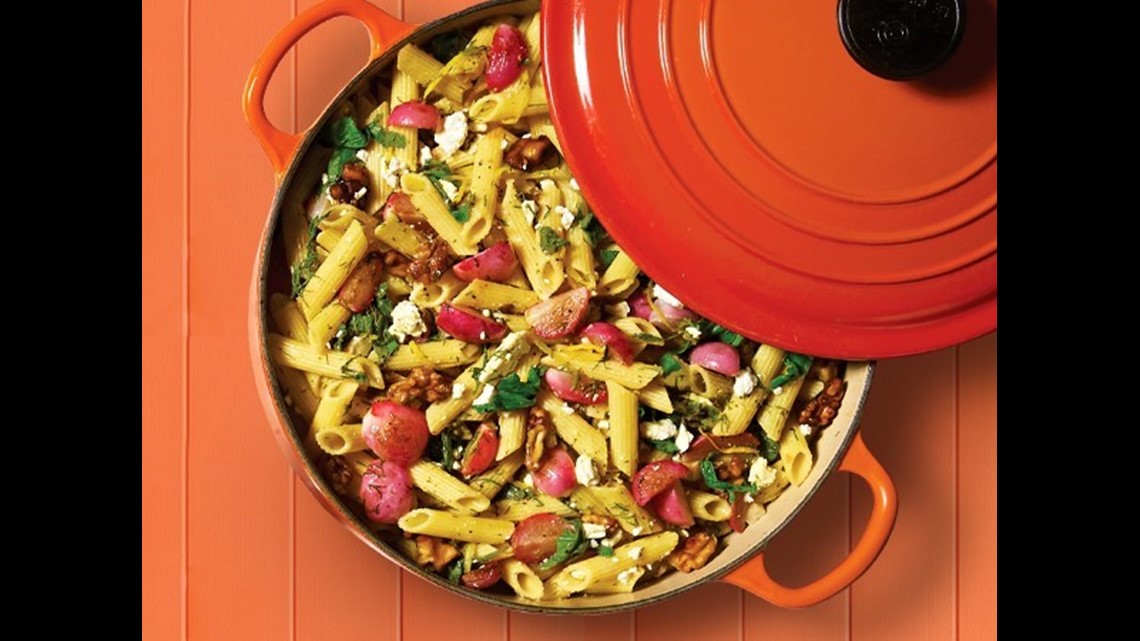 Preheat oven to 400 degrees. Line a rimmed baking pan with foil. Trim tops from radishes. Roughly chop leaves; set aside. Discard stems.
Cut radishes into quarters. Toss radishes with 2-1/2 teaspoons olive oil and 1/2 teaspoon salt; transfer to prepared baking pan. Roast for 18 minutes. Sprinkle with minced garlic; roast for 2 minutes more or until garlic is golden.
Meanwhile, cook pasta in a large Dutch oven for 11 to 13 minutes. Drain pasta. Return hot pasta to Dutch oven. Add chopped radish leaves; toss until slightly wilted.
Combine lemon zest, lemon juice, dill, and lemon-pepper seasoning in a small bowl. Slowly whisk in the remaining 1/3 cup olive oil.
Add lemon mixture roasted radishes, walnuts, and feta cheese to pasta mixture; toss until combined. Serve at room temperature.
Add ingredients to your Hy-Vee cart here.