MOLINE, Ill. — A classic "meat and potatoes" recipe can be a staple for the weeknight dinner rotations. This one-pan-wonder uses only the oven and is ready in about 30 minutes!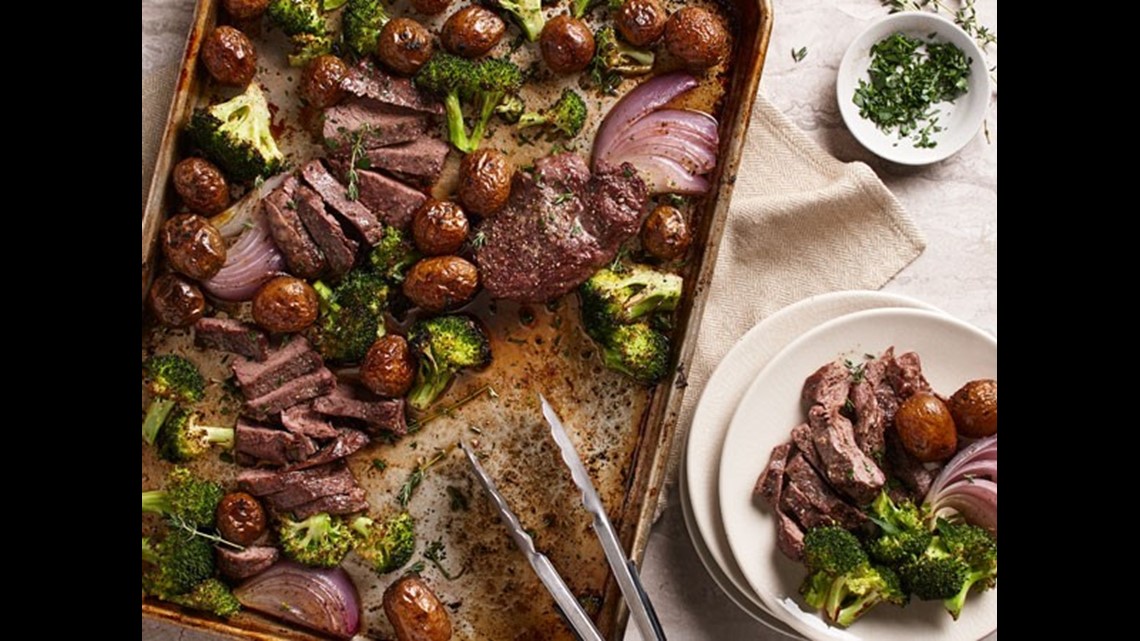 Sheet Pan Steak and Veggies
Serves: 4
Prep Time: 5 minutes
Total Time: 35 minutes

All You Need:
4 (4-5 oz. each) sirloin steaks
½ tsp. Hy-Vee garlic powder
½ tsp. Hy-Vee ground black pepper
1 (1-lbs.) pkg. garlic herb oven-ready creamer potatoes
1 tbsp. Gustare Vita olive oil
1 (1-lbs.) bunch fresh broccoli, cut into florets
2 tbsp. Hy-Vee unsalted butter, cut into 4 pieces
Fresh parsley, chopped, for garnish
Fresh thyme sprigs, for garnish

All You Do:
Preheat oven to 400 degrees. Line a large sheet pan with foil and coat with nonstick spray. Pat steaks dry with paper towels and pound to 1/2-inch thickness. Season both sides of steak with garlic salt and pepper; set aside.
Remove potatoes from packaging and toss with olive oil and spice mix. Place in an even layer on prepared baking sheet. Bake 20 minutes or until potatoes are fork-tender; remove from oven.
Preheat broiler to HIGH. Add broccoli and red onions to sheet pan, tossing to coat. Create 4 wells for steaks on sheet pan. Top each seasoned steak with one piece butter.
Broil 7 to 10 minutes, flipping steaks halfway through, until steak reaches an internal temperature of 130 degrees for medium-rare. Remove sheet pan from oven and allow steaks to rest for 5 minutes.
Slice steak across the grain into thin strips. Place back into sheet pan and garnish with fresh parsley and thyme sprigs, if desired.