MOLINE, Ill — For a second consecutive year, low water levels on the Mississippi River are again a concern heading into the fall harvest season. Weeks of increasing drought not just here in the Quad Cities, but also throughout much of the Midwest have left little opportunity for rainfall to travel back into the river. These dry soils have also held on to more of that rainfall, leaving even less to runoff into the river.
From one extreme to the other
This past spring, residents and businesses along the Mississippi River braced for significant, high-impact flooding as water levels rose to 21.5 feet, ranking preliminarily as the seventh-highest crest in history and just 1.19 feet shy of touching the record crest set back in 2019.
Fast-forward four months later to today and river levels have dramatically fallen from their earlier spring highs. The spring flooding came as record snowfall to the north of Minnesota melted quickly during April.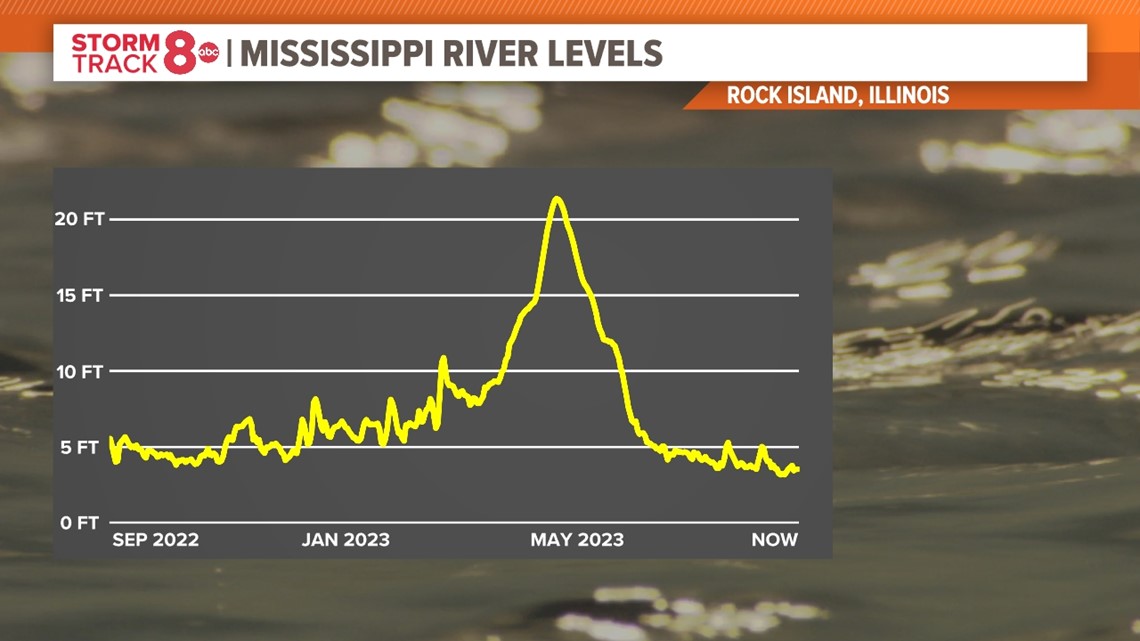 Now, with levels being low once again, concerns are growing that farmers will see another tricky fall harvest season with transportation challenges using the river for barge traffic. The Army Corps of Engineers currently has 16 dredges in operation on the Mississippi River to try and keep the water channel deep enough for barge traffic.
The U.S. Army Corps of Engineers has also constructed sills in Louisiana, an underwater structure that prevents saltwater from the Gulf of Mexico from moving upstream when water levels are extremely low. This was previously done in 2002, 2012, 1999, and 1988.
The cost to farmers this fall
As we reported last year, the low water levels meant lighter loads were required on the barges for them to successfully navigate the waterway. In some cases, farmers faced more than a 200% increase in shipping costs due to the low water. We are likely to see a repeat of this similar situation in the fall, barring any significant changes to the ongoing weather pattern.
According to the United States Department of Agriculture, around 500 million tons of goods worth more than 150 billion dollars are transported on rivers and other waterways each year in the United States.
Watch more news, weather and sports on News 8's YouTube channel