MOLINE, Ill — When it comes to weather apps and smartphones, there is no shortage of options to choose from. The Weather Channel, Accuweather, WeatherBug and the Storm Track 8 App are just a few of the choices you'll be presented with. But why do they all seem to never agree on the forecast? And which one has proven to be the most accurate?
At last check, there are about 8,000 apps available with the word "weather" in their title for Android smartphones and about 2,400 for iPhones. That's a lot of forecast data and a lot of variability in what you could end up consuming! Some have forecasts for the next few days, others for the next few weeks. You'll also find different radar displays, maps and miscellaneous features, too!
Let's use three different apps as an example, leaving out the names which I'll reference later on in this article. Apps A, B and C are all widely available in each major platform's app store. On this particular day, App A was calling for a 60% probability of rain at 6 a.m., while App B had 20%, and App C had 70%. That's a huge difference from 70% to 20%. How do you even begin to plan your day with that information? Here's some background on why those numbers are so different even if it's for the same location.
Each weather app has access to varying sources of model data. Some are exclusive to their respected company, and some are borrowed from other sources and then molded to make them their own.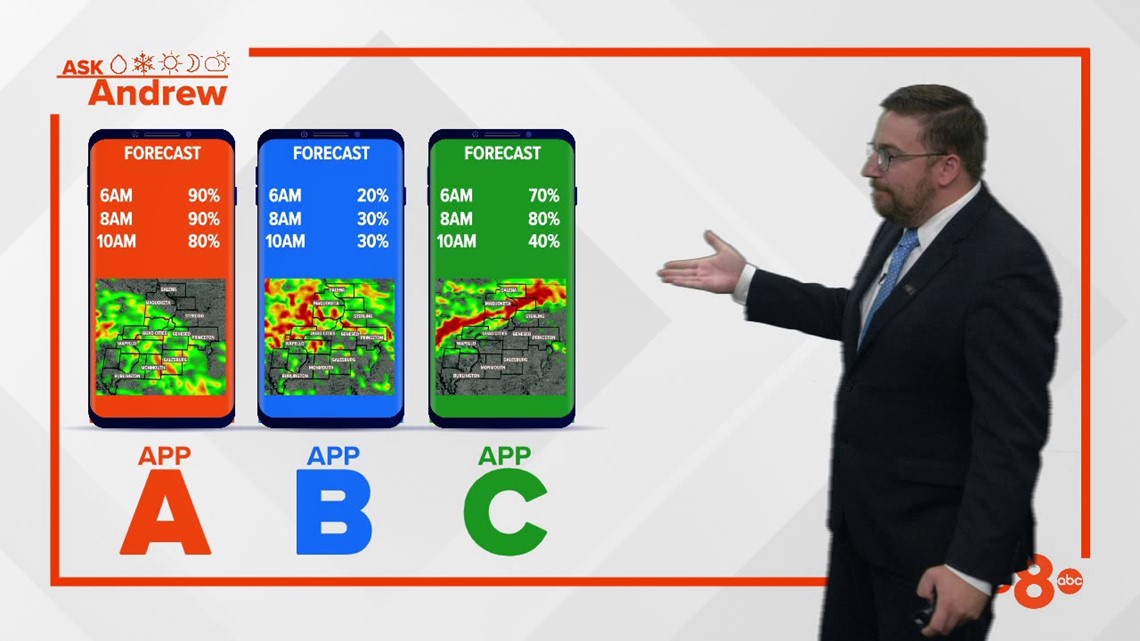 In this example, App A mostly uses data coming from the European forecast model, has no human input in terms of altering the forecast or making adjustments and only updates twice a day.
App B uses the American forecast model and has some human input to manipulate the data. It updates more frequently at four times per day.
App C has the most data manipulation by a human source, uses a blend of models and updates hourly.
The combination of these differences is what drives the varying forecast differences in each app. The fact that everyone is using a different source will often give you a different forecast outcome. It's no wonder these numbers are all over the place!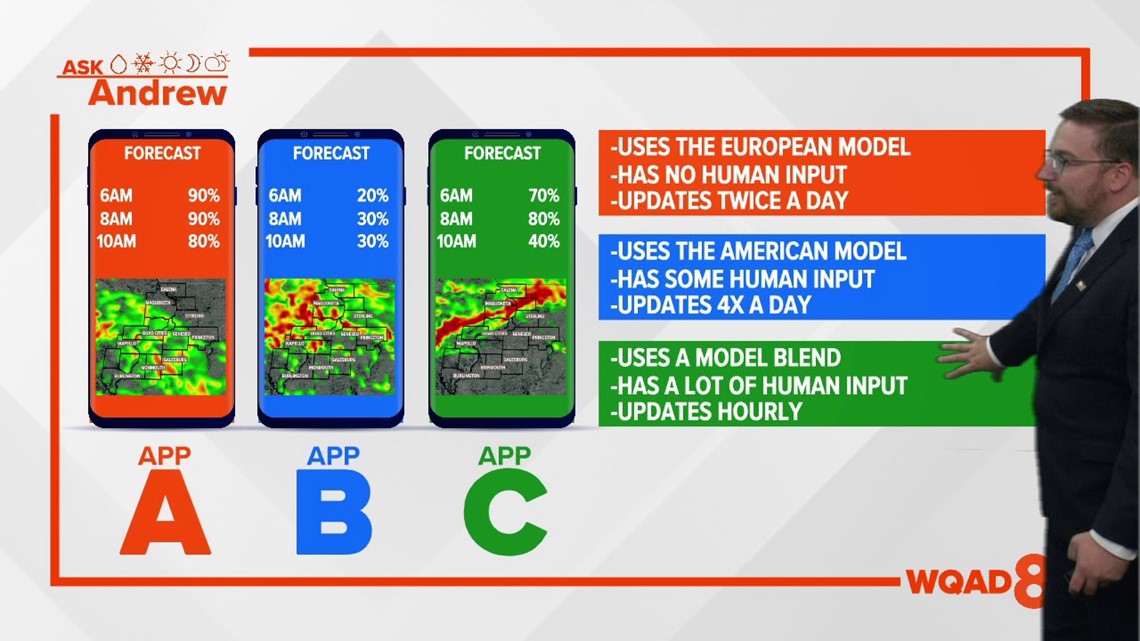 Forecastadvisor.com, a website that tracks the accuracy of some of the most popular weather apps on the market, lists The Weather Channel as the most accurate weather app (83.33%) followed by Weather Underground (81.72%) (also under the same umbrella as The Weather Channel ownership-wise) followed by AccuWeather (79.30%). Some of the least accurate apps included OpenWeather, Wetter and Weatherbit.
So, what's the story behind the StormTrack8 / News 8 App? Not to toot our own horn, but our app is updated and powered by not only our team of meteorologists here at the station, but it is also powered by the same forecast model used by the top two apps, the IBM GRAF model.
ForecastAdvisor does not track individual station apps from what I could find, but it certainly doesn't hurt to have our app on hand at all times for expert advice on your local weather forecast. Not to mention, we cover severe weather pretty thoroughly, too.
Personally, I have around half a dozen weather apps on my phone. Some are mainly for radar, some are for forecast analysis. Don't be shy about having more than one app for weather. You'll be well-covered!
Have a question you would like to ask for a future "Ask Andrew" Segment? Submit it, here!