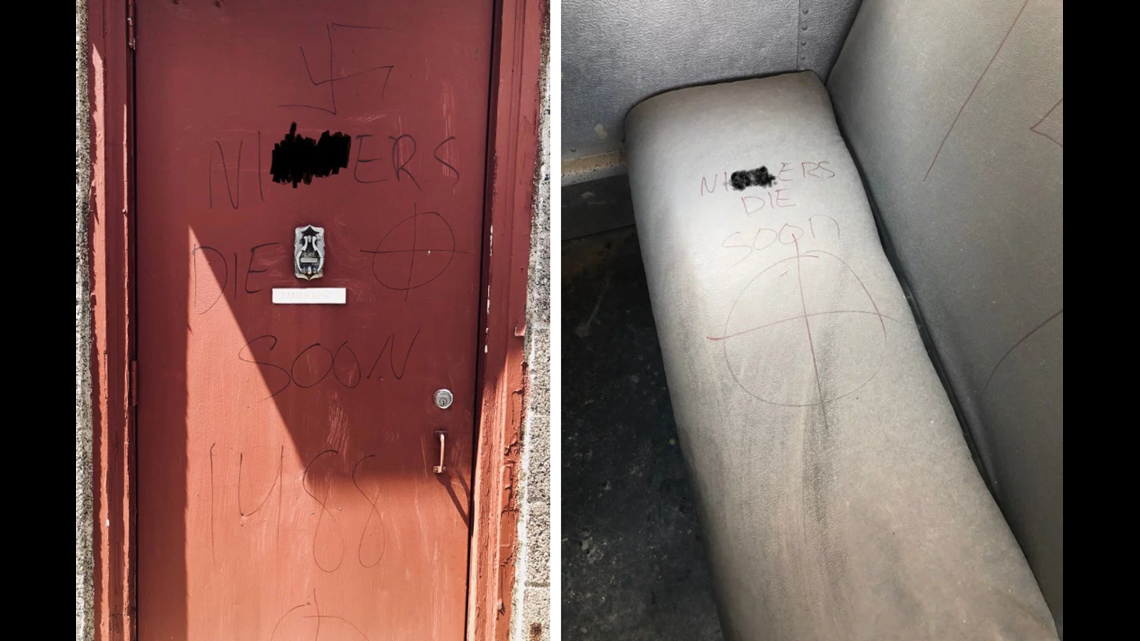 CLINTON, Iowa -- On the morning of April 27, Rev. Jerry Drake pulled into the back of Bethel AME Church in Clinton to find the door of his church bus pried open. Walking down the aisle of the bus, he found every single seat defaced in permanent marker with "N***ers," "Die soon," "F**k you,"  death threat symbols, and white supremacist symbols: swastikas, 14 (shorthand for a 14-word white supremacist slogan), 88 (shorthand for "Heil Hitler" or white supremacist leader David Lane).
He then walked to the front door of the church and found the same racist slurs, death threat and white supremacist symbols in permanent marker there as well.
Rev. Drake is black and the small Bethel AME Church congregation is predominantly black.
"This is a hate crime," Rev. Drake said. "It is targeting a particular race."
The vandalism is being investigated as a hate crime by the Clinton Police Department, and third-degree criminal mischief with damage over $500. The church had purchased the bus just two weeks before the incident.
Rev. Drake, a 14-year resident of Clinton, says although this is the first time  the church has been a target of racism, he and his congregation are taking precautions against the possibility of a violent attack. There has been a recent spate of hate crimes against black churches nationwide, like the mass shooting by a white supremacist in Charleston, South Carolina.
"We're being more cautious, installing security cameras," said Drake. But he will not prevent anyone from visiting the church. "We are just going to be aware of who comes in and out of the church. You have to take it really serious with everything that is going on today."
Clinton police have also been monitoring the church during services.
Still, the incident will absolutely not stop Bethel AME church members from worshiping, said Rev. Drake.
"We won't allow a hateful person to strike fear in their hearts of those who trust in the Lord," said Rev. Drake.
Rev. Drake said he wants the Clinton and surrounding communities to know that while it is "generally a nice place to live...racism does exist here."