IOWA, USA — Iowa Gov. Kim Reynolds' daily press conference Friday, May 29, 2020 at 11 a.m. on how the coronavirus pandemic is affecting the state.
Reynolds detailed how the state will use $1.25 billion in funding from the CARES Act's Coronavirus Relief Fund. The aid is to be used for "significant and unexpected expenses due to the pandemic," the governor said.
See below what the funding will be used for or listen above at the 24:40 mark.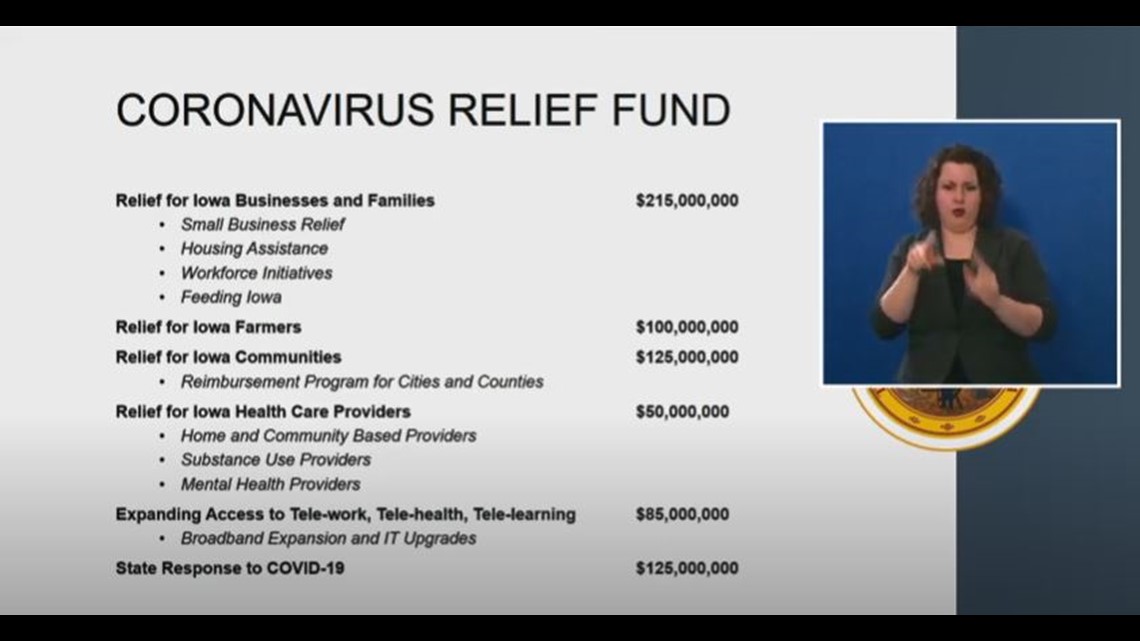 Reynolds thanked President Donald Trump for extending Title 32 through August, which allows the Iowa National Guard to continue "response and recovery efforts."
The governor said residents should continue "personal responsibility" insisting that "nothing has changed."
Rather than continuing daily press conferences, Reynolds will address the state on Tuesdays and Thursdays beginning next week.
Eviction and Foreclosure Prevention Program
Aid for those unable to pay their rent due to the coronavirus pandemic is now available.
The COVID-19 Iowa Eviction and Foreclosure Prevention Program is accepting applications for rental assistance.
The assistance is up to four months of rent for a maximum of $3,200. Iowa residents must be have been unable to pay rent as of March 17, 2020. The program is prepared to accept 20,000 applications, Debbi Durham, director of the Iowa Finance Authority, said.
NOTE: Those receiving an extra $600 on unemployment benefits as a federal stimulus are unable to apply.