LONDON MILLS, Illinois-- Spoonies Bar and Grill is serving up a tasty monster pork tenderloin, enough to make your mouth water.
"It's totally a different taste bud explosion," said Ethan Boyer, Spoonies Manager.
The almost 2 pound tenderloin is so big, just the sight of it may intimidate diners.
"(It scares) many people. When you take them out a sandwich that can feed their whole family and each of them get one...'Where am I supposed to put the rest?'...Is always a question," said Boyer.
Boyer says, on average, the restaurant sells around 300 to 400 tenderloins per week.
They constantly keep their refrigerators fully stocked with the tenderloin that takes half of the day to prepare.
The meal itself takes just a few minutes to make.
The tenderloin is dipped into the fryer until it turns golden and crispy then it's topped off with a bun and all the "fixins".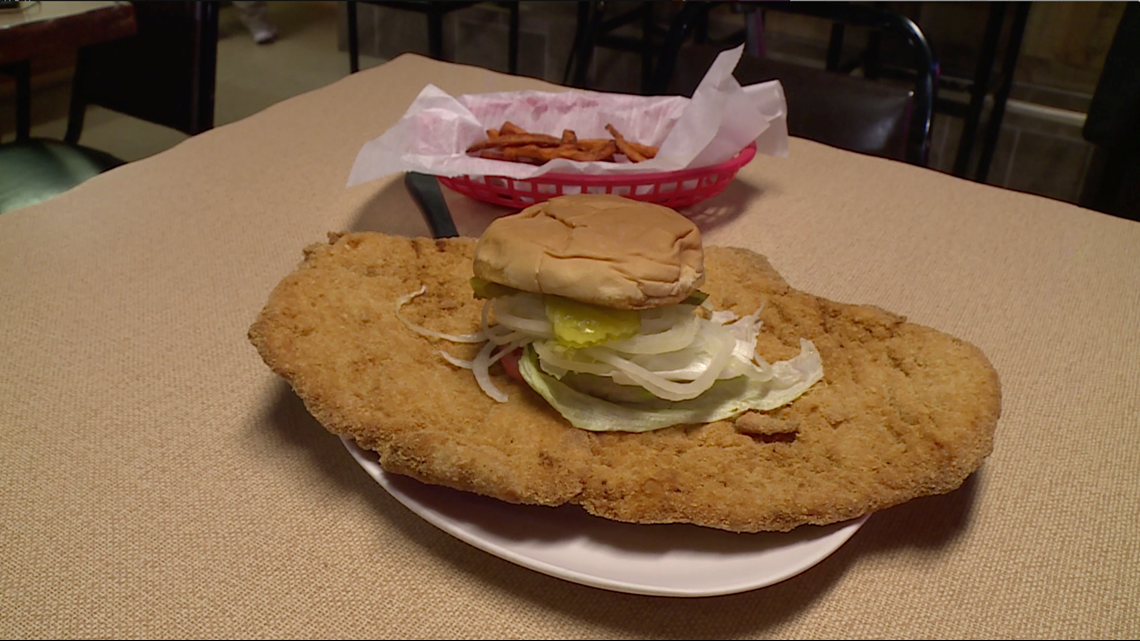 Boyer says the idea was a joke at first by an employee.
"Tired of making so many cuts and pound so many(tenderloins) out so we thought we'd do them bigger," said Boyer.
Instead of being the butt of the joke, the tenderloin became popular hit instead.
"It went over very well because it became an attraction and a 'hey you have to go see this thing to believe it', cause pictures just don't do it justice," said Boyer.
"I was working a night I had a guy from Ireland come in. How is someone from Ireland hearing about my tenderloin? It's crazy what social media can do these days," said Boyer.
Almost no one who's ordered Spoonies' homemade tenderloin has ever finished it, except for a couple of regulars.
"Get two or three meals out of it. You can't eat it all. I've never seen someone eat one completely," said Dave Cortelyou, customer.
The price of the tenderloin meal cost around 10 dollars and comes with a basket of fries.