MOLINE, Illinois — A Moline couple's kayaking adventure over the Memorial Day weekend turned into a Rock River baby eagle rescue mission with a happy ending.
Katey Phillipson and Travis Briggs were paddling on the Rock in Moline, kind of behind Farm and Fleet on John Deere Road, when they spotted a bald eagle nest with a  momma eagle watching over some chicks. As the pair prepared to pack up and head back to their truck, however, they made a startling discovery: one of the baby chicks had fallen out of the nest and was struggling, wet and bedraggled, along the riverbank.
"Mama flew away because a boat scared her," Phillipson said. "Trav caught the baby and we went over to some boaters to have them call the police."
The police told Katey and Travis about the Illinois Raptor Center in Decatur, Illinois, and urged them to contact the organization to help out the injured and scared mini-raptor.
The couple brought the bird home and made it as comfortable in their dog Charly's kennel and put in a call to the Illinois Rapoter Center.
Jane Seitz, the founder and executive director of the center, said they'd be happy to help rehabilitate the bird of prey and arrangements were made to meet halfway – at a Dunkin Donuts shop in Morton, Illinois.
"He was pretty bedraggled and dehydrated when we got him," said Seitz, who calls the eagle a he even though its gender hasn't been determined yet. "It's the youngest eagle we've ever had in and we're learning a lot from him."
The eagle – who Katey and Travis call Mr. Thomas after Thomas Jefferson and Seitz calls Morton because that's where she met him – was taken to a vet where he was diagnosed with a broken leg. The good news, Seitz said is Mr. Thomas/Morton is so young and fast-growing, the vet said his leg should heal up on its own in a couple weeks with only the aid of a small brace.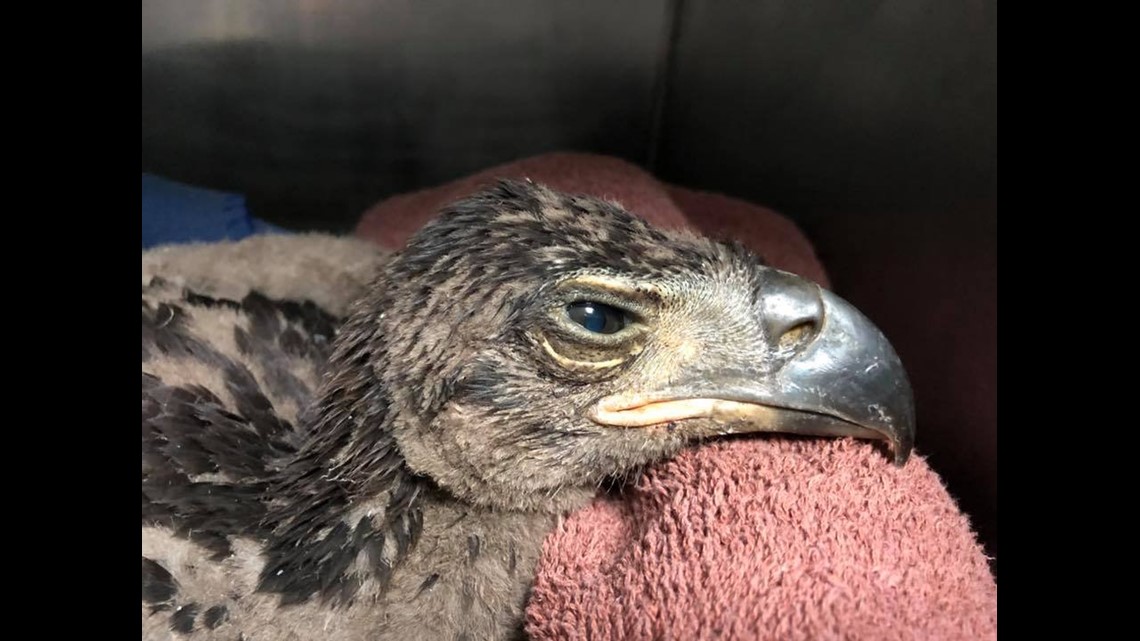 For now, the caretakers at the raptor center are feeding the eagle raw chicken breast and beef heart. They plan to add fish, quail and items with more scales, bones and fur that are more typical of an eagle's diet as he gains strength.
When it comes time to fly in a few weeks, they hope Mr. Thomas/Morton can model and learn from another rescue eagle the center has that glides around a large flight cage.
"We can't teach a bird how to fly because we don't know how to fly," Seitz laughed, noting they have had good success with other birds mirroring non-related rescues in the past. "Our goal is to get him healthy, get him grown and release him into the wild."