MOLINE, Ill. — The retail holiday shopping season takes over 61 calendar days from November to December. It's by far the biggest holiday season for the retail industry.
On Monday, Mark Grywacheski with Quad Cities Investment Group joined Good Morning Quad Cities' Ann Sterling to discuss what to expect this year and how high inflation may impact American consumers.
Before we get to that, let's talk stocks. Last week, the S&P 500, NASDAQ and DJIA were all down. Over the next two months, shoppers are expected to spend nearly $1 trillion on gifts and other holiday items.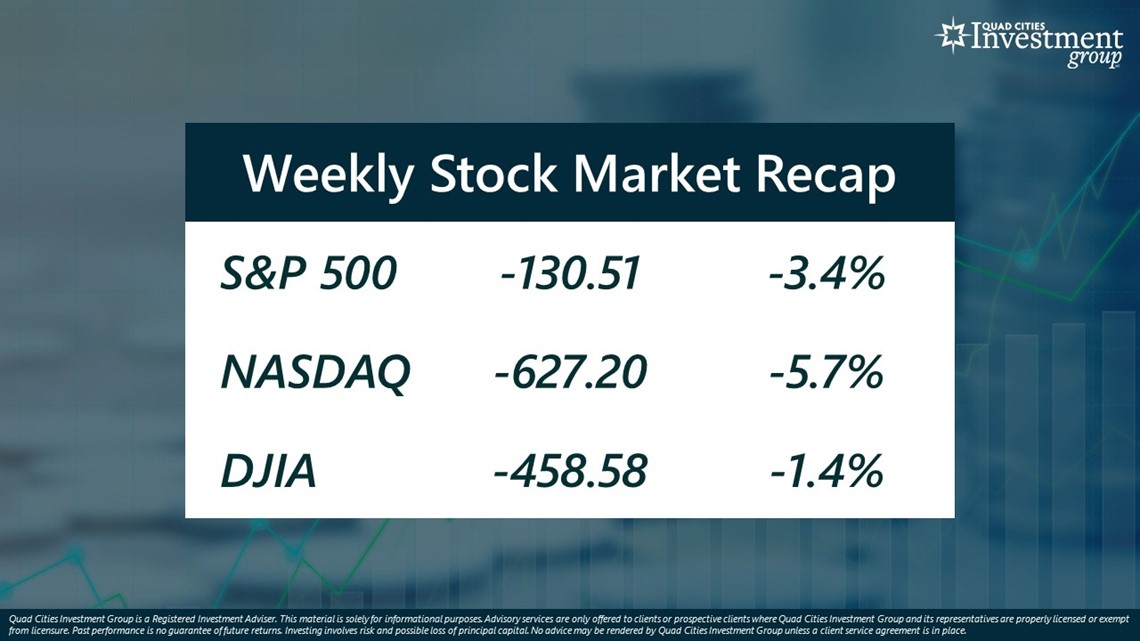 Sterling: On Thursday, the National Retail Federation released its annual forecast for this year's holiday shopping season. What are the expectations for this year's season and how does it compare to previous years?
Grywacheski: Holiday sales this season are expected to rise but at a much, much slower pace than the last couple of years. This year, holiday sales are expected to reach between $942.6 and about $960.4 billion. And those numbers do exclude spending on auto dealers and gas stations and restaurants.
So that's a 6-8% increase from last season's total of over $889 billion. But that 6-8% growth rate is much more subdued and than the 13.5% growth rate we saw last year and the 9.3% rate we had back in 2020.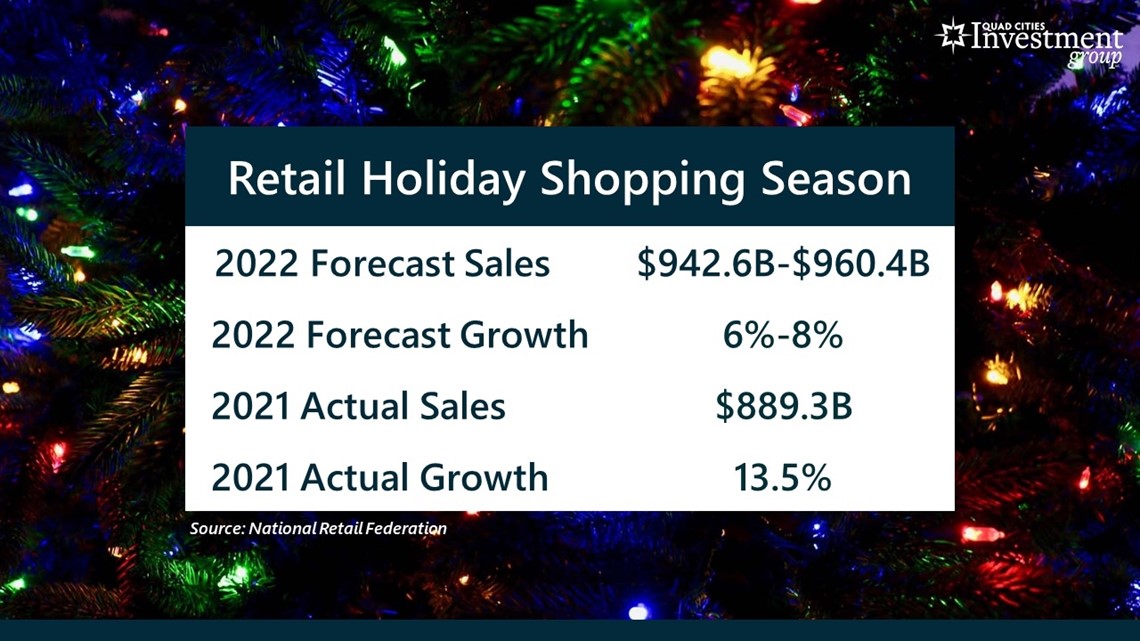 Sterling: Given the challenges that high inflation is placing on consumers, how is inflation expected to impact this year's holiday shopping season?
Grywacheski: Inflation is expected to have an impact on this year's holiday shopping season. If you remember, you know, back in 2020, the holiday shopping season was all about retailers and shoppers trying to essentially navigate the global pandemic. Last year was all about supply chain issues.
But without question, this year's theme is definitely inflation.
Remember, these retail sales numbers aren't adjusted for inflation. With inflation at 8.2%, that means that, on average, the same holiday gifts and items you bought last year, will now cost you 8.2% more this year adjusting for inflation. You know, holiday shoppers will actually be spending between 0.2-2.2% less money and buying fewer goods than they did last season.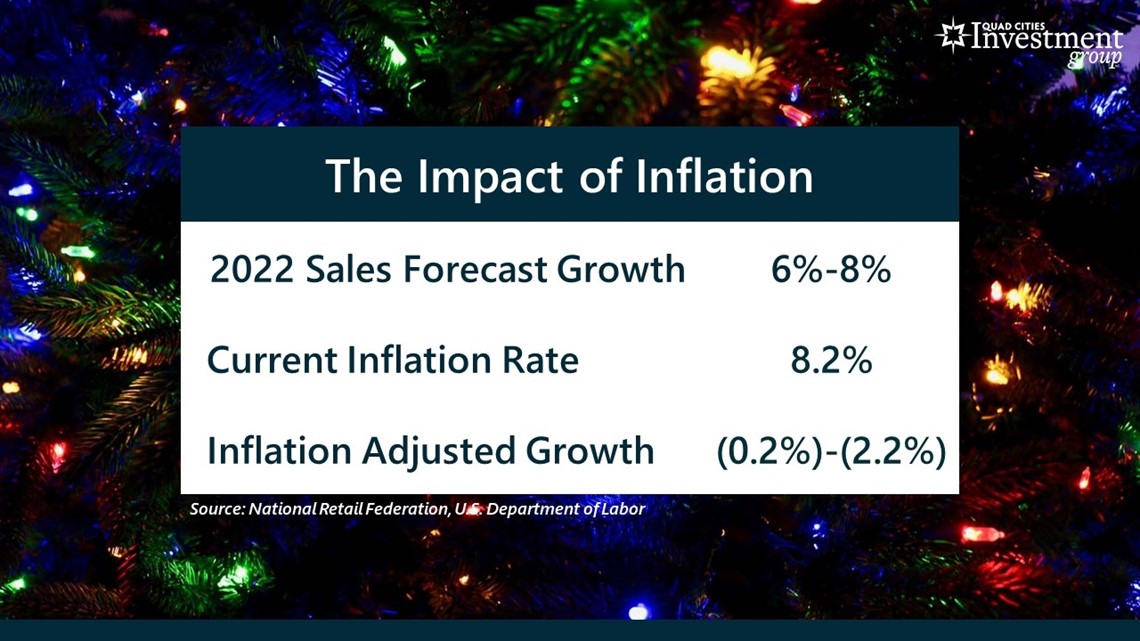 Sterling: To what extent should we expect to see the traditional holiday discounts that retailers typically offer this time of year?
Grywacheski: This holiday season we should see a steady offering of discounts and promotions to entice consumers to spend their money. Retailers certainly understand the pain that inflation is having on the average American household. Some of the more heavily discounted items are computers, electronics and toys. But if you shop around there should be plenty of deals where shoppers can save some money.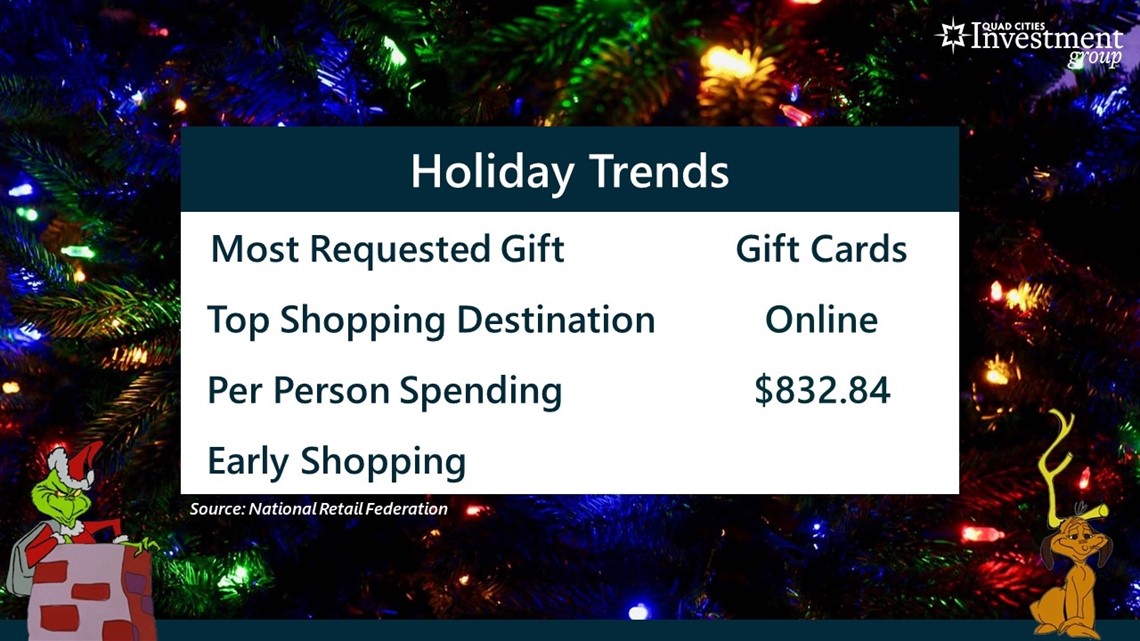 Quad Cities Investment Group is a Registered Investment Adviser. This material is solely for informational purposes. Advisory services are only offered to clients or prospective clients where Quad Cities Investment Group and its representatives are properly licensed or exempt from licensure. Past performance is no guarantee of future returns. Investing involves risk and possible loss of principal capital. No advice may be rendered by Quad Cities Investment Group unless a client service agreement is in place.
Watch "Your Money with Mark" segments Mondays during the 6 a.m. hour of Good Morning Quad Cities or on News 8's YouTube channel.