GENEVA, Switzerland — Two bolts of extreme lightning know as "mega flashes" have just shattered world records for both longest distance traveled and longest duration lightning flash.
The World Meteorological Organization (WMO) gathered a panel of experts to certify the findings in a report released on June 26th. The team of scientists used new satellite technology to measure the intensity and duration.
The Committee on Weather and Climate Extremes, which holds the official records of global weather extremes, found that the greatest single lightning flash covered a horizontal distance of nearly 441 miles across parts of Southeran Brazil on October 31, 2018. This is equivalent to the distance of Grand Island, Nebraska and the Quad Cities, or Boston and Washington, DC.
In addition to the farthest traveling flash, the longest-lasting flash was verified across Northern Argentina on March 4, 2019. That lightning flash event lasted a record 16.73 seconds.
"These are extraordinary records from single lightning flash events.", says, Professor Randall Cerveny, Chief Rapporteur of Weather and Climate Extremes for WMO.
The previous record for the longest detected distance for a single lightning flash was 199.5 miles on June 20, 2007, across the state of Oklahoma.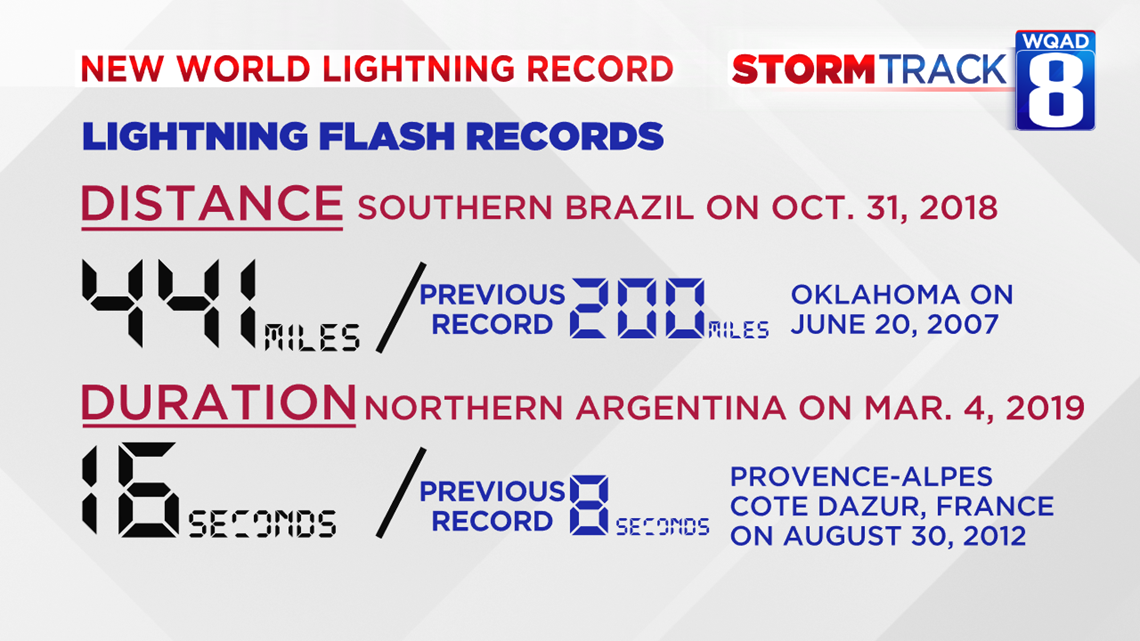 The previous record for the duration was 7.74 seconds on August 30, 2012, over Provence-Alpes-Cote d'Azur, France.
New satellites provide near-global coverage of total lightning (both cloud-to-cloud and cloud-to-ground flashes.
Other lightning flash extremes that the WMO has certified:
-21 people were killed by a single lightning flash as they huddled for safety in a hut in Zimbabwe in 1975.
-469 people were killed in Dronka Egypt when lightning struck a set of oil tanks, causing burning oil to flood the town in 1994.