WASHINGTON — Saturday is the pick day of the weekend!
Quick Forecast:
Saturday: Mostly sunny. High: 60.
Saturday Night: Increasing clouds. Low: 45.
Sunday: Morning rain and showers. Late day clearing. High: 59.
Saturday looks gorgeous. Highs will top out in the 50s with plenty of sun and lighter winds. All you'll need for Small Business Saturday shopping are your sunglasses.
Clouds will begin to increase late Saturday night ahead of rain to start your Sunday. Most of the rain will fall between 7 a.m. until 2 p.m. Sunday. Rain could be heavy at times. Showers will clear most areas by around 6 p.m. There will likely be rain at the start of the Commanders game, but the weather will gradually improve toward the end of the game.
All wet weather looks to clear throughout the afternoon and the evening hours look dry, but cloudy. Despite the rain and clouds temperatures will still be mild in the mid to upper 50s.
The rainfall will be beneficial and thankfully not enough to cause any flooding concerns. We currently have a 0.33" rainfall deficit for the month of November, so the rain on Sunday should bring us back up to near or above average for November rainfall.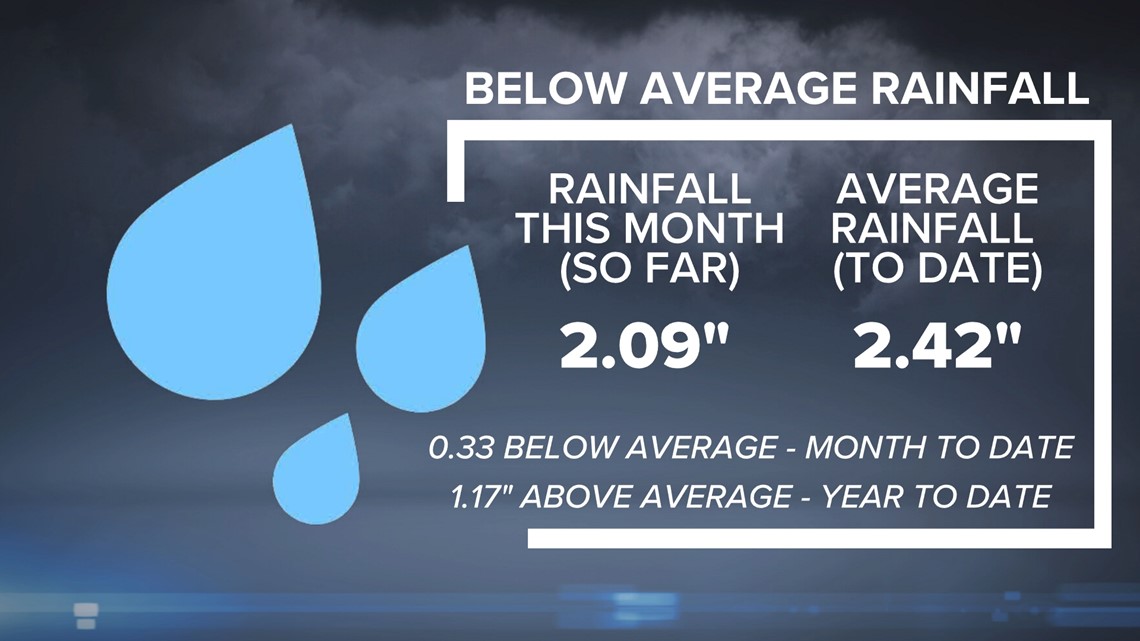 Detailed Forecast:
Saturday: Mostly sunny. Mild. Highs: 59 - 63. Winds: WNW 5- 10.
Saturday Night: A few clouds. Lows: 39 - 45. Winds: S 5.
Sunday: Rainy and showers in the morning. Rain ends in the afternoon. Highs: 57 - 62. Winds: S 5 - 10.
Sunday Night: Partly cloudy. Lows: 44-49. Winds: SW 10 with stronger gusts.
Monday: Partly sunny and breezy. Highs: 54 - 58. Winds: NW 15.
Skies will clear for Monday and it looks like a beautiful, but breezy, start to the week. Tuesday will be a few degrees cooler but still very nice with partly cloudy skies.
Wednesday looks quite wet right now with off and on rain ahead of a cold front that will kick up wind by Wednesday night and usher in cooler temperatures for the start of December.
Extended Outlook:
Tuesday: Partly sunny and cooler. Highs: 51 - 56.
Wednesday: Rain and showers. Highs: 57 - 61.
Thursday: Partly to mostly sunny. Highs: 48 - 52.
Friday: Partly sunny. Highs: 45 - 51.