MOLINE, Ill. — It was a warm start to October, with temperatures reaching the low 80s. These high temperatures made for October 2021 being considered one of the warmest on record.
The below graphic shows the trend of the first frost happening during the second week of October, except for the year 2017. Are we on trend to follow 2017 and have a late frost? I would say so.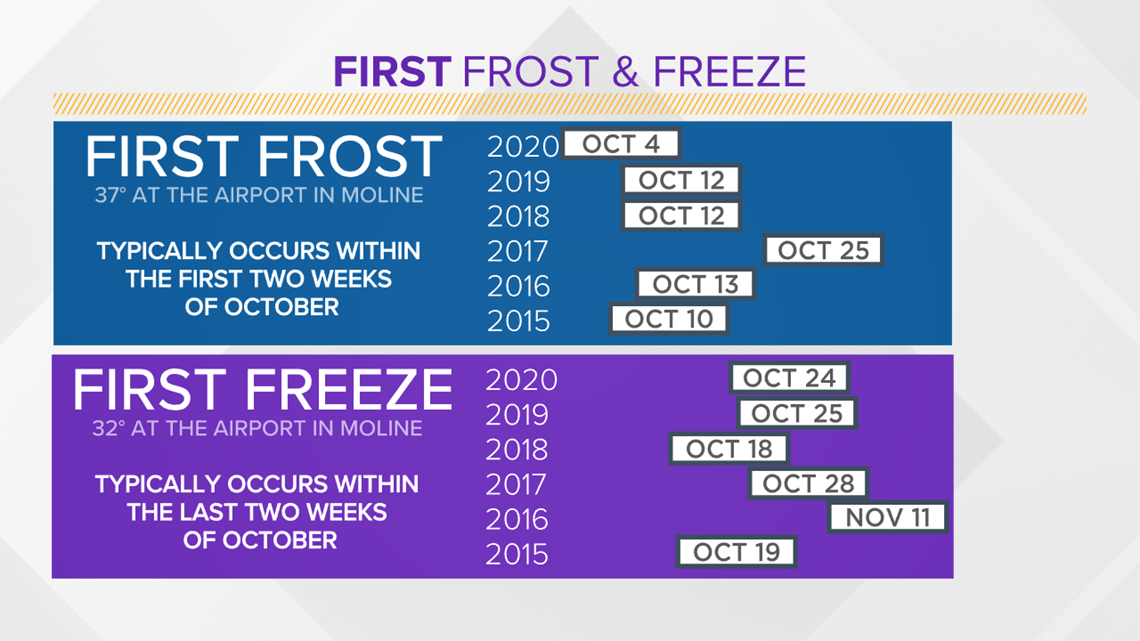 So when can the Quad Cities expect its first frost of the season? Early Saturday morning, Oct. 23.
A frost advisory is in effect for the Quad Cities area from 1 a.m. to 9 a.m. Saturday. The advisory includes the following counties: Iowa, Johnson, Cedar, Clinton, Muscatine, Scott, Keokuk, Washington, Louisa, Jo Daviess, Stephenson, Carroll, Whiteside, Rock Island, Henry (Illinois), Bureau, Putnam, and Mercer.
With a frost, sensitive outdoor plants may be at risk if left uncovered.
Clear skies. Clear skies allow for heat to exit into the atmosphere, therefore allowing temperatures to drop rapidly.
Temperatures between 33 and 37 degrees. Patchy frost can occur if temperatures are between 38-42 and frost/freeze at 32 degrees and below.
Calm-to-light winds. This prevents stirring of the atmosphere, which allows for there to be thin layer of super-cooled temperatures to develop at the surface. These temperatures allow for the surface to be much cooler, up to 10 degrees, then the air right about the surface, which helps frost form at the surface. For example, it could be 39 in air, but at the surface, it could be 32 due to calm winds.
Topography. The shape of the land can help with frost. For example, in a valley, they experience more frost since cold air settles in the bottom because it is heavier than warm air. Valleys can also shelter an area from strong wind breezes. This doesn't mean that flat land can't get frost. It just means that frost will not occur as often.