MOLINE, Ill. — Each year, we see leaves transform from luscious greens to the vibrant shades of orange, red and yellow we associate with the fall season.
But where and when can you find the most picturesque views of these burning hues in the Quad Cities area before they all fade to brown? We've got you covered.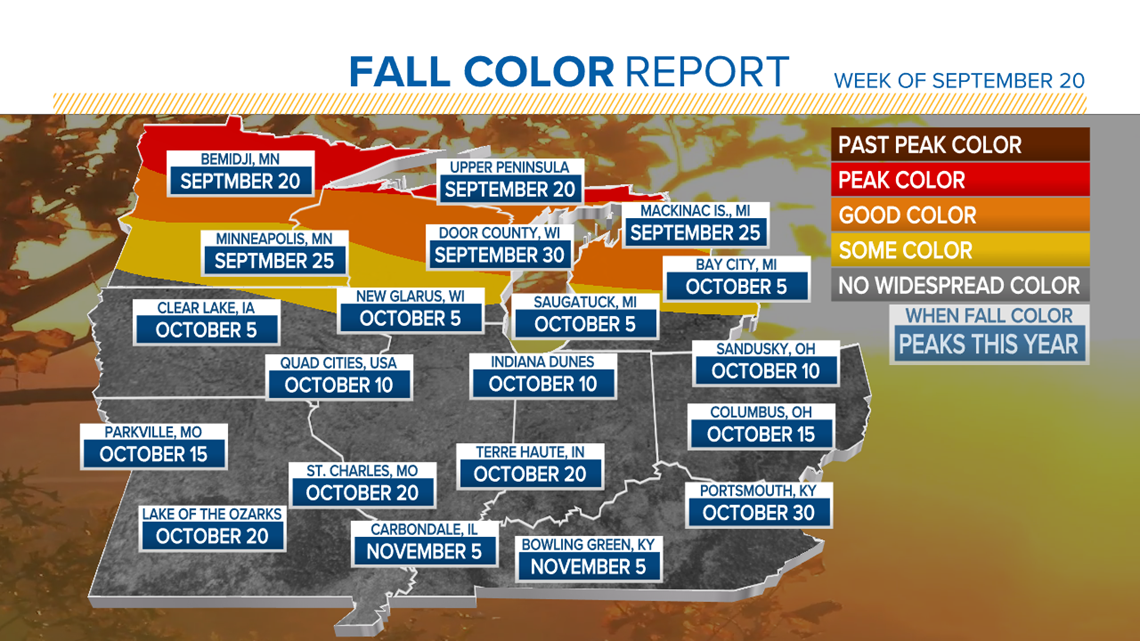 The Farmers' Almanac predicts Iowa and Northern Illinois to see peak fall foliage Oct. 5-21. Here's how the color timeline breaks down for the Quad Cities area:
Minimal changes in leaf color were expected for the area from Sept. 13-20.
A lot more color changes will take place starting Monday, Oct. 4, with near-peak views in the north near Dubuque.
By Monday, Oct. 11, all of the Quad Cities area will be approaching near-peak fall foliage.
Fall leaves will be at their peak color vibrancy beginning Monday, Oct. 18 across the region.
WHERE TO FIND THE BEST VIEWS
We've compiled a list of the best places across the area to appreciate the flaming fall leaves.
Wildcat Den State Park: Located at 1884 Wildcat Den Road in Muscatine, this park's trails, according to the Iowa Department of Natural Resources, offer views of sandstone bluffs and natural formations like "Steamboat Rock" and "Devil's Punch Bowl" that are best observed surrounded by the fall colors.
Augustana Slough: Located on the Augustana College campus in Rock Island, the Slough is a swampy home for ducks and turtles, but it also gives great views of the fall foliage to those who don't live among the marsh.
Black Hawk State Park: Located at 228 S. Blossom in Lake View, the scenic park contains the country's southernmost glacial lake as well as the Stubb Severson Nature Trail, according to Iowa DNR.
Devils Glen Park: Located at 1101 Devils Glen Road in Bettendorf, this park provides serene views of the changing oak trees along Duck Creek.
WHY DO THE LEAVES CHANGE?
The U.S. Forest Service defines three keys factors that influence fall leaf color to be leaf pigments, length of night and weather.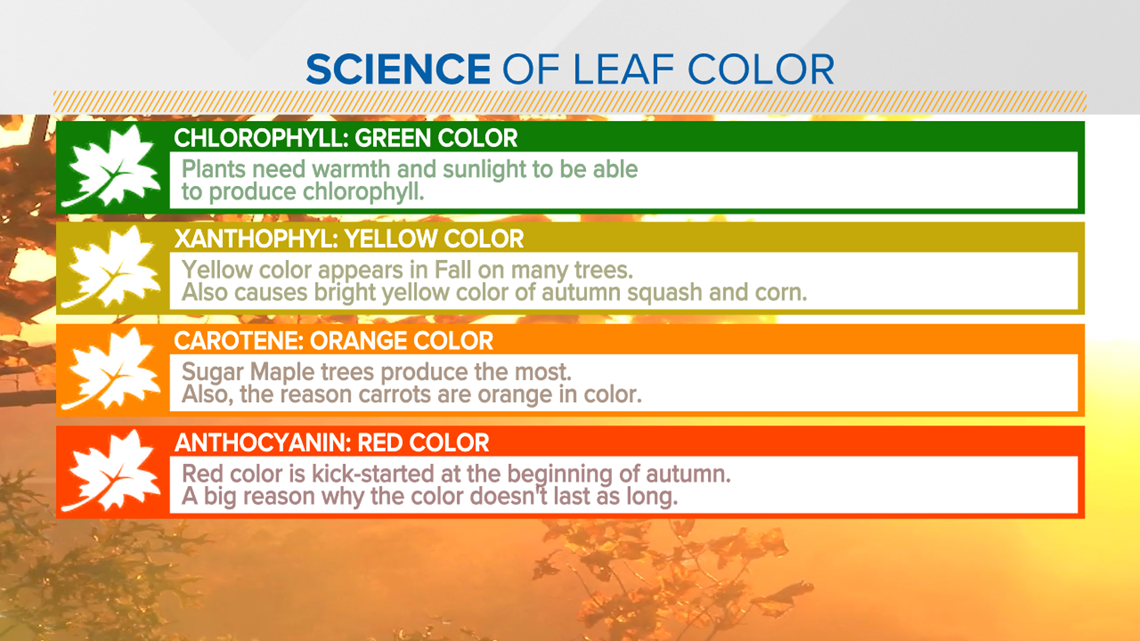 During warmer months, leaves produce chlorophyll to help plants create energy from light, according to the National Oceanic and Atmospheric Administration (NOAA). Later in the year, as days get shorter and nights become longer, trees prepare for winter by blocking flow to and from a leaf's stem, which then causes the chlorophyll to stop being replenished and the leaf's green color to fade. As the green fades, according to NOAA, a leaf's true pigments emerge.
For areas with calm and dry high pressure, cool nights and sunny days can lengthen the time that these fall displays stick around, according to NOAA. Cold or warm fronts can produce stronger winds or heavy rains that can cause leaves to fall more rapidly and decrease the length of the displays.
Areas father south and east across the Midwest that accumulated more rainfall throughout the summer, compared to western areas in the grips of a drought, are expected to show more vibrant colors, according to AccuWeather.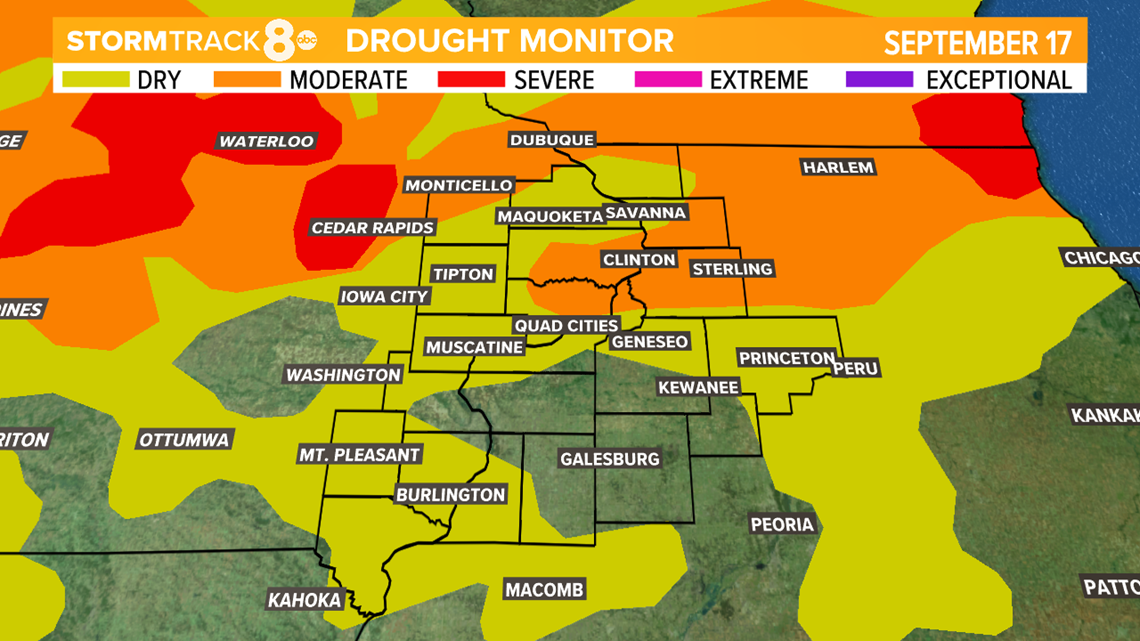 Lack of chlorophyll from too little or too much moisture, root damage or disease can cause premature leaf color changing. In the Quad Cities area, we will likely see leaves change early, especially north where there have been drier conditions.