MOLINE, Ill. — Lightning, thunder and … snow? Oh my! Thundersnow is one of winter's most interesting phenomena, and we've had our fair share of it here in the Quad Cities.
Saul, from Clinton, Iowa, asks when was the last time we had thundersnow here and why is it so common? There's quite a bit of science behind this one, so let's dig in!
During the warm seasons, especially spring and summer, we often talk about instability and heat. Just a handful of the main ingredients needed to get thunderstorm development going. So you may ask yourself, how does this happen during the colder winter months? Well, that's where things become a bit more, complicated. It's a similar process, just on a different scale.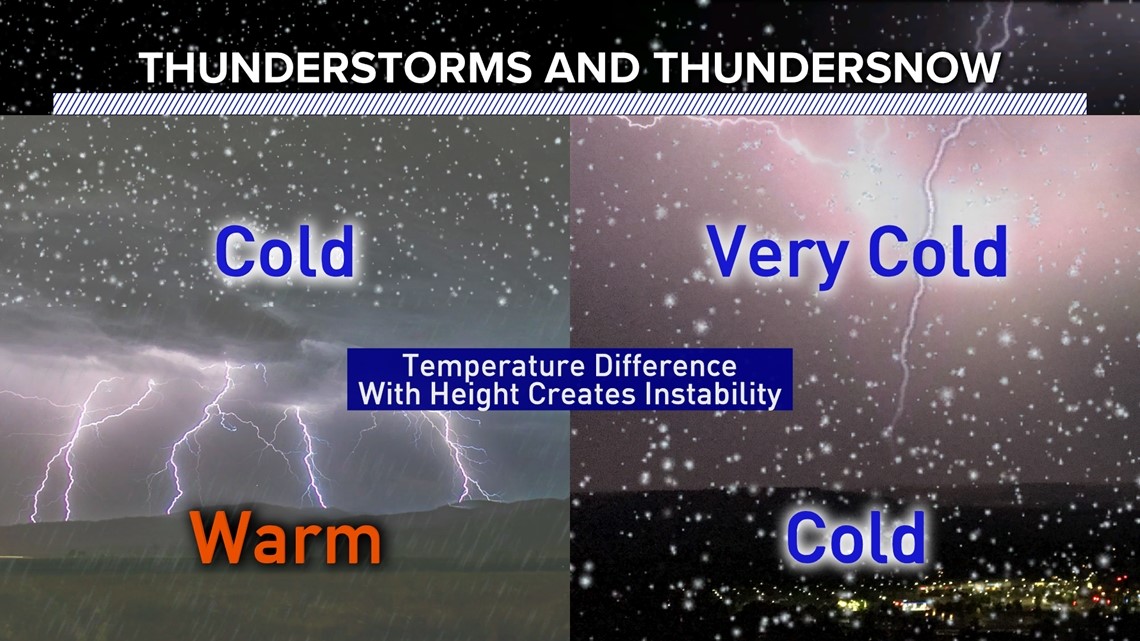 Thundersnow forms when temperature and moisture conditions are present to create the needed instability. This involves a mass of cold air on top of a mass of warm air, plus, plenty of moisture near the ground. When there is strong enough lift, especially with a powerful winter storm system, a winter storm produced thundersnow. That amount of lift in the atmosphere can easily overcome whatever other ingredients may be lacking to produce this awesome winter phenomenon.
In the winter months, snow and ice crystals high up within the clouds collide. These collisions create the exact same electric charge that you would find in a typical summertime thunderstorm. Build up enough of a charge, and you create lightning!
On Feb. 4, 2021, a powerful winter storm rolled through the Quad Cities and produced significant snowfall. The storm was also strong enough to produce pockets of thundersnow, especially near the Orion region. This was the most recent thundersnow activity in the Quad Cities region to date.
Thundersnow is almost always accompanied by extremely heavy snowfall rates, as high as four inches per hour! Multiple studies have also shown that areas with thundersnow also log more than six inches of snowfall.
Is thundersnow becoming more common? Not really. It may seem that way, though, because of the changing technology. Nearly everyone has a smartphone capable of recording video. Pair that with social media, a means to share the video to a more widespread audience, and it may seem like thundersnow is becoming more common here in the Quad Cities.
Have a weather-related question that you would like me to answer? Click here!