MOLINE, Ill. — Temperatures skyrocketing well into the 80s...at 2 a.m.? Yes! That happened this morning of Sept. 21, thanks to a decaying line of showers and thunderstorms, along with a few atmospheric ingredients coming together to create this phenomenon, scientifically called a "heat burst," believe it or not. So simple, right?
Typically when showers and thunderstorms dissipate, we're accustomed to seeing temperatures actually cool off. That wasn't the case this morning. Here's why.
Showers and thunderstorms were widespread along and south of I-80 during the early morning hours Wednesday. At the same time, a very dry layer of air aloft was present. As these storms entered our region, most of the rain falling out of them quickly evaporated within that layer of dry air before hitting the ground. However, that air is still moving towards the ground and as it does, it compresses and heats up significantly, hitting the ground as a hot and dry wind.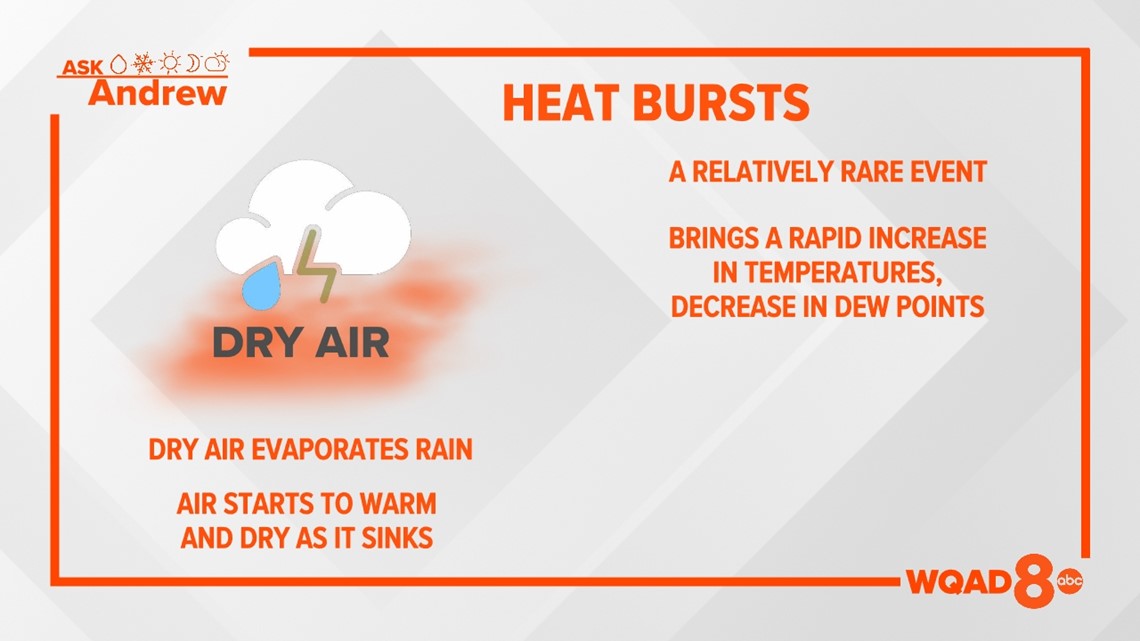 The Muscatine, Iowa weather observation site showed one of these heat bursts this morning. In the graph below, you can see how temperatures quickly rose from the middle 70s at 1:35 a.m. to well in the middle 80s just a short hour later. The dew point temperature also dropped quite quickly as a southwest wind ramped up to nearly 30 mph.
The National Weather Service office in the Quad Cities was also tracking several other weather observation sites that were exhibiting the same conditions, with quickly rising temperatures and falling dew points, even at the office next to the Davenport Airport.
Within about an hour after the temperatures began to rise rapidly, a gradual fall was observed through the remainder of the morning.
There have been some notable heat burst events across the United States in recent years, including one in Mid-July that pushed temperatures up to 100 degrees in Canby, Minnesota during the late night hours.
Have a question that you would like me to answer for an upcoming 'Ask Andrew' segment? Submit it, here!