MOLINE, Ill. — Love it or hate it, the twice-annual time change is only a few short weeks away here in the Quad Cities as our daylight continues to decrease heading into the winter season. Sunsets are getting earlier, sunrises, later. First observed in 1918, the Standard Time Act was created to help conserve energy during World War I. It was implemented again on a year-round basis during World War II. Many wonder today, though, why we still observe daylight savings since the timing has undergone a number of changes in the last several decades.
Yes, the Quad Cities will still observe the end of Daylight Saving Time on Sunday, November 6, 2022
Picture it; March 9, 2021. The United States Senate receives a proposed bill sponsored by Senator Marco Rubio. It's named, "The Sunshine Protection Act of 2021." The bill aims to make Daylight Saving Time permanent year-round throughout the United States. The bill passes the Senate by unanimous consent on March 15, 2022, but, that's where the story ends. The bill now sits in the house, held at the desk since the following day, March 16. So, as of today, there is no change to when most states observe Daylight Saving Time.
Some funky things happen when you start messing with Daylight Saving Time
So, what happens if we get rid of Daylight Saving Time altogether and just stay on standard time year-round? The biggest change is the sunrise during the peak of the summer season. 4:15 am! Granted, this won't be for more than a handful of weeks, but, still, that's early!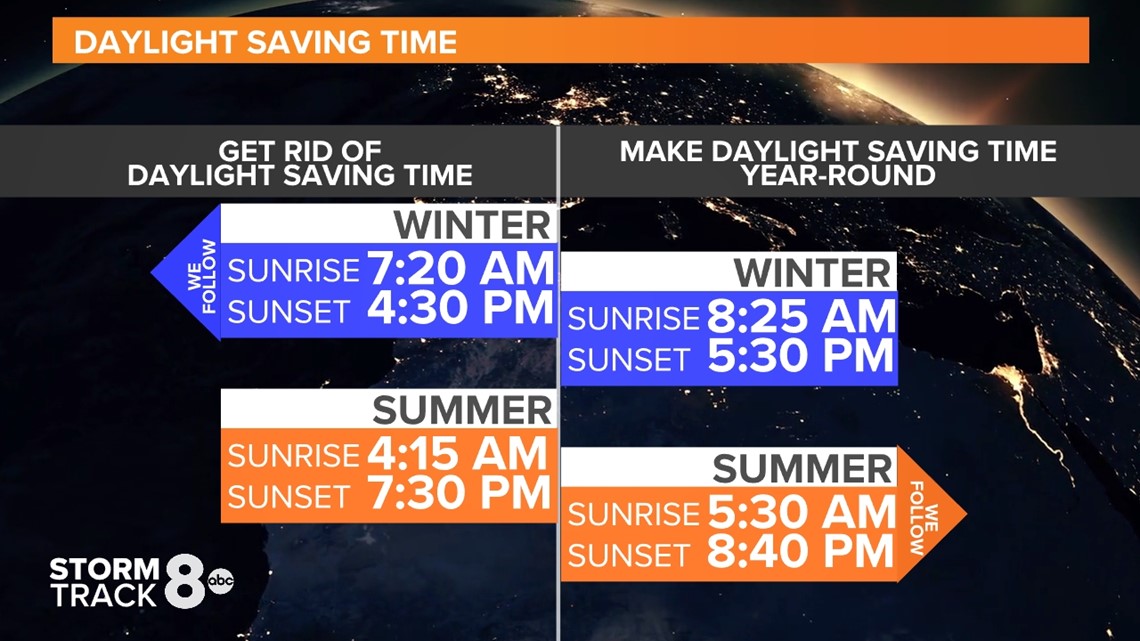 On the flip side, keeping Daylight Saving Time year-round, as the Sunshine Act of 2021 proposes, would mean an extremely late sunrise in the winter that wouldn't occur until nearly 8:30 am!
My thoughts
If we had to choose, I'd also go with making Daylight Saving Time year-round. I wouldn't mind late sunrises during winter mornings, so long as we get to keep those nice, long, summer evenings.
Have a question you would like me to answer for an upcoming Ask Andrew segment? Submit it, here.