MEMPHIS, Tenn. — Have you seen the Mississippi River in the Quad Cities lately? While it may look a little low, it's nothing compared to what other areas of the country are seeing, especially to the south of the Quad Cities. Take Memphis, Tennesee for example, which recently recorded the lowest water level on the Mississippi River on record.
In a recent Ask Andrew, I explained why river levels have gotten so low in the last several weeks. In summary, widespread drought is impacting more than 80% of the United States. A whopping 36% of the country is in severe drought. Because the drought is so expansive, it is impacting several tributary rivers that feed into the Mississippi, resulting in a lack of new water entering the river and hence, the record low levels.
Even though we aren't seeing massive sandbars and shipwrecks unearthing themselves here closer to home, we are still feeling the impacts of these low water levels.
Join me as we travel downstream to Memphis, Tennesee where we'll explore the impact these record low water levels are having on everything from the price we pay at the grocery store to book your next river cruise. Each day we'll be exploring a new impact and not all of the impacts are bad. Tourism is also increasing as people venture down to check out the exposed floor of the river in these same areas!
You can come along for the ride by following this blog here. Make sure and also subscribe to our YouTube channel!
Here's what we're planning for the week:
Wednesday, Nov. 2
Our plans include a stop at Tower Rock in Brazeau Township, Missouri. This rock formation is typically not accessible by foot, but due to the severe drought and low water levels, you can now get to it by walking across the dry riverbed.
Tower Rock - Brazeau Township, Perry County, Missouri
We spoke to a few tourists who were visiting from the region to get their perspective on just how impressive the scene is at the nature preserve. You can view our story, here.
Thursday, Nov. 3
We'll be LIVE on Good Morning Quad Cities beginning at 6 a.m. overlooking a dramatic view of the low water levels underneath the Interstate 40 bridge next to downtown Memphis, Tennessee.
Later on, we'll be capturing drone videos and talking to local people to see how the low water level is impacting their daily life. We'll also be live on Good Morning Quad Cities at 11.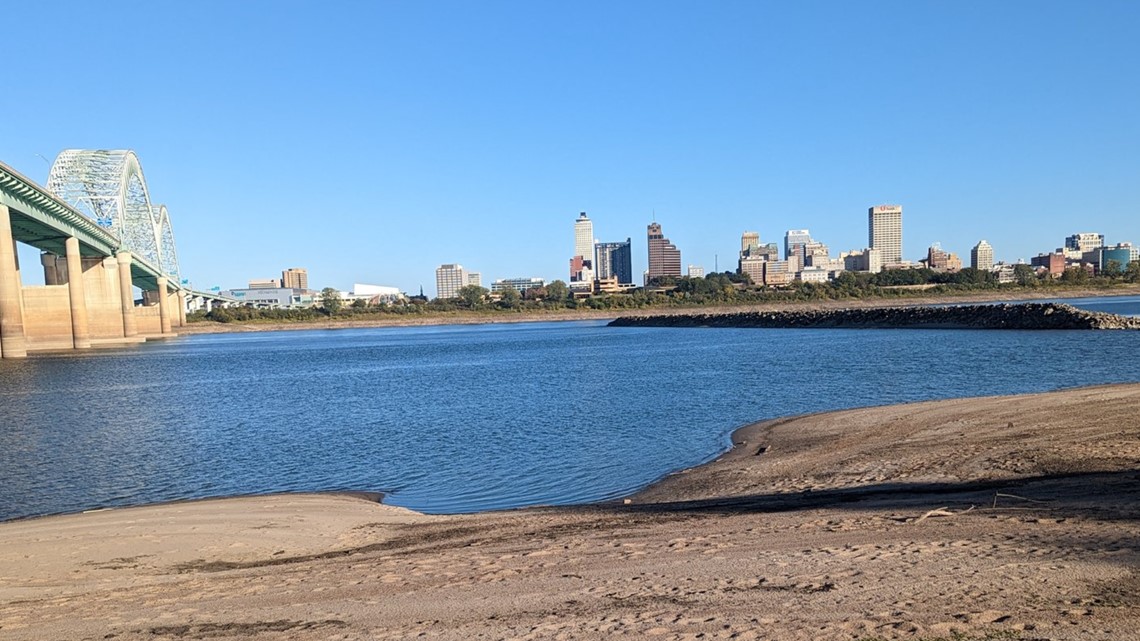 Friday, Nov. 4
We'll be LIVE on Good Morning Quad Cities beginning at 6 a.m. this time featuring the historic Diamond Lady riverboat which is now fully exposed thanks to the low water levels.
Built 30+ years ago, this ship officially launched modern gambling, including here in the Quad Cities on April 1, 1991. The abandoned boat was left in the backwaters of the Mississippi River in 2008 where it now sits in decay. You can read more about the history, here.
Watch more content from Andrew on News 8's YouTube channel