MOLINE, Ill — Hurricane Idalia is battering parts of the southeast United States as we get ready to close out the month of August. This storm, with winds topping 125 mph at times, will join the rank and file of other intense tropical systems that have impacted the U.S. since modern weather record-keeping began. In total, 36 names have been "retired" from the official list that the National Hurricane Center uses when naming storms each season but, one letter, in particular, has been retired the most, the letter "I".
A stormy past
A total of 13 "I" named storms have been retired since 1953, several of which are quite notable, including Hurricane Ian back in 2022 and Irma in 2017. While this may seem like a coincidence, we have to consider the hurricane season timetable in relation to the order of the alphabet. The majority of these storms have formed during the "primetime" of hurricane season when sea surface temperatures are at the warmest.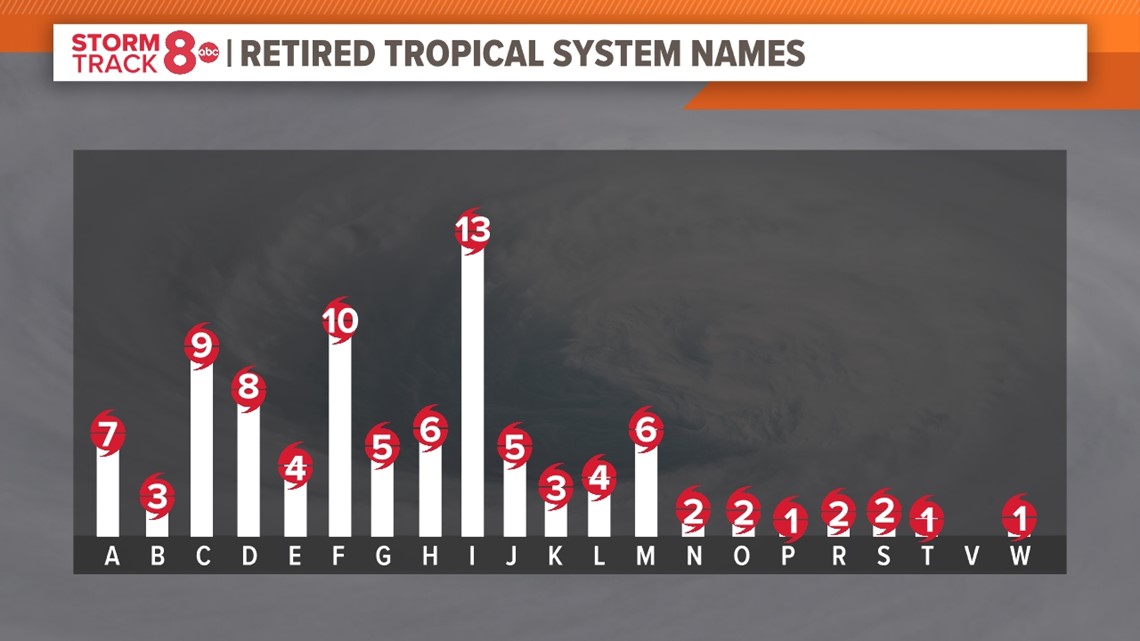 Digging deeper to try and find any further influences, the majority of these "I" named storms have formed during La Niña events, which makes sense because as we've discussed in the past, El Niño events typically suppress Atlantic hurricane activity due to higher wind shear.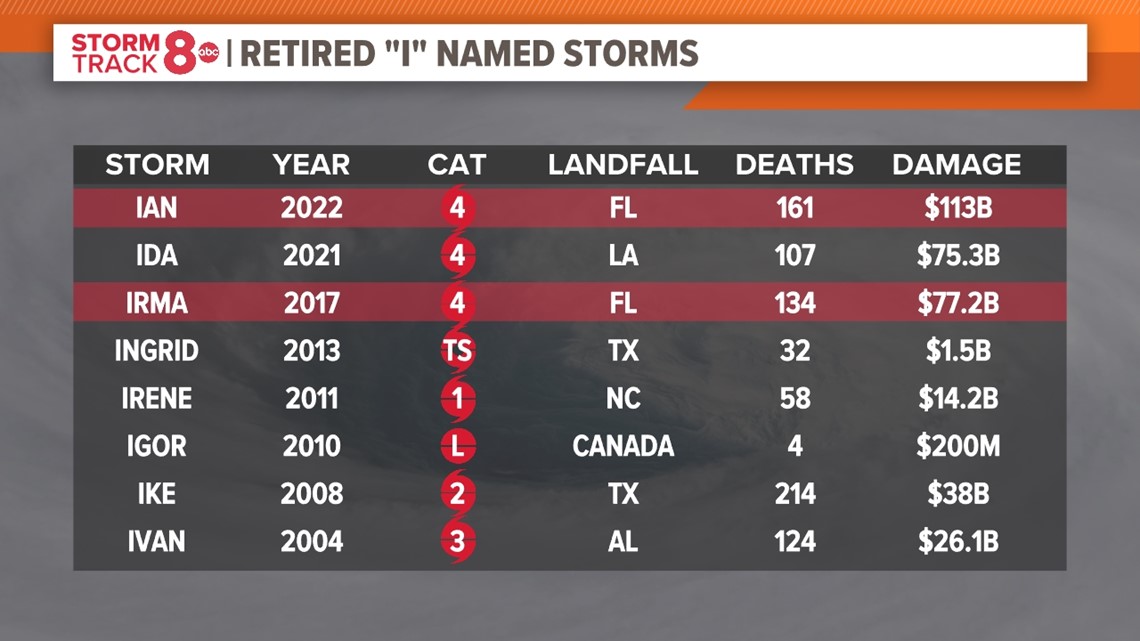 High cost and death
The three strongest "I" named storms all occurred in the last decade, two of which impacted the state of Florida causing nearly $200 billion dollars in damage and more than 290 deaths. One storm that sticks out on this list is Hurricane Igor, which reached Category 4 strength in the Atlantic before weakening and landing in Southern Newfoundland, Canada. While the storm may not seem impressive on paper in terms of the death toll or dollar amount of damage, the Meteorological Service of Canada requested the name be retired as the storm was unprecedented in the island's history. It was only the second time that the organization requested a name be retired, the first being Hurricane Juan in 2003.
Why storm names are retired
A hurricane name is retired when the storm is so deadly or destructive that using the name again would be insensitive. The National Hurricane Center will remove the name from the list and replace it with another name. Using a previous name again, such as Andrew, would be inappropriate from a sensitivity standpoint.
The World Meteorological Organization maintains six alphabetical lists of names for Atlantic hurricanes. These lists are rotated through every six years. When a name is retired, a replacement name is chosen that starts with the same letter.
Have a question you would like me to answer for an upcoming Ask Andrew segment? Submit it, here.