MOLINE, Ill. — A megadrought, a California drought, and now, a Texas drought all coming together to cause everything from dying cattle to water shortages in parts of the United States. How did we get here and what will it take to put a sizeable dent in the drought? Let's dig in!
The latest drought monitor issued on August 16, 2022, shows widespread extreme and exceptional drought running throughout much of California, Nevada, and Texas. Even parts of Iowa and Illinois are experiencing drought conditions right now. No two droughts are ever the same, though. The drought occurring throughout much of the desert Southwest is referred to as the megadrought, recognizing the longer period of time that this drought has encompassed the region.
How we got here:
Scientists credit more than two decades of prolonged drying that has been stubborn to leave parts of the Southwest U.S. Part of this is related to climate change, and other parts are credited to weather phenomena like La Niña.
Decreasing amounts of snowpack during the winter months also plays a huge role in limiting available water supply to nearby cities.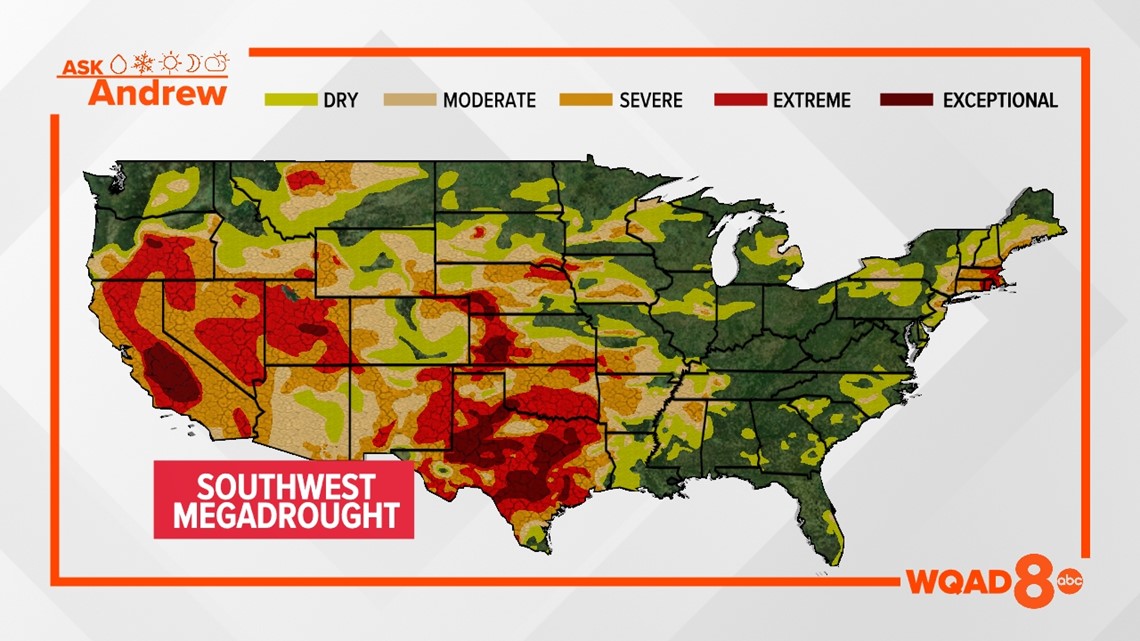 What will it take to ease drought conditions?
Drought experts are in good agreement that a wet season with strong, above-average precipitation will put a sizeable dent in the ongoing drought situation. However, there are several recent examples proving that a wet year, such as 2019, can temper a drought, but it can easily return as it did in 2020 and 2021.
Prolonged drought, such as the Southwest megadrought can't be repaired or diminished quickly. This type of drought requires repeated cooler and wetter seasons to even begin to make somewhat of a dent. When you look at the climate of the Southwest U.S., it is absolutely easier to fall into drought conditions and much tougher to climb out of them.
Have a question you would like me to answer for an upcoming Ask Andrew segment? Submit it, here.