MOLINE, Ill. — Wind, wind, and more wind. 2022 feels like a neverending storm of wind. You wouldn't be alone in wondering if we've seen more of this wind lately compared to previous years and you'd be onto something!
The State Climatologist Office for Illinois keeps track of wind data and provides the following chart that we'll be referencing. It shows the average wind speed per month throughout the year for the Quad Cities.
You'll quickly notice that the months of January, February, March, and April along with November and December contain the most wind, while much slower wind speeds are observed during the summer months. Why is that?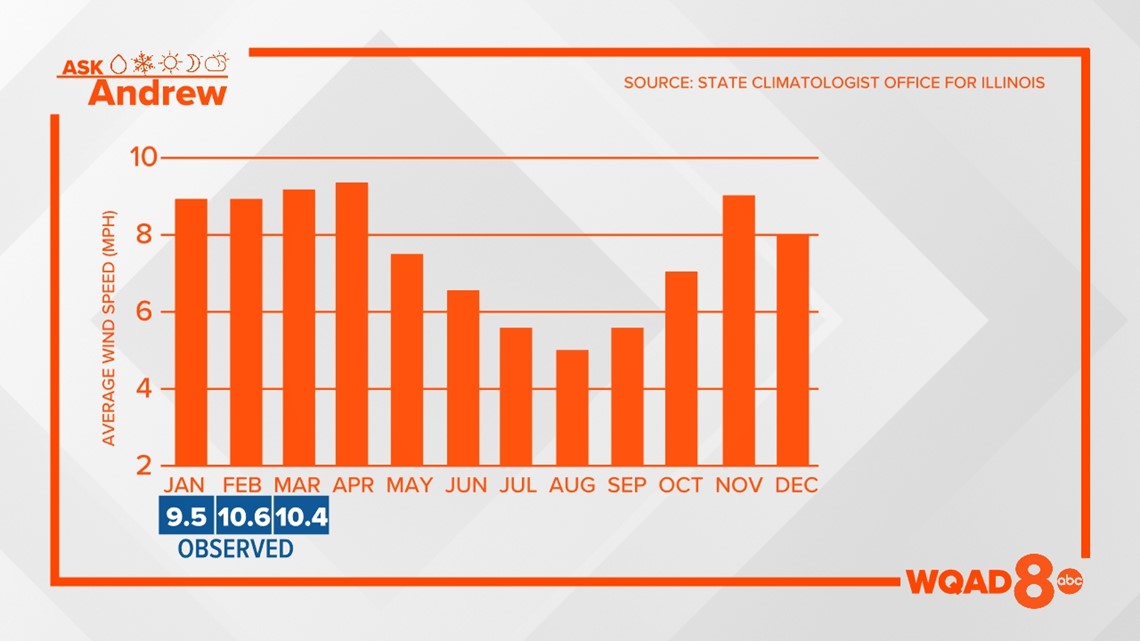 The wind is driven by changes in pressure which are driven by changes in temperature. It's the planet's way of trying to even out these differences.
We observe on average stronger wind speeds more consistently during the fall-winter, and spring months because we oftentimes see bigger changes in temperature patterns during these times of the year. In the summer months, temperatures are more consistent with very little change from day to day, leading to more relaxed wind speeds.
Going back to the above chart, you can see that already in 2022 our average wind speed has surpassed that of the historic average. Makes sense, because we've seen quite a few big temperature swings in the last several weeks.
Overall, much of North America is experiencing more wind. A study in 2019 found that in the last decade, the global average wind speed has increased from about 7 mph to about 7.4 mph. This is actually the fastest growth since about 2010. The authors of the study suggest that a shift between natural climate cycles may have helped trigger this change in wind speed.
Have a question you would like me to answer in a future Ask Andrew segment? Click here to submit your question!