MOLINE, Ill. — Temperatures are warming up, snow is melting, ice is on the move, and if you live along one of the many area rivers, the concern for flooding is starting to become top of mind.
Later this week on Thursday Feb. 9, we'll be hearing from our friends at the National Weather Service in the Quad Cities regarding their assessment for potential flooding this spring. This outlook will be based on several factors, including current river levels, the depth of frost in the ground, and how much snow has fallen to the north of our region.
While the outlook hasn't been released yet officially, we can begin to put a few pieces of this complex puzzle into place and give you a preview of what this outlook is likely going to contain.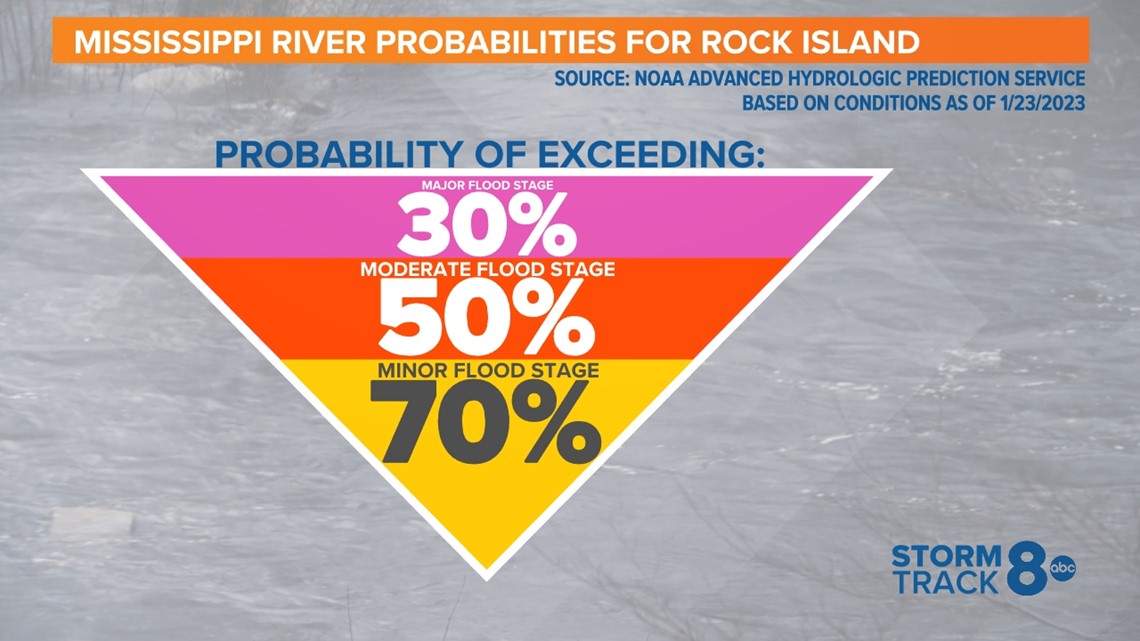 The Advanced Hydrologic Prediction Service outlook gives us a quick glimpse at a few scenarios. Conditions as of late January yield a 30 percent probability that the Mississippi River in Rock Island will exceed the major flood stage, a 50 percent probability of exceeding the moderate flood stage, and a higher 70 percent probability of exceeding the minor flood stage through early April. If you are wondering what the probability is of exceeding the record flood stage set back in 2019, that is only 5% or less.
Snow Cover
It's no secret that this winter so far has produced lackluster snowfall amounts. We are currently in a deficit that adds up to more than a foot behind normal for the season to date. There is also some drought still ongoing in parts of the Quad Cities region.
Unless we get a blockbuster snowfall between now and the end of the winter season, there won't be much to worry about here locally. However, we are monitoring snow to the north of our region which has been running above average across parts of Minnesota and Wisconsin. Eventually, this snow needs to melt and that water will eventually head downstream. In summary, the rate of melt along with any additional snow here and to the north will further determine this risk.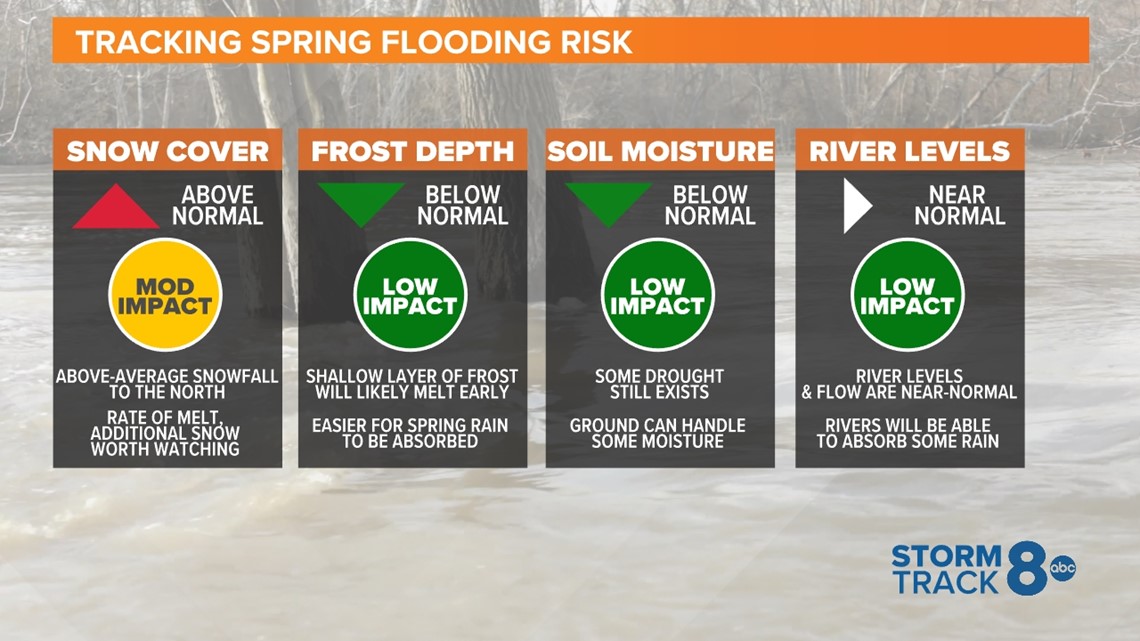 Frost Depth
Here in the Quad Cities, our frost depth is running around 4". This shallow layer allows snowmelt and rain to penetrate the soil more easily, decreasing the risk somewhat for runoff that would lead to a higher risk for flooding. While a deeper frost depth currently exists to our north, overall, the frost depth remains below average for this time of the year across the region.
Soil Moisture
Many areas along the Mississippi River are currently drought-free, including here in the Quad Cities. However, moderate drought still exists across portions of Minnesota. Current soil moisture data suggests near-normal conditions here in the Quad Cities with much drier conditions near Burlington, Iowa.
River Levels
As of this morning, river levels, including the Rock and Mississippi River, are running near to slightly above normal for this time of year. It is expected this will have a low impact on any potential spring flooding.
Ice jams will certainly be possible on the Rock River as usual, especially the first couple weeks of February as a thaw takes over. This can bring about rapidly changing water levels and they are much harder to predict.
Overall, I would expect our risk here to be near to slightly above normal based on these criteria. We'll get the official outlook from the National Weather Service around 5 p.m. Thursday, Feb. 9.