MOLINE, Ill. — As the summer holiday season soon kicks into high gear, an estimated 85% of all Americans plan on traveling this summer. This is a 5% increase over last year. But with high inflation and rising interest rates, just how expensive are those travel plans expected to cost you this holiday season?
News 8's David Bohlman and Quad Cities Investment Group's Mark Grywacheski went over all of the details during Good Morning Quad Cities on May 15.
Bohlman: Are travel costs expected to be cheaper than last year or should we still expect to pay higher prices?
Grywacheski: Inflation has declined from its peak of 8.9% last June to its current level of 4.9%. But that still means, on average, consumer prices are still 4.9% higher than they were 12 months ago. This graph here shows some of the main costs of your travel plans:
Food - Restaurants.
Gasoline (Regular).
Car/Truck Rental.
Hotels.
Airfare.
Over the past 12 months, we have seen a decline in prices in some areas.
But then you look at the more recent trend (over the past three months) and that shows that summer vacation costs have been starting to trend much higher.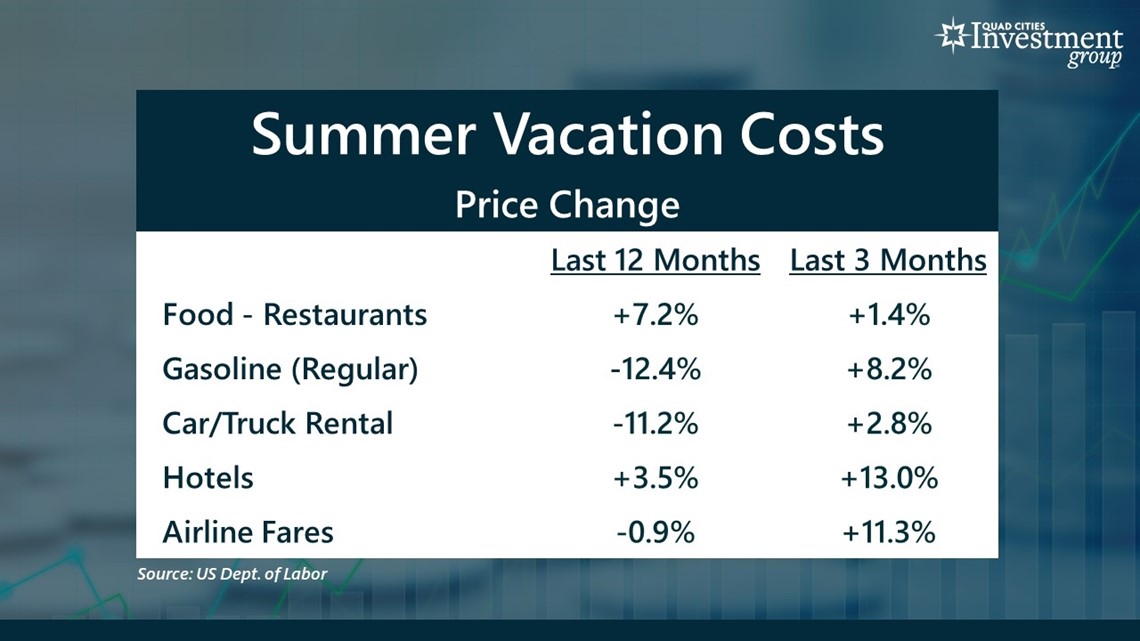 Bohlman: Do you think this trend of rising vacation costs over the past three months continues into the rest of the summer?
Grywacheski: Much of your total vacation costs are determined by energy prices. From a single barrel of crude oil, we get gasoline/diesel fuel/jet fuel and we use energy in manufacturing/shipping and almost every facet of operating a business. Last summer, high energy prices made almost everything more expensive.
This summer, energy prices have declined. But as we've seen over the past 1.5 years, there's tremendous volatility in energy prices:
Russia and OPEC recently announced yet another production cut. The ongoing war in Ukraine. Both of those could quickly send energy prices surging again and make traveling much more expensive.
But also, despite the growing concerns over a recession later this year, there continues to be a solid demand for traveling which is keeping travel costs high.
Bohlman: What advice do you have for people who are currently planning for the summer vacation holidays?
Grywacheski: There's nothing wrong with splurging every now and then and taking that dream vacation you've always wanted. But this year, I'm cautioning people to do their best to stay within their budget.
First, the average interest rate on a credit card is around 25%. So, if you overspend by using your credit card, those high-interest payments will cost you a lot of money.
Second, there's still a tremendous uncertainty about the future outlook of the U.S. economy. You have to ask yourself, how will your job or household finances be impacted if we do go into recession?
Quad Cities Investment Group is a Registered Investment Adviser. This material is solely for informational purposes. Advisory services are only offered to clients or prospective clients where Quad Cities Investment Group and its representatives are properly licensed or exempt from licensure. Past performance is no guarantee of future returns. Investing involves risk and possible loss of principal capital. No advice may be rendered by Quad Cities Investment Group unless a client service agreement is in place.
Watch more news, weather and sports on News 8's YouTube channel