Happy 6th of July! I know that's a little anti-climatic after the 4th of July, but as many of you know, July is my favorite month of the year and every day of it is my favorite day of the year (the 21st especially!). For more on #whyilovejuly, I'm doing a fun photo project on Instagram, so feel free to follow me – @thesharpside.
It was a really wonderful weekend. Zach and I (and Zuno, of course – the dog really needs to get a job) both had the 3rd off, so we decided to take advantage of the cooler-than-normal but perfectly-sunny weather and go on a quick road trip up to Bellevue, Iowa. It's a fast 1:10 drive up 61, but we were in no rush so we drove the 1:30 trip up The Great River Road Route, which travels along the Mississippi River through LeClaire, Clinton, and Green Island.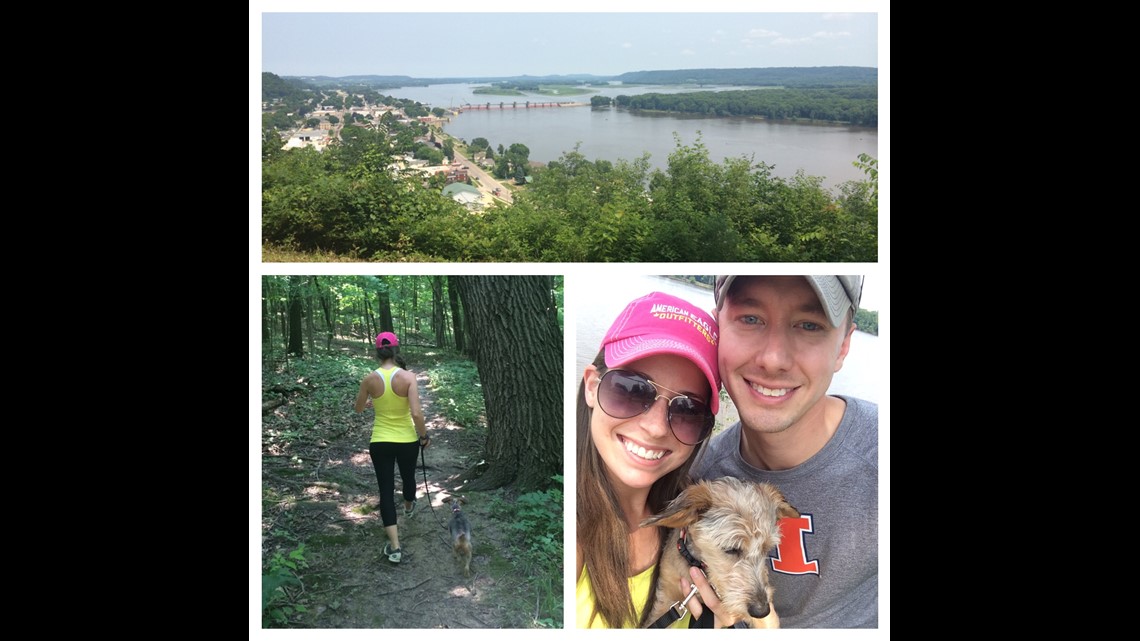 Our destination was Bellevue State Park, which was right off The Great River Road and winds you up, up, up… so you can imagine the beautiful view (ahem, the meaning of "Bellevue") from the park's many scenic outlooks. It was stunning. Seeing sights like that have a way of making you feel so small, yet so big at the same time. Like – Wow, there is so much more to life than just my dinky one in the QCA and I can do anything!!! We had a great time walking the trails, taking Zuno on a little adventure, and trying to avoid as many mosquito bites as possible (Mosquitos: 1; Sharps: 0).

After working up an appetite, our other destination was a restaurant called Flatted Fifth Blues & BBQ, located at Potter's Mill. Wow. Their food was so delicious, I forgot to take a picture of it because we ate it so fast. Zach had the Smoked Chicken Sandwich and I had the Beef Brisket, in case you're wondering.  For sides, Zach was obsessed with the Red Beans and Rice. I had their Grilled Pineapple Coleslaw and for someone who has never had grilled pineapple before, I was in heaven. BONUS: They had outdoor seating. DOUBLE BONUS: They let Zuno hang out with us while we ate. We need a list of pet-friendly restaurants in the QCA. Who knows of some?
After lunch, we drove the actual riverfront, grabbed some ice cream from a little diner across the street, and swung on a bench swing overlooking the Mighty Miss. We drive across it so many times, I sometimes forget how lucky we are to live right next to this historic (and huge!) river.
The rest of the weekend was full of parties and friends and filling up your plate (and cup) with as much deliciousness as possible. I probably shouldn't be proud of this, but I am – I am one who tries a little bit of everything at the party's food table. I mean, 'cmon, it's rude not to, right? These people work hard on things like patriotic puppy chow and banana pudding and something called sopapilla which makes my insides melt just thinking about it.
With that said, Happy 6th of July – the day we try to get back on track and get ready for the rest of what summer has to offer… and usually it costs money. So, along with this week's meal plan, I'm sharing some of my tips and tricks to saving money. I don't want you to get your hopes up. None of this is really ground-breaking, but it's what I do to stay within my budget and so I might as well pass it along, right?
Monday: Pork Chops and Broccoli, $5.49 (+ $3 for the marinade/sauce)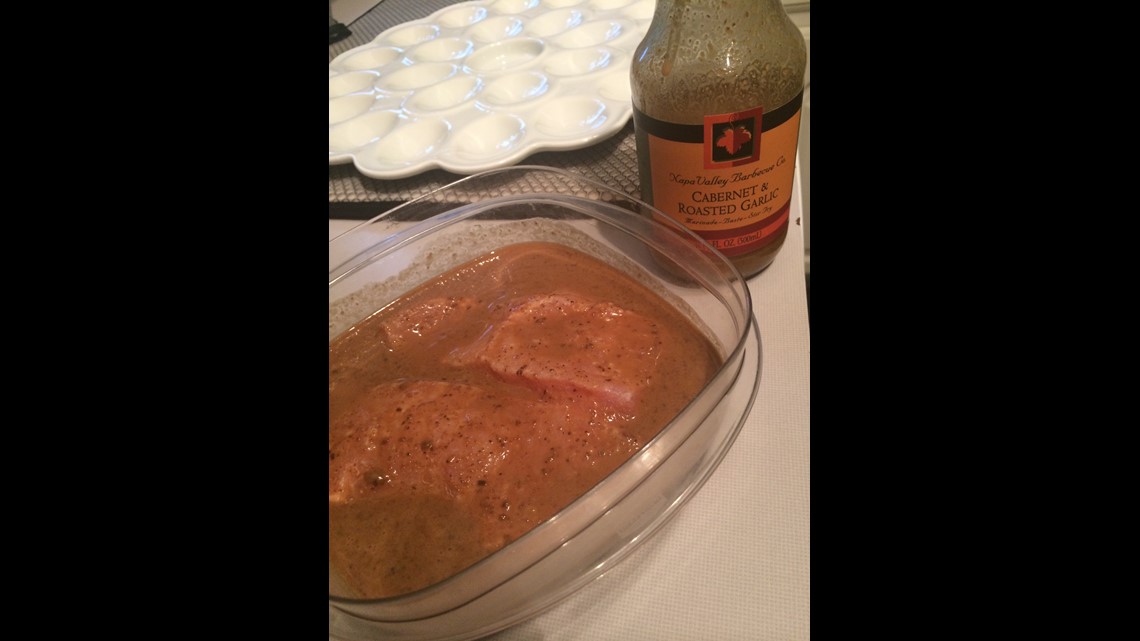 This is actually one pork chops that I cut (hog dog-style) into two pork chops. It cooks better that way and it's closer to an actual portion size. I'll fill the rest of my plate (and tummy) up with broccoli.  The other pork chop that came in the package goes into the freezer for next week. I'm marinading the pork chops with a bottle of some marinade I got at TJ Maxx or something a little while back. I have a couple of these "gourmet" sauces that just sit in my pantry, so I'm trying to use them up. I think this bottle cost me $3. I'll mix it with some olive oil to make a yummy sauce for the pork chops after we cook them. Although, Zach will probably prefer using one or two of his 15 different hot sauces he currently owns. As for the broccoli, I'll use my standard Roasted Garlic Lemon Recipe from AllRecipes. Please Note: This picture was taken right by deviled egg platter that I used (and abused) this weekend. They were so good, though – and very patriotic. Here's the recipe since I, again, forgot to take a picture.
Okay, so compared to Monday, this one is way more expensive… but Zach requested it and I couldn't say no. I actually said something to him about it, because the sirloin steak itself was $11.25, and he told me I could get away with using a cheaper steak like flank steak so now that I know that – I'll probably make this recipe for him more often! I'll spoil him one last time, though. This meal really is yummy and there's always leftovers, so we can actually get one more lunch or dinner out of this one.
Wednesday: Grilled Chicken and Vegetable Medley, $8.63 (+$3.99 for the marinade/sauce)
I'm going to use another random bottle I found in my pantry for this one. The veggie medley (which comes out to $3.64) is basically just throwing zucchini, onion, and mushrooms (or whatever is in the fridge) into a skillet with some olive oil and garlic. It's easy, fast, and we love it.
Thursday: Tuna Steak, Sweet Corn, and Asparagus, $TBD
I'll have to get back to you on this one since I didn't want to buy these two items four days before I prepare them. I'm going to guess this meal will cost between $10-$15, though. I know sweet corn and asparagus is on sale right now, so I can stand to spend a little more on some fresh tuna steak. It'll be another one that I eat only half of and save the rest for lunch/dinner the next day, because NOTHING gets in between me and sweet corn.
As far as lunches go, you know that I am a big fan of leftovers. However, where there aren't any – I like doing things like cheese and crackers, an apple and peanut butter, trail mix, or making things like tuna salad. I'm going to try making this one today or tomorrow for lunch this week. I was using the "Search By Ingredients" Option on AllRecipes.com, because I'm trying to clear out my pantry/fridge and this one popped up. I'll let you know how it turns out!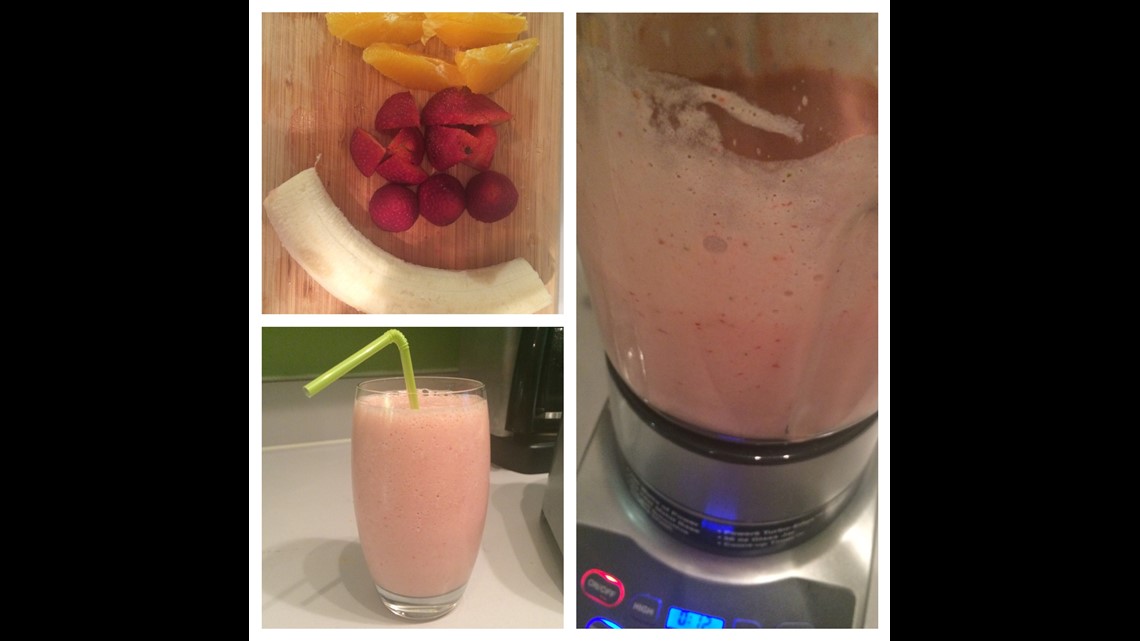 When it comes to breakfast, I grab a banana if I'm racing out the door (which is 90% of the time). If I have some time though, I love just throwing some plain light yogurt in a tupperware with a little bit of honey and a lot of strawberries and blueberries or whatever fruit I have around. If I have even more time, I'll make my go-to fruit smoothie. It's just 1/2 cup milk, 5 ice cubes, 1 banana, 1/2 orange, and 5 strawberries. I actually did the math today and the total cost comes to – wait for it – $1.34.
BOOM. Now go have a great July!