Yeah… so I know the titles to my blog posts are usually a lot more creative that, but this one – this very long (WARNING) one – is not so much creative as it is… simply real.
For months, I've been trying to figure out the best time to write this post. It was going to happen at the end of November when I was in "Recovery Mode," but you'll learn later why that never happened. The holidays came and went… and so did our few days in Florida where I had all the time in the world to write about this, but wanted to read and soak up the sun instead. For someone who loves to write, I didn't want to. Not about this. I didn't even want to start. I had no idea how… but I knew I should eventually. I looked at the calendar and when I saw what today was (and that I had nothing on the calendar during the day), I knew I couldn't let this final opportunity to let this go pass me by.
Today is meant to be the day I share something I've kept in my private circle for quite some time. Today is one year since the scariest day of my life, so far.
On January 28th, 2016, I woke up to my phone ringing. It was my sister-in-law, telling me I should go to the Emergency Room. The day before, I had gotten my first ever blood test after mentioning some little red dots all over my hands, arms, legs, and feet to my Dermatologist. I received a phone call that afternoon from a doctor at the lab:
"Where are you?" he asked.
"At work," I said (and almost added – "Duh.")
"How far away is work from your house?"
"I don't know – two minutes?"
"Good. Do not drive. Your platelets are at 14,000."
"I don't know what that means."
"A normal person's platelet count should be between 150,000 and 350,00."
"I feel perfectly normal."
"Okay. Well, make an appointment with this Hematologist. Now."
What the heck is a Hematologist? I called and made an appointment for the following week, then immediately called my Mom (Again – Duh.), who immediately talked to my sister-in-law, who's a doctor.
Okay, now we're caught up to 5am on Scary Day.
(Geez, this is going to be a long post…)
Zach took me to the ER. I was told to pack a bag because it wasn't known how long I might have to be in the hospital. My sister-in-law thought I might need to be admitted for a few days. Maybe more. I've never had to stay in a hospital before. I secretly hate them.
When I got to the ER, it was empty so I got right in to see a nurse. She was super nice… and super familiar. I'm about 95% positive she is the wife of our Chief Photographer, but I've never said anything because I was so scared and embarrassed at the time. I'm still embarrassed.
In the hospital room, they take my blood. They make me pee into a cup to see if I have kidney failure. All good. My platelets are now up to 24,000. A very friendly doctor comes in to check me out.
"Hey, shouldn't you be at work?" he said, recognizing me even though I had no make-up on and my hair was in a top knot.
"Well, I think you may need to take today off."
"I feel perfectly normal."
It's my first sick day in three years. I always bragged about this. Not anymore.
Because of going to the ER, I got in to see the Hematologist, Dr. G, a week earlier than I had originally scheduled. He is surprised when he sees me. He says I am healthy – sorry, seem healthy – and all my numbers are normal… except my platelets. He doesn't really know what is going on. So, it's time for more blood tests. He takes a sheet of paper that has probably every single disease on it you can test your blood for… and puts a check mark next to every single one. I get checked for Hepatitis. HIV. Everything.
Everything comes back negative.
It doesn't matter. Those platelets need to come back up. He's putting me on a steroid called Prednisone. And so begins that journey…
…a journey that hasn't ended.
For exactly a year now, I've been on Prednisone – except for 3 months from April to July, where I have felt more free than ever before. Starting January 28th, I was on 60mg of Prednisone a day – which is a good amount for someone my size. I was told there would be side effects – trouble sleeping, a big appetite (In which I responded – I always have that, ha), achy joints, feeling jittery, weight gain. You name it. I've felt it.
Those last three were the worst, though. There were times I woke up in the morning feeling like I was in a car accident the night before. I had cramps in my feet because I refused to stop wearing heels to work. I had to stop running and working out, which didn't help any of the other side effects. It only made them worse. I found peace in yoga, but there were times during my practice that I couldn't hold a downward dog because it ached so much. I've never felt weaker.
The hyper feeling was the worst at work… especially under those darn fluorescent lights. I would sit at my desk and all of a sudden feel my hands kinda shaking so I would have to get up and walk around the station a couple times – pretending I was going to the bathroom or getting something from the vending machine. I had this really weird feeling like my voice was out of control. Like, if someone said something funny – I was self-conscious that my laugh would be a little too loud. Or, if I had something to say – it would just blurt out, not make any sense, or it would ramble on and on. So, I shut down in a way. I would busy myself with whatever I was doing – which was easy because we had just launched a new newscast – so I basically just threw myself into that 100%. The last thing I wanted – the last thing I ever want – is that whatever the heck is going on inside of me ruins my career, my dream. So, I sorta bottled everything up and really only opened up to a couple people… mainly Denise, who has been so understanding and supportive of everything.
Finally, I gained weight. I've never owned a scale, but when you're at Dr. G's every week or every other week, they put you on one of those things the second you walk in the door. I watched as that number went up and up and up… without any way to control it. I have looked up information on Prednisone and found that the three areas where you notice the most weight gain are your stomach (bye abs), the back of your neck (which must be why my neck feels like it has a thousand knots in it), and your face (awesome). I was hoping that maybe because I'm petite no one would really notice, then I discovered it's because I'm petite that many would. I've gotten Facebook Messages from viewers asking if I've had dental work done because my cheeks are puffy. I've changed the way I put on blush to try to disguise it… like that helps. I was at a get together and overheard two of my friends talking about it. That hurt. However, the times I noticed it the most is in pictures. No matter the angle. I've actually deleted some photos from 2016 because I just don't even recognize myself in them. I wish I could delete many parts of 2016.
Okay I shouldn't say that, because by April 1st, my platelet count was up high enough and my Predisone dose had been tapered low enough that I was finally able to put away that stupid orange pill bottle and forget this ever happened. We thought it may have been a fluke. Maybe I got some sort of virus and it just ran amuck in my body. Whatever. Now, we're good. We had an amazing summer – hosting baby showers, welcoming new babies into the world, volunteering, celebrating friends' 30th birthdays, visiting a dear friend in Paducah, doing house projects, watching two great people get married in Rockford, entering a whole new group of friends who are just the coolest, and making some wonderful memories with oldie, but goodie friends at places like the Ozarks.
That trip was in the beginning of July and that's when two big bruises showed up on my legs… forcing me to make another appointment with Dr. G on July 14th, 2016.
"How are you feeling?" he asked me.
"Well, your platelets are down to 4,000."
I was blown away. I will never forget seeing that little "4" on my blood test. Right next to it, a letter I've come to hate – "L" (Low.) Dr. G and I agreed that this was no fluke. What I had was something chronic and for the foreseeable future… that something was ITP or Idiopathic Thrombocytopenia Purpura, an auto-immune disease where the "I" literally means "unknown."
Back to the Predisone. Back to 60mg a day. It worked before, I thought. But only for three months, the smarter part of my brain thought. Either way, I needed to get my count up… fast. I was supposed to leave for Napa Valley for my 30th Birthday in just one week… and Dr. G wasn't going to let me go unless my platelets were at 100K. The next day I went back – 7,000. A few days later – 12,000. This wasn't looking good.
It wasn't a good week. My appointments were always in the morning. Zach has gone to every single one of them all year… on top of working all day and finishing grad school at night. (I will never be able to repay him for his unconditional love through all of this.) Zach and I would drive separately so he could go straight to work afterwards and I could go home since I didn't have to be at work until 1pm. However, that week in July, I would walk in the front door and crumble. I don't think I've ever cried that much. I would just sit on the floor and let the tears fall, let Zuno sniff me and lick my face and sit in my lap, try to console me in the best way a dog knows how. I let myself do this for about 10 minutes. Then, like a light switch, I would stand up. I would make a big breakfast, take a long shower, go treat myself and get an iced coffee, wear my best dress, and get to work. Literally.
In those up-and-down moments though, I was also starting to rely more and more on a handful of friends. Maybe that's one reason why I'm reaching out on a broader level now. I found that if I talked about it, I had immediate support.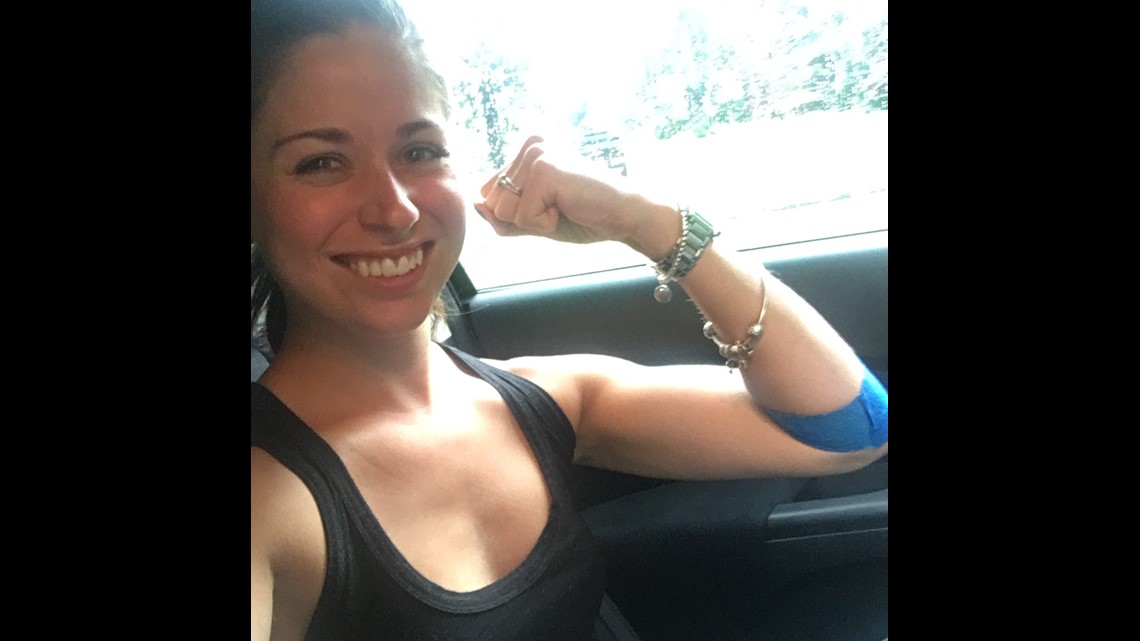 Girls – and you know exactly who you are – I will never be able to thank you enough for your prayers, your encouraging text messages, the flowers at work, the flowers and wine waiting for me at home, the emojis that made me laugh, and the cards that made me cry. Those friends were the first ones I texted with this picture when I hit 99,000 the day before we were set to leave for Napa. It was my friends who made that happen.
After four days in wine country though, coming back to reality was a little tough. The birthday celebrations continued in the QC, complete with an amazing surprise party put on by my husband, but after the excitement dust of turning 30 settled, I was left feeling a little lost. (I keep using past tense like this story has an ending already – I am feeling a little lost still.) So, I looked for other remedies. A friend helped me find a probiotic that I was taking every day. I started taking supplements. I went gluten-free and dairy-free. Another friend put together an entire holistic plan for me to start using to try to beat whatever was going on inside of me naturally. I took a yoga class that was all about Chakra. I started meditating. I started doing BodyRock again, because I was simply tired of being tired. It was actually during this time – in late August – that I received a huge shock at work – I was being promoted to Good Morning Quad Cities, my dream job. I remember thinking – "This is it! It's working. This is a sign that things are getting better." The platelets were going up, so we started tapering off the steroid again. Then – in October – the platelets started going back down.
Dr. G had mentioned the idea of a Splenectomy to me before and we actually met with a Surgeon about it in early August, but this time – he was more serious. We decided to schedule it for November 30th, but first – he said – "If you want a second opinion, now's the time to get it." So we did. The month of November was another stressful month of hurry up and waiting, waiting and seeing, and trying to combat the stress of a possible surgery, the first month of ratings in a new position, and the election. Oh, the election. It happened. People freaked out. They blamed us, the media. There were so many angry messages… and, I'm sorry, but all I could think was – I could really care less. All I wanted was answers about my health.
My sister-in-law set me up with a Hematologist at Northwestern University in Chicago. The appointment – November 23rd, which was the day before Thanksgiving – was everything I did not expect. As we drove into the city with my parents that rainy Wednesday morning, I spent the entire time looking out the window mentally preparing myself for a surgery. I had already done everything else necessary – I had schedule two weeks off at work, my Mom had made plans to hang out in the QC and keep me company so Zach could focus on work/school, and I had already set a goal to finally catch up Pretty Little Liars and House of Cards. All we needed was this doctor to say – "Yep, looks like you gotta get that spleen out."
She didn't say that. Instead, she came back with a whole different scenario – a person could live a healthy life if their platelets could stabilize at 50,000. She encouraged us to cancel the surgery and instead, try to get completely off the steroid and see what happened to my platelets. I left relieved, confused, angry, happy, and on the edge of tears and screams. I sent a text message updating my caring friends. Their responses – "Yay!" "No surgery!" – but all I could add in my head was – "Yeah… not yet." I knew right then that this wasn't going to work. I didn't want to be pessimistic, but after weeks of hurry up and waiting and waiting and seeing – I just simply didn't feel like getting my hopes up again.
So, we canceled the surgery, hosted Thanksgiving, started tapering, celebrated Christmas and New Years, and – as I suspected – watched my platelets drop once again. My latest count was 44,000 – which is even under the Northwestern Hematologist's limit. So, I've gone back up a step in the steroids. Right now, I'm at 10mg one day, 5mg the next – which isn't a very large amount, thankfully – and that's probably where I'll stay until we figure out the next step. What is it?
I'm not sure, but I've been thinking for awhile now that I want a third opinion in Iowa City. The Northwestern Hematologist recommended it as well, telling me I should probably get used to that trip on I-80 if I ever want to get pregnant – I'll be considered high-risk because of this. Great.
Dr. G was able to work his magic and get me an appointment with a Hematologist at the University of Iowa Hospitals for this Wednesday, which I am so grateful for because I know how long it can take to get appointments there. I have no idea what this new doctor is going to say. I just hope I can leave there feeling… hopeful.
It's been a year of this… living with an auto-immune disease that's name even admits it has no idea what the F it is. It's been a year of going to doctor appointments every two weeks, getting my blood taken, standing on that scale, and saying "I feel perfectly fine" every single time. It's been a year of paying medical bills, money that should be going to better things… things that come in the shape of a new house or a bundle of joy. It's been a year of having to think about things I have never had to think about before – "googling" the long-term effects of Prednisone on my body, making sure I never forget to take a steroid, calling my doctor's office to see what kind of cough medicine I'm allowed to take with that steroid when I came down with a cold this past week. It's been a year of checking my entire body every day for bruises – I have two on my right leg right now – looking for any sign of those red spots, hiding dark circles under my eyes, and finding ways to accept my puffy face and hide my stomach.
However, even though it's been a year, I refuse to settle and let this be the new me. I really don't want this to be my new norm. This will not be the way I am defined. Maybe that's why I haven't shared this publicly or posted about it on social media. I don't want you to think of me differently.
But, like I found out during that week in July, I do want your support. I know that. And I want to support others. I really know that.
What if someone is feeling just as lost and alone as I am? What if we can help each other? What if there's someone who has gone through this and knows another solution? What if the power of prayer really, really works? What if this is what I needed to do to solve this?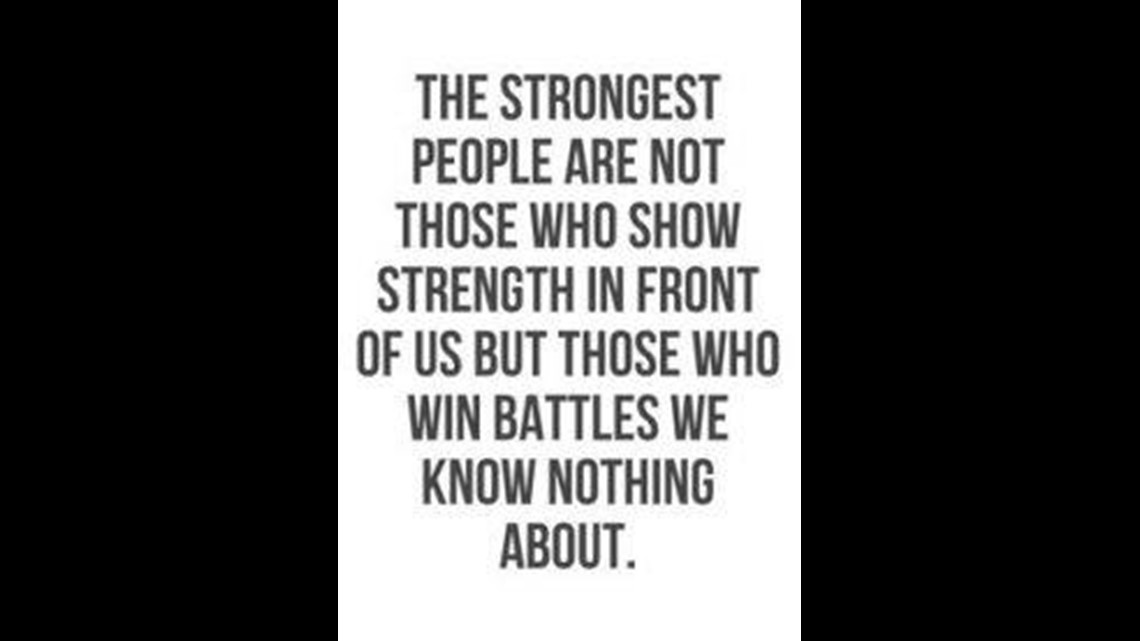 It's a matter of minutes, hours, days, months before I know the answer to any of those questions. What I do know and what I've learned from this past year – more than anything else – is a lesson about personal battles. Everyone is fighting one, whether they post about it daily or keep it private. Whether they seem and "feel perfectly fine" or you can see it as soon as you look at them. What I've really learned is there are battles much much much MUCH bigger than mine. I have a lot to be thankful for and I try really hard to remember that on those days I want to sit on the floor and have a pity party for myself.
I've always believed that everyone has a story and it deserves to be told. That's one of the reasons why I became a Journalist, to help tell some of those stories. Today, I'm telling my own. It's just one chapter – thank goodness – but I hope that posting this can get me closer to the end of it and the beginning of what's next. As they say in my business… stay tuned.