A letter, shared with state officials, asks questions over Davenport Mayor Bill Gluba's re-election campaign.
The Iowa Ethics and Campaign Disclosure Board is reviewing an anonymous letter that claims he used taxpayer money and city resources for his campaign.
The letter was sent to the Board on September 23rd: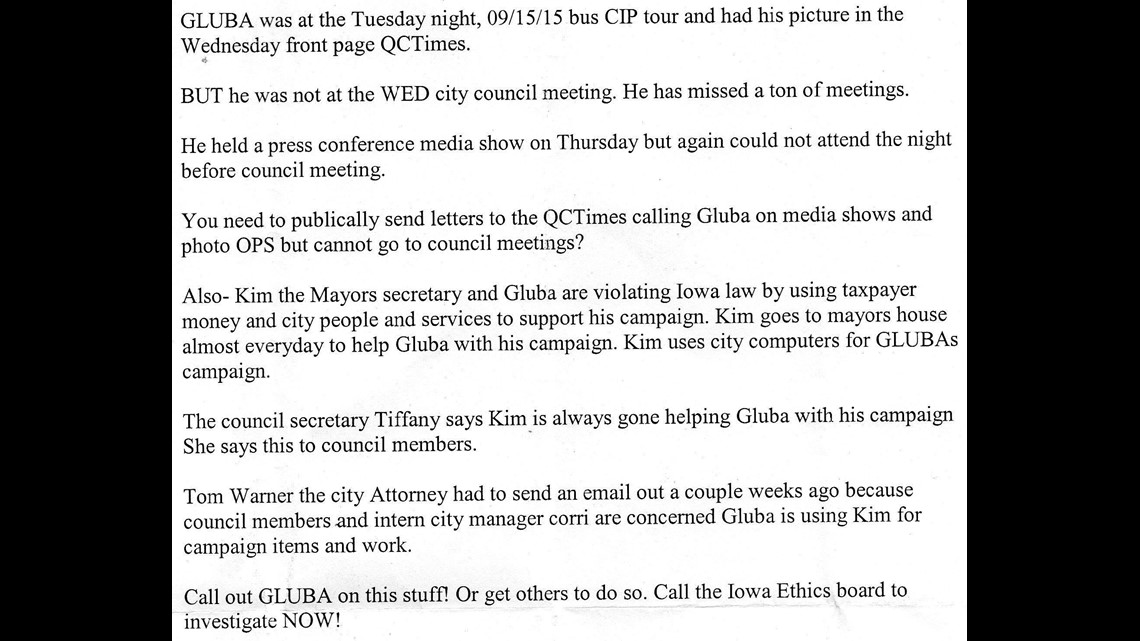 Megan Tooker, Executive Director and Legal Counsel for the Iowa Ethics and Campaign Disclosure Board, says it was sent by a Davenport resident who wishes to remain anonymous, but the actual author of the letter is unknown.
"He's not holding himself out as the author of the letter," said Tooker. "He claims he and other residents received it."
The letter alleges the Mayor's Secretary - Kim Hatfield - used "taxpayer money and city people and services to support his campaign" by using "city computers" and being "always gone helping Gluba."
According to Tooker, state code prohibits the use of government resources for political purposes.
"Government resources are paid for by taxpayers and taxpayers shouldn't have to fund political campaigns," said Tooker. "Citizens should have confidence that their government resources are being well used and that there isn't some kind of political machine that's being run out of their government offices, that there is a distinction between your political campaign and your government duties and they need to be kept separate."
Tooker says not knowing who wrote the letter makes her review of the complaint challenging.
"One of the things that's difficult about anonymous complaints like this is I don't have the opportunity to ask the person that wrote this letter how does he or she know this."
Still, she says she has talked to several people at Davenport City Hall and is just waiting to hear back from one more before they make a decision on whether to launch a state investigation.
Both Gluba and Hatfield declined interviews with WQAD on Thursday, October 8th, 2015.
Tooker says after her review, if she thinks the Mayor violated state code, she will present her case to the board. Their next meeting is November 19th, which is after the Mayoral Election.