ILLINOIS, USA — UPDATED STORY 1/18: Illinois Governor J.B. Pritzker has announced that Region 2, which includes Rock Island County, will be lowered down to Tier 1 Restrictions.
Under Tier 1, all bars and restaurants will still need to close by 11 p.m. Indoor seating will be allowed at 25% capacity or 25 guests of less, with tables separated by six feet. Pritzker says other regions within Illinois are also set to loosen mitigations in the future.
Region 5, which includes most of Southern Illinois, also went into Tier 1 mitigations Sunday, January 17th. The entire state had been under Tier Three mitigations since late November, until Friday, January 15th.
ORIGINAL STORY 1/15: Gov. J.B. Pritzker announced three regions in Illinois can loosen restrictions Friday.
The Illinois Quad Cities is included in Region 2.
Pritzker said Illinois' other regions should be allowed to leave Tier 3 "in the coming days if trends hold."
All 11 regions under the state's Restore Illinois plan have been under Tier 3 mitigation since Nov. 20, 2020, which closes casinos, prohibits indoor dining, limits gyms to operate at 25% capacity and more.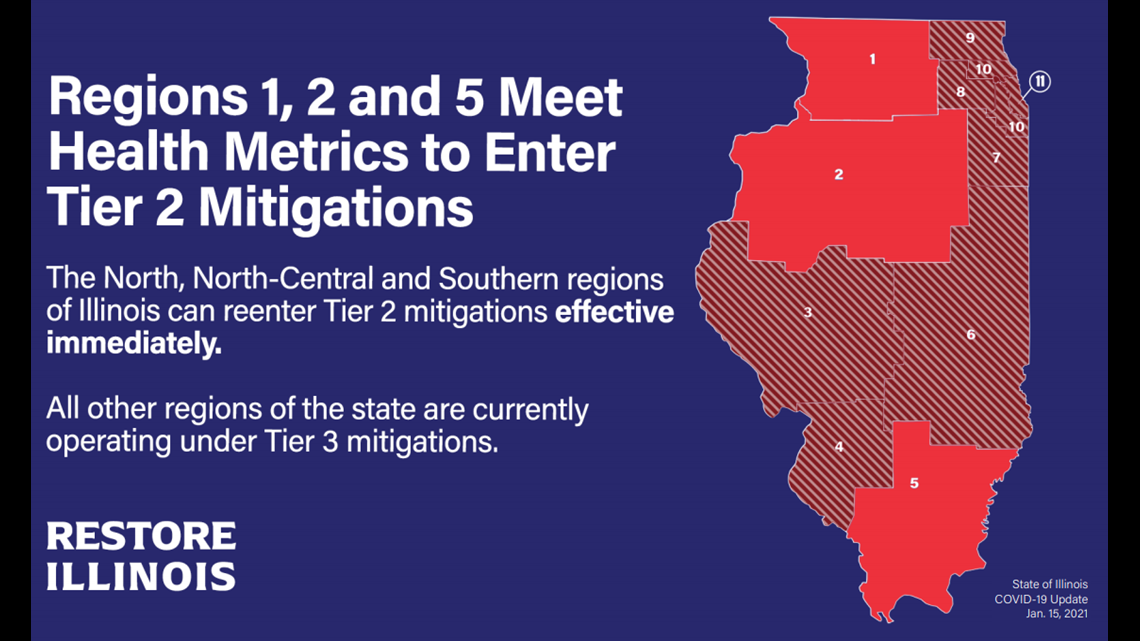 To move to Tier 1, regions must report for three consecutive days: a test positivity rate below 8%, 20% or more available ICU and medical/surgical beds, no sustained increase in hospitalized COVID-19 patients.
Illinois Department of Public Health Director Dr. Ngozi Ezike noted that any site has the potential to become a high-risk setting.
Pritzker also again congratulated Rep. Chris Welch for being elected the first Black Speaker of the House.