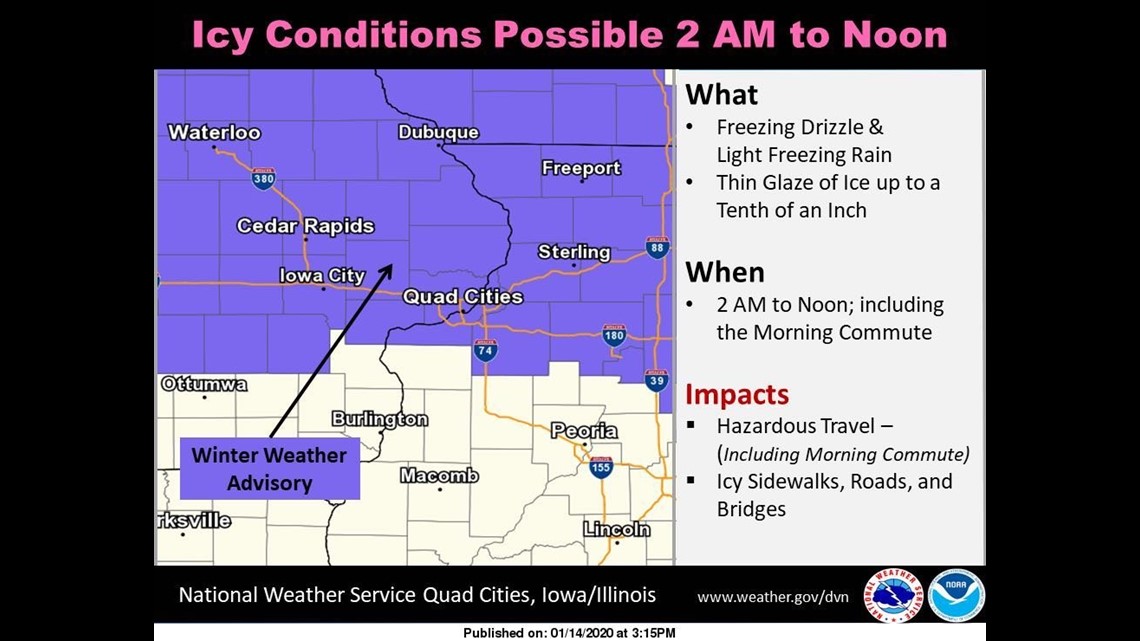 Thanks to a mix of freezing rain, roads in the Quad Cities area were slick and slippery Wednesday morning.
Traffic incidents throughout the morning:
9:20 a.m. A crash partially blocked the Northwest Boulevard (Davenport) ramp between Exit 290 on I-280 and US 6 Exit 292.
7:20 a.m. A vehicle was on its side near the milemarker 19 exit ramp on I-80 westbound.
7 a.m. A car slipped off the ramp near Exit 292 on I-80 westbound.
6:05 a.m. Slowed traffic on US-61  between DeWitt and Maquoketa. Several cars in ditches and roads are icy.
6 a.m. I-80 west AND east-bound closed between Exit 254 and Exit 259 due to numerous crashes. I-80 Durant Exit to Cedar River Bridge stopped.
5:15 a.m. Single vehicle accident on Rock River Bridge on Illinois Route 92 near Joslin, Illinois.
5 a.m. West-bound Interstate 80 is closed at West Branch, Iowa. The road is blocked due to several crashes between Exit 254: Country Road X-30 and Exit 259: Country Road X-40 (Near West Branch).
There's a nine minute delay.
4:15 a.m. One car in the ditch near the Interstate 280 bridge. Another car in a ditch along Interstate 61.