SOUTH BEND, Ind. — The Quad Cities are joining in new efforts to turn around the crisis of gun violence.
One of the new measures is one that has been used for years in other parts of the country around the same size as Davenport.
The Group Violence Intervention strategy has been up and running since early 2022 in Davenport. And about four hours to the east, the City of South Bend, Indiana, trained Davenport on its efforts after being a main focus for the past decade.
It uses community members, law enforcement and social services. Here's a look into the normal process for team members and clients through GVI:
"I'm Mychael Winston with Goodwill. We're here with GVI with the SAVE (Stand Against Violence Everyday) initiative," SAVE outreach director Winston said after responding to a mock version of former GVI client, David Miller, answering his home door. "Our job is to eliminate your barriers and assist you in being a productive citizen."
David said his father was murdered and part of gang violence, leading to the start of a series of events in David's life as young as 8 years old.
"I learned how to be a gangster from my momma," David said. "I didn't have a father figure. My mom taught me how to run these streets."
The streets is what David Miller led him down the wrong path facing charges including robbery and breaking into homes. He ended up being locked up as a teenager.
"When I realized that these king brothers don't love me like I love them," David said.
"We really can help and it's at no cost to you," Winston said.
Police say they hope the 'no cost' stays that way.
"We don't want to be putting sheets over bodies, knocking on mom's door," South Bend Police Department Chief Scott Ruszkowski said. "Those are things we do not want to be doing, we shouldn't."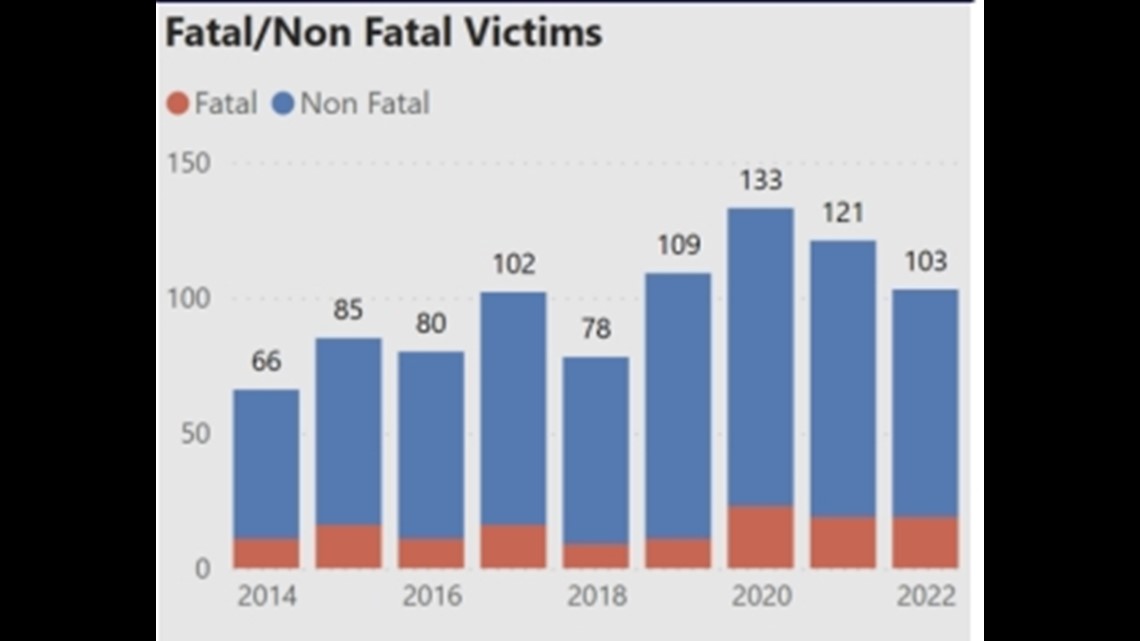 "We cannot still have people having their babies sleep in their bathtubs, so they don't get hit by a stray bullet," Ruszkowski said. "Anything above zero is a problem."
Officials said men are not the only ones behind the crime. Leaders said there's been a shift, at least in the past year, where more women and young children are involved in the violence.
"They are getting younger..12, 13, 14-year-olds," South Bend Common Council member Karen White said.
"A lot of times, they [the women] are the ones holding the gun, while the man goes and shoots," South Bend longtime activist and GVI member Gladys Muhammad said.
White and Muhammad are pillars in the South Bend community being outspoken on crime.
"It's going to take the community coming together," White said. "It's an issue of giving them hope, helping them to understand who they are, to love themselves."
Opening new doors of opportunities in life is also part of the offer to GVI clients.
"We've literally seen grown men break down in tears and cry because this is the first time they've accomplished something," GVI outreach worker Pastor Canneth Lee said.
The city's GVI team proposes jobs, education and training through Goodwill Industries.
"This has been one of the most important strategies this community has adopted," South Bend director of community initiatives Maurice Scott said.
The outreach also provides attention on potential policy changes, hosting expungement clinics and driver's license forgiveness.
"They're right there you're able to get it right there," Scott said. "They're going to sprinkle you every time they see you, they are going to touch you. That's what the power of it is. It's not some program you have to sign up for. They're going to come find you."
David is a testament to coming out on the other side.
"GVI gave me a chance," David said. "A lot of them are dead or in prison right now. I was taught to be non-violent through the GVI program."
David is now a clean man, with kids and a new job.
The GVI team is made up of people with all types of backgrounds, including people who have been to jail or prison.
The workers meet with judges, prosecutors and lawyers to help with cases for people who have followed through to try to catch a break in life.
At least 800 people a year were helped in South Bend prior to COVID, according to outreach officials. Around 350 residents received assistance since the start of COVID.
The program has also been implemented in the Cedar Rapids area. The South Bend GVI team has trained cities all over the country from the strategy that was founded at John Jay College in New York by the National Network for Safe Communities.
To read Part 1 of our series surrounding GVI's rollout in Davenport, click/tap here.
Watch more news, weather and sports on News 8's YouTube channel