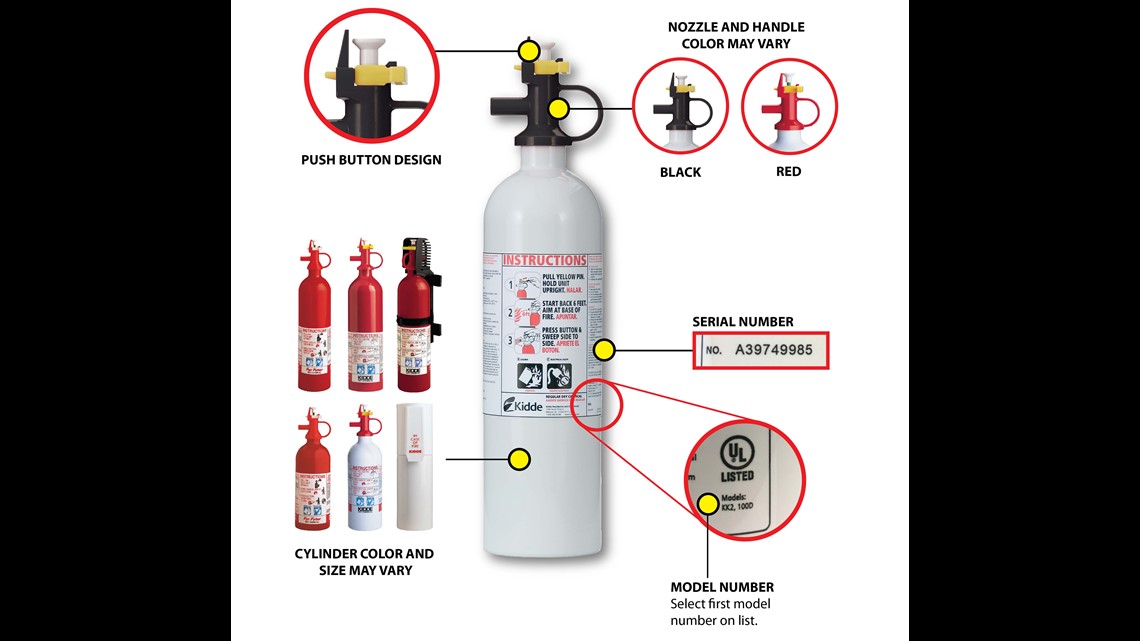 Nearly 38 million fire extinguishers are being recalled and one death has been reported in connection with the product.
One person died back in  2014, after being involved in a crash and car fire, when responders couldn't get the recalled Kidde fire extinguishers to work, according to CPSC.  To date, there have been 391 complaints about the product, 16 injuries and 91 reports of property damage.
The extinguishers were sold at Menards, Montgomery Ward, Sears, The Home Depot, Walmart, various home, department, and hardware stores and online, according to CPSC.  They were also sold with some commercial trucks, RVs, and boats.
134 models are included in this recall, sold in red, white and silver, with either an ABC- or BC-rating.  You can find the model number printed on the label.
If your extinguisher is a 2007 model or newer, the date of manufacture is a 10-digit date code printed on the side of the cylinder near the bottom.  Digits 5 through 9 are the day and year – DDDYY
Date codes for models made between January 2, 2012 through August 15, 2017 are "00212" through "22717"
Extinguishers made before 2007 will not have a date code.
*Scroll down to see all the model numbers that are included in this recall
Kidde is replacing these recalled units for free, so if you have you call Kidde for your replacement and instructions on how to return the extinguisher you have.  Their number is 855-271-0773, and they are open from 7:30 a.m. until 4 p.m. Central Time, Monday through Friday and from 8 a.m. until 2 p.m. Saturday and Sunday.
You can also get more information on their website – click here for information about this particular recall. 
Plastic-handle models produced between January 1, 1973 and October 25, 2015
2A40BC
Gillette TPS-1 1A10BC
Sams SM 340
6 RAP
Home 10BC
Sanford 1A10BC
6 TAP
Home 1A10BC
Sanford 2A40BC
Ademco 720 1A10BC
Home 2A40BC
Sanford TPS-1 1A10BC
Ademco 722 2A40BC
Home H-10 10BC
Sanford TPS-1 2A40BC
ADT 3A40BC
Home H-110 1A10BC
Sears 2RPS   5BC
All Purpose 2A40BC
Home H-240 2A-40BC
Sears 58033 10BC
Bicentenial RPS-2  10BC
Honeywell 1A10BC
Sears 58043 1A10BC
Bicentenial TPS-2  1A-10BC
Honeywell TPS-1 1A10BC
Sears 5805  2A40BC
Costco 340
J.L. 2A40BC
Sears 958034
FA 340HD
J.L. TPS-1 2A40BC
Sears 958044
FA240HD
Kadet 2RPS-1   5BC
Sears 958054
FC 340Z
Kidde 10BC
Sears 958075
FC Super
Kidde 1A10BC
Sears RPS-1 10BC
FC210R-C8S
Kidde 2A40BC
Sears TPS-1  1A10BC
Fire Away 10BC Spanish
Kidde 40BC
Sears TPS-1 2A40BC
Fire Away 1A10BC Spanish
Kidde RPS-1 10BC
Traveler 10BC
Fire Away 2A40BC Spanish
Kidde RPS-1 40BC
Traveler 1A10BC
Fireaway 10 (F-10)
Kidde TPS-1 1A10BC
Traveler 2A40BC
Fireaway 10BC
Kidde TPS-1 2A40BC
Traveler T-10 10BC
Fireaway 110 (F-110)
KX 2-1/2 TCZ
Traveler T-110 1A10BC
Fireaway 1A10BC
Mariner 10BC
Traveler T-240 2A40BC
Fireaway 240 (F-240)
Mariner 1A10BC
Volunteer 1A10BC
Fireaway 2A40BC
Mariner 2A40BC
Volunteer TPS-V 1A10BC
Force 9 2A40BC
Mariner M-10  10BC
XL 2.5 TCZ
FS 340Z
Mariner M-110 1A10BC
XL 2.5 TCZ-3
Fuller 420  1A10BC
Mariner M-240 2A40BC
XL 2.5 TCZ-4
Fuller Brush 420 1A10BC
Master Protection 2A40BC
XL 2.75 RZ
FX210
Montgomery Ward 10BC
XL 2.75 RZ-3
FX210R
Montgomery Ward 1A-10BC
XL 2-3/4 RZ
FX210W
Montgomery Ward 8627 1A10BC
XL 340HD
FX340GW
Montgomery Ward 8637  10BC
XL 4 TXZ
FX340GW-2
Quell 10BC
XL 5 PK
FX340H
Quell 1A10BC
XL 5 TCZ
FX340SC
Quell RPS-1 10BC
XL 5 TCZ-1
FX340SC-2
Quell TPS-1 1A10BC
XL5 MR
Gillette 1A10BC
Quell ZRPS  5BC
XL 6 RZ
Plastic-handle models with date codes between January 2, 2012 and August 15, 2017
AUTO FX5 II-1
FC5
M10G
FA10G
FS10
M10GM
FA10T
FS110
M110G
FA110G
FS5
M110GM
FA5-1
FX10K
M5G
FA5G
FX5 II
M5GM
FC10
H110G
RESSP
FC110
H5G
Push-button Pindicator fire extinguishers: The recall involves eight models of Kidde Pindicator fire extinguishers manufactured between August 11, 1995 and September 22, 2017. The no-gauge push-button extinguishers were sold in red and white, and with a red or black nozzle. These models were sold primarily for kitchen and personal watercraft applications.
Push Button Pindicator Models manufactured between  August 11, 1995 and September 22, 2017
KK2
M5PM
100D
AUTO 5FX
210D
AUTO 5FX-1
M5P
FF 210D-1
Note from the CPSC:
"This recall includes fire extinguisher models that were previously recalled in March 2009 and February 2015. Kidde branded fire extinguishers included in these previously announced recalls should also be replaced. All affected model numbers are listed in the charts above.
Recall information for fire extinguishers used in RVs and motor vehicles can be found at http://www.NHTSA.gov.";