BETTENDORF, Iowa — In just a few moments, the demolition contractor for the old Interstate 74 bridge will use "controlled explosives" to take down more parts of the structure, bringing the Quad Cities closer to the end of the bridge altogether.
The Iowa Department of Transportation made the announcement on Monday. Weather permitting, Helm Group will start the operation on Sunday, June 18. The demolition could start as early as 7 a.m.
Helm Group will use the controlled explosives to remove the suspension cables and towers on the eastbound bridge during that time. Due to the explosives, a temporary closure is planned for the new I-74 bridge, commercial river traffic and pleasure boaters. More details about the closures are outlined later on in this story.
"Safety is our utmost priority during the demolition process. We ask the public, including boaters, to be cautious and avoid the restricted area during this critical operation," said Chris Snyder, project manager for Helm Group, in a press release. "By respecting the safety measures in place, we can ensure the well-being of everyone involved and complete the process quickly and efficiently. We appreciate the understanding and support of the community."
How can I watch the demolition?
News 8's BridgePointe camera will be streaming the demolition. You can find that on News 8's YouTube channel or by clicking/tapping here.
What time will the river close?
The Iowa DOT says the main navigation channel of the river will be closed for up to 24 hours, starting at 6 a.m. on June 18. Areas outside of the main channel will be closed for up to 72 hours.
Law enforcement will be on-site to monitor the river during the demo process.
What time will the new bridge close?
The entire new bridge will be closed for about an hour on Sunday morning with a posted detour in place. Through traffic will be routed through Interstate 80 and Interstate 280.
Local traffic will be routed through the Centennial Bridge in Davenport to cross the Mississippi River and then routed to either downtown Bettendorf to get to westbound I-74 or downtown Moline to get to eastbound I-74.
The bike and pedestrian path will close on the night of June 17 for about 24 hours.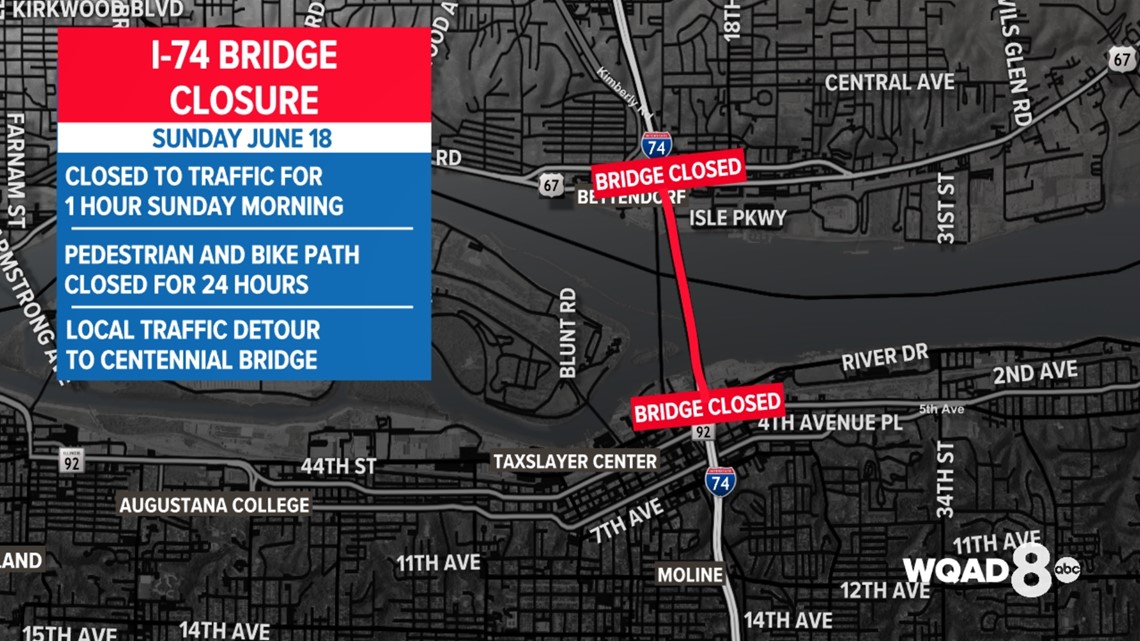 Access to the riverfront path in Bettendorf will be restricted
Access to this area, including Leach Park, will be strictly prohibited. Here's what else to know:
Sections of the riverfront path in Bettendorf will be closed.
Access to the businesses on State Street and the Isle Casino Hotel will remain open.
The parking lot adjacent to the new bridge in Bettendorf will be closed to the public.