UPDATE MONDAY: What had been an impressive run of prognosticated picks last week has slowed to a celestial run in with reality Monday after two psychics predicted the outcome of the 2015 mens' NCAA basketball tournament.
After selecting 23 of 32 games correctly Thursday and Friday, including the major upsets (wins by UAB and Georgia St.) that only 1.9% of people in the country got, Ronna and Vicki now have only 6 of the teams in the Sweet 16 left: Gonzaga, Louisville, Wichita State, Kentucky, Utah and North Carolina.
From here on out, it's not pretty-- only UNC is penned in with a chance to get to the Elite 8... and that's it-- no potential Final Four teams still have a shot.
Enough to Ronna and Vicki more national attention? Probably not.
Enough to still get Jason Fechner the top spot in WQAD's office pool?!
UPDATE FRIDAY NIGHT: They made national news Friday morning, after two psychics selected 12 of 16 games correctly Thursday, including the huge upset wins by UAB and Georgia State-- their bracket ended up in the top 1% nationwide (see story below).
Friday, Ronna and Vicki's bracket essentially picked up where it left off, as the medium and card reader respectively had correctly selected another 11 winners, including Iowa, Wichita State, Louisville, West Virginia, Northern Iowa, Kansas, San Diego State, Gonzaga, Virginia, Duke and Wisconsin.
In all, the two women correctly selected 23 of 32 winners in the 2nd round without any knowledge of sports, or even the benefit of seeing which teams were seeded higher (i.e. a favorite to win).
If they can do that well with a basketball bracket, imagine what they could do with predictions about your career or love life?!
UPDATE THURSDAY NIGHT: UAB over Iowa State? Check.
Georgia State over Baylor?! Check.
UCLA?!? Ohio State?!?! LSU?!?!? Utah?!?!?! Arkansas?!?!?!?
Check. Check. Check. Check. Check.
UNC. Georgetown. Notre Dame. Arizona. Villanova. Kentucky-- when it was all said and done late Thursday night, two psychics correctly nailed 12 of 16 games in the NCAA men's basketball tournament second round.
Only 5.1% of the 11.57 million people who submitted a bracket through ESPN.com correctly picked UAB to upset ISU.
Only 1.9% correctly picked both UAB and Georgia State, two 14-seeds, to upset their favored counterparts, Iowa State and Baylor, respectively.
Add in the 10 additional victories, and the psychic selections of Ronna Boyd and Vicki Pearson have landed their celestially selected March Madness bracket into the Top 1%.
Even more ridiculous?! Had Purdue and LSU-- both 9-seeds-- hit just one more basket against Cincinnati and North Carolina State respectively, they would have gone 14 of 16 (both games were decided 66-65).
As for what the future holds Friday?!
I wouldn't bet against them...
ORIGINAL STORY: After coin-flips failed to finalize a winning March Madness bracket two years ago and picking names out of a hat left my bracket in the basement last year (see stories below), I did the only logical thing to fill out my NCAA men's basketball bracket this time around:
Ronna Boyd, a spirituality guide and psychic medium, and Vicki Pearson, a psychic card reader, sat down with me this week, and harnessing the power of crystals, cards, and overall positive vibes and visions, my bracket-- once written in the stars-- came crashing down to Earth in ink.
Some surprises? Valparaiso University (my alma mater) had best prepare for a flood of new recruits after it beats top-seeded Kentucky in the third round and ends up in the Final Four. Their run as a 13-seed will be bested by UAB's, as Ronna and Vicki see the 14-seed Blazers rolls to a Final Four berth themselves.
The State of Iowa, with three teams making the March Madness cut, will only be able to celebrate one team's victory, as the women see 7-seeded Iowa making it to the second round, but both Iowa State and UNI losing in the first round.
Winning it all? Not out of the realm of possibility, as the seers of seers see 1-seed Villanova beating Ohio State when it's all said and done.
Only time and the celestial trails will tell just how accurate this March Madness bracket becomes: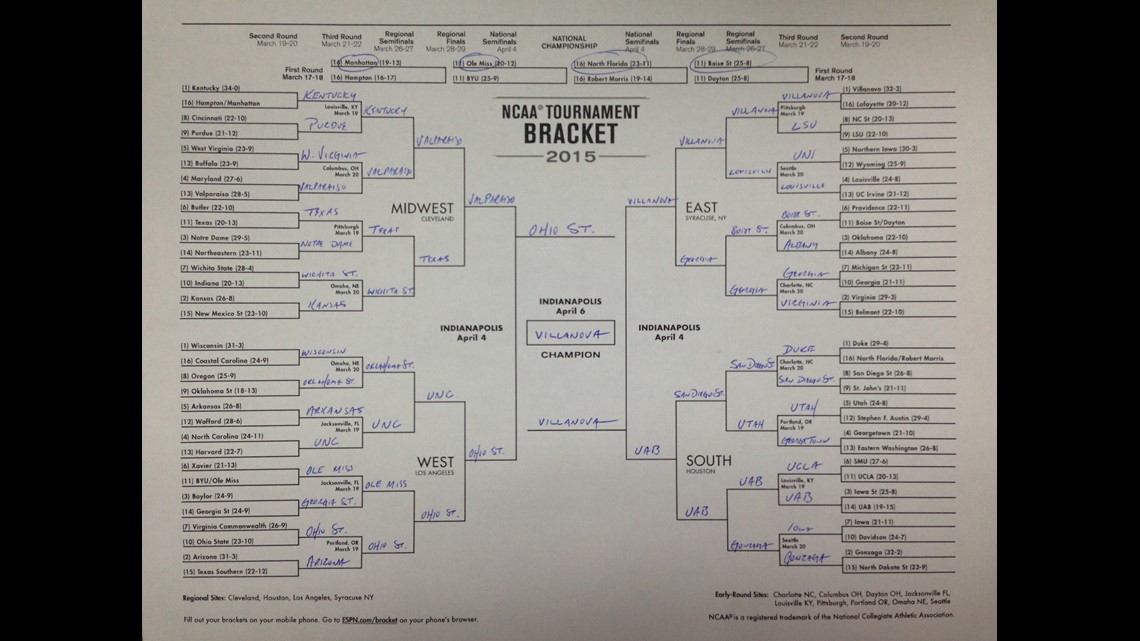 My 2014 bracket selection method:
My 2013 bracket selection method:
To contact Ronna or Vicki, call 309-764-2653