AMELIA COUNTY, Va. – One year after a pony was left for dead in a muddy ditch in Amelia County, the animal's road to recovery is being called Christmas miracle by the veterinarian who saved him.
Dr. Carmen Franck Vaughan said Amelia Animal Control officer Brian Wootten called her last December after he discovered the sick animal, according to WTVR.
"[The pony was] abandoned in a muddy ditch on a back road, left to die," Dr. Vaughan wrote on Facebook . "We got him back to the hospital and the weakness that should have resolved with warmth and hydration remained, and it became obvious that this pony wasn't just cold and weak, he was neurologic."
EPM is contracted through opossum feces left on the ground and ingested by horses while eating grass.
"After ingestion, it can migrate to the spinal cord and if this occurs it causes paralysis that worsens and spreads the longer the parasites go untreated," Dr. Vaughan said.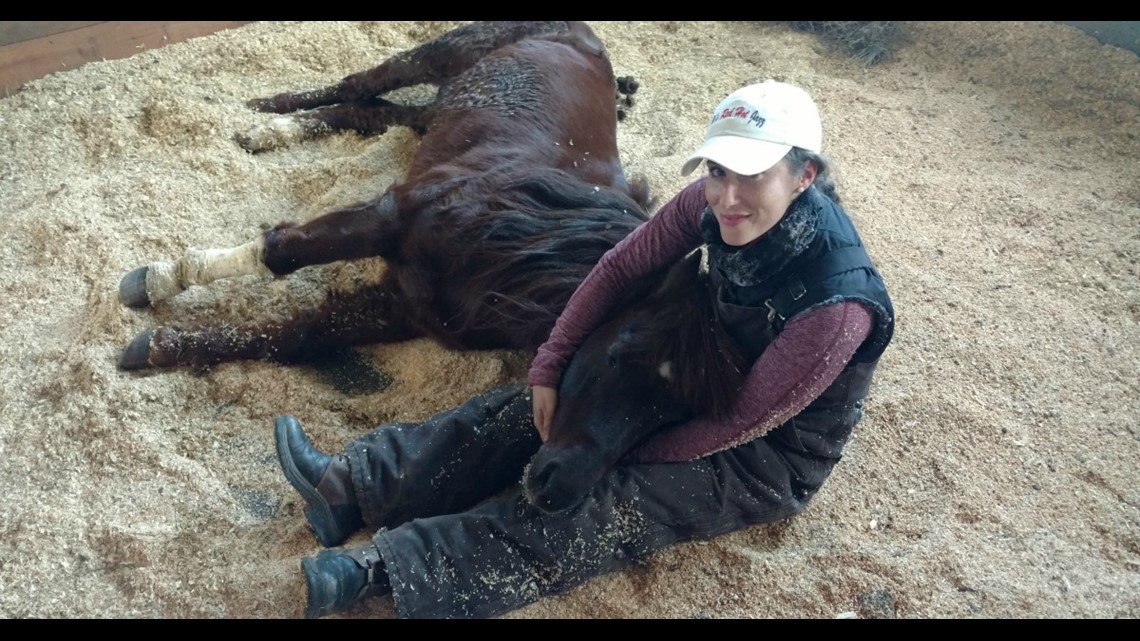 A YouTube video chronicles the animal's journey, which included being fitted for a special sling so he could stand properly.
The veterinarian and her husband, which was her partner in the animal's ongoing therapy, fell in love with the "gritty pony" and adopted him.
And he has been getting some unique treatments, including weekly massages and laser therapy.
"Can I just say how much I love this woman?" Vaughan posted on Facebook earlier this month. "And, even after almost a year, we are seeing continued improvement! Never give up! Furthermore, as you can tell by his glazed over tiny pony eyes, he is a big fan of her work!"
Vaughan, who nicknamed the now 17-year-old pony "Ditch Pony" or "Ponz" for short, said he has made a remarkable recovery over the past 12 months.
"Today is a day that I never thought would really happen," Vaughan posted on Facebook." I am sharing our Christmas miracle with the world 1 year later."
Vaughan said "Ponz" has become a mascot for her family. The pony can now walk, trot, canter and even run.
"He can do everything a normal pasture pony can do, and thinks he is 10 feet tall and bulletproof," she wrote.
Vaughan said "Ditch Pony's" story of survival has been an inspiration.
"He is always in the back of my mind when I am trying to find the strength to keep treating a tough case or even fight a battle in my own life," she wrote. "So far he has helped to raise over $6000 for the Richmond Mounted Police and Central Virginia Horse Rescue combined and I think he knows it!"
Vaughan hopes the rescue can now travel to rehabilitation centers or children's hospitals to share his remarkable story.
Vaughan said there was only one tip in the case about a dark pickup truck and trailer spotted on Buckskin Creek Road where the animal was found.
She urged anyone with information to call Amelia Animal Control at 804-561-3878.