ERIE, Pennsylvania (CNN) — When Pennsylvania State Police Cpl. Aaron Davis pulled over the notorious white Ford Fusion during a traffic stop and looked at the face in the driver's rearview mirror, he got a good look at a killer.
"I knew it was him," Davis said. "I said, 'This is it, get ready." That was the moment when Davis realized the face looking back at him belonged to Steve Stephens, the man who killed 74-year-old Robert Godwin Sr. then posted video of the shooting on Facebook.
On Thursday, May 11th, for the first time, Davis and fellow trooper Cpl. Mark Van Horn shared the story of how they captured Stephens, the subject of a nationwide manhunt in mid-April that had residents on edge in Ohio and Pennsylvania.
For days Davis and Van Horn had been anticipating this moment. The question was, would it end violently?
"We absolutely prepared for that to be a shootout with the way Stephens had acted, the crime he committed, the threats he made to the public," Davis said. "We were absolutely certain he wasn't going to go down peacefully."
But that's not what happened.
Instead, Stephens decided to pull away from the traffic stop. Davis flipped on his patrol car's lights and siren and began a bizarre chase he will never forget.
It was a crucial last chapter of a manhunt that began days earlier after Stephens, 37, posted a horrific and graphic video to his Facebook page. It showed Stephens exiting his car in Cleveland, walking up to Godwin and shooting him in the head. Godwin, a grandfather, had been taking a walk after enjoying an Easter celebration with his family.
Two days after the killing, police in Erie, Pennsylvania, including Davis and Van Horn, were on the lookout for Stephens. "Everyone was concerned," Van Horn said.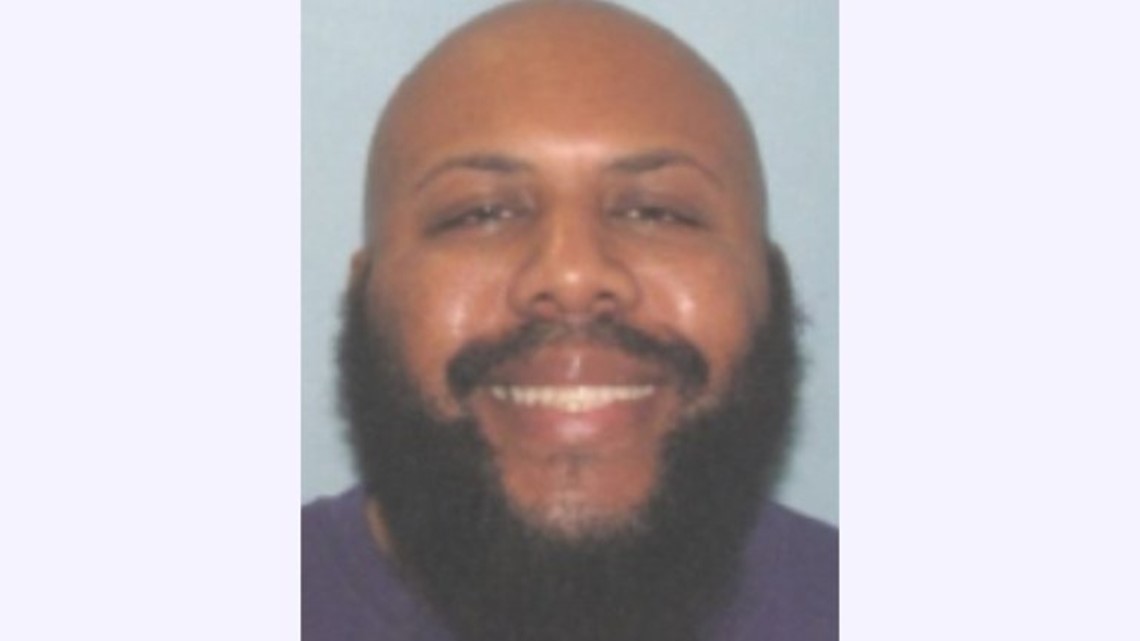 When Stephens entered the drive-thru of a local McDonald's and bought a meal, an alert employee recognized him and immediately called 911.
"It was crucial." he said, "We can't do our job without help from the public."
Coincidentally, Davis was taking a quick break in a shopping complex across the street from the McDonald's, when he heard a call come over the radio.
"Dispatch was saying there's a white Ford Fusion with Ohio tags leaving the drive-thru right now," Davis recalled. "Then, I actually saw the vehicle go by and we were trying to catch up to him."
Davis followed the car, as Stephens made several traffic violations, before he decided to pull Stephens over. That's when the two men caught each others' eyes in the car mirror.
But, shortly after he stopped, Davis said, Stephens pulled away and continued driving, never going much faster than the speed limit. Davis watched as Stephens tossed his food and drink out the car window.
"It was a little unnerving that he was being so nonchalant about it," Davis said. "It seemed like he was almost enticing us."
As both cars weaved around traffic, the chase was nearing 2 miles. By that time, Van Horn had taken a shorter route to catch up.
Soon, Van Horn realized the chase was nearing a location that would offer him a perfect opportunity to execute a maneuver Van Horn had never used in his 20-year career: The PIT maneuver, or precision immobilization technique, a police tactic used to stop a fleeing car.
When the cars came to a stretch of open road "as far as you can see," Van Horn bumped his cruiser into the rear side of Stephens' car, forcing it to spin out of control and allowing other police vehicles to stop him from getting away.
"It was happening so fast," Van Horn remembered. "It was numbing at first; it went well."
When Stephens' car came to a stop, authorities from several agencies surrounded it. They discovered the driver's side window had been blown out. Officers soon realized Stephens had used a gun to take his own life.
"I think it was his intention to die that day, whether by his own hand or ours," said Van Horn. "I know the (Godwin) family wants closure. We would have liked to apprehend him, but that didn't happen."
The killer was dead and no police officers had been hurt. "As bad as it was, this guy was stopped," Van Horn said. "It was a feeling of relief in some ways."
Both officers called their families soon after. Davis called his father. a retired highway patrolman from Michigan. "He likes telling his buddies that his son was involved, so he's pretty proud," he said.
Davis and Van Horn both said they can't help but think about the Godwin family.
"I try to remind myself of the human side of this and it's my job, but I still have feelings, too," Van Horn said. "And my heart goes out to those folks."
The fact that the Godwin family has publicly forgiven Stephens isn't lost on Van Horn. They're obviously good people, he said.