See AWR2 Guyton and two more sailors from the Quad Cities at work on the USS Dwight D. Eisenhower on Monday, May 22 on WQAD News 8 at 5 p.m.
NORFOLK, Virginia — Naval Aircrewman Austin Guyton graduated Moline High School in 2010 with a drive to get out into the workforce immediately.
"I wanted something different," said AWR2 Austin Guyton, "My family grew up building tractors and I didn't want to do that. College was also an alternative route, but I just wanted to get out there and start working so I chose the Navy," he said.
Now, he flies in an MH-60R Helicopter as part of the air wing of the USS Dwight D. Eisenhower (CVN 69) aircraft carrier, also known as the Ike. The helicopter is used for flight operations including anti-submarine and anti-surface warfare (ASW), Search and Rescue, Combat Search and Rescue and Logistics.

On Tuesday, April 4, from the hanger bay of Ike, as rain falls and wind whips outside, AWR2 Guyton looks back on what's got him here.
As he reflects, Ike's flight deck has been temporarily shut down to wait out the strong winds; it will be back up in no time, as the air wing is busy getting in their air-qualifications. The ship is 150 miles off the coast of Naval Station Norfolk in Norfolk, Virginia in what is called a sustainment phase.
The Ike returned from a 7 month deployment in December, 2016. Deployment operations began in the Mediterranean Sea and transitioned to a longer stay in the Persian Gulf.
"So if there are enemy submarines out in front of the fleet they send us at a certain distance in front of the carrier to do screens," said AWR2 Guyton, "We'll lower our sonar and split out buoys to find that, that specific sub. Then once we find it, we locate, we track it, we send information back to the carrier, the carrier then tells us what we can and cannot do. If [leaders on the carrier] want us to engage it, we'll be loaded with a torpedo," he said.
Once on the helicopter, AWR2 Guyton sits behind the pilot.
A look inside and you will see metal walls, a computer consul, and technology unrecognizable to someone not close to the mission.
At any given time, there are two or three sailors on the helicopter; Usually it's just the pilot and AWR2 Guyton but at other times, there will be a third sailor inside the aircraft, at which point the aircraft is Search and Rescue (SAR) capable.
SAR is a secondary mission for the MH-60R.
AWR2 Guyton has been through training to become SAR-qualified. He could drop from the helicopter and save someone in the ocean if needed. He's been in the Navy now for 4.5 years, three-quarters of the way through his six year contract, though he says he wants to stay in the Navy.
AWR (Naval aircrewman, tactical helicopter) is an enlisted rank, the number that comes after that refers to rank. AWR2 Guyton works a lot with helicopter pilots – a role which is an officer rank, which requires a college degree.
"They have a lot of cool stories, and for me I don't have a college education yet, so for them having that, they give me a lot of insight on tips and stuff as far as what degrees are out there and how to go about getting one," said AWR2 Guyton.
To get to where he is today, he has been through several training programs and hours on hours of studying for various qualifications.
"I am doing great," said AWR2 Guyton, "[I'm] excelling at this program, I have gotten fully [qualified] in way before the allotted time; I am starting to lead other sailors in this program," he said.
The adrenaline of flying is AWR2 Guyton's favorite part about his job.
"As an AW (Naval Aircrew) I love flying," said AWR2 Guyton, his face lighting up, "Especially in a helicopter, when we have the cabin door open and we're doing 120 knots at 200 feet, it's awesome, it's great. I can hang out the door, just see everything from a birds-eye view, it's great," he said.
AWR2 Guyton compares the helicopter he flies to the Army's Black Hawk.
"We have we have two machines that come out, one mounts on a deck plate here it's a 50 [caliber] machine gun and then we also have a 240 [machine gun] that mounts off the side here," he explains while walking around the aircraft.
The core capabilities of the U.S. Navy is forward presence, deterrence, sea control, power projection, maritime security, and humanitarian assistance and disaster response.
Now that the Ike is in its sustainment phase closer to the shores of the United States, missing home isn't so bad – he can use Skype and email to keep in touch with friends and family, but prior to December, on deployment – things were different.
"When we were on crews for 7 months, I definitely missed home," he said.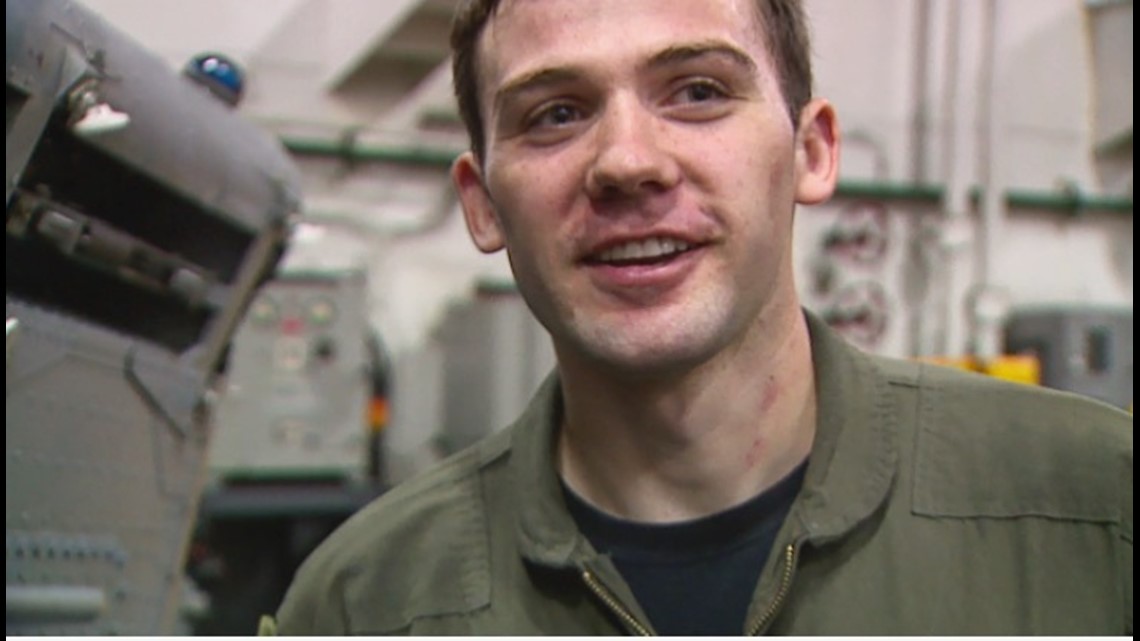 Though being within 200 miles the east coast of the United States seems like home compared to the Persian Gulf, it's a long way to Moline, Illinois.
If he could go to one restaurant back home in this moment onboard the Ike, AWR2 Guyton says he'd go to Whitey's Ice Cream.
"Definitely Whitey's Ice Cream," he laughs, "I love Whitey's Ice Cream."
See AWR2 Guyton and two more sailors from the Quad Cities at work on the USS Dwight D. Eisenhower on Monday, May 22 on WQAD News 8 at 5 p.m.