ROCK ISLAND, Illinois-- After seeing images and reading stories of migrants being teargassed by border patrol agents this week, half a dozen organizations and religious congregations came together Friday, November 30 to call for change.
"Horrified. Absolutely Horrified," says Rev. Rich Hendricks, the pastor at the Metropolitan Community Church of the Quad Cities. "It is wrong, and people need to stand up."
People rallied outside the Federal Immigration Offices in downtown Rock Island to call on the director to meet with local groups and hear their concerns.
Besides the treatment of migrants, demonstrators say they're worried asylum seekers at the border will be detained rather than having their requests processed.
"These people have a right to seek asylum at the nearest border crossing," says Marjorie Mejia-Caraballo, a chairperson for Progressive Action for the Common Good. "I'm really concerned that these people are going to wait for months if not longer."
This fear stems in part from statements made by President Donald Trump. Early last week, he tweeted that people crossing the border illegally should be detained or turned away at the border.
Catch and Release is an obsolete term. It is now Catch and Detain. Illegal Immigrants trying to come into the U.S.A., often proudly flying the flag of their nation as they ask for U.S. Asylum, will be detained or turned away. Dems must approve Border Security & Wall NOW!

— Donald J. Trump (@realDonaldTrump) November 18, 2018
"These are just people trying to seek a better life," Rev. Hendricks says. "To welcome the stranger is a part of my values as a Christian."
Aaron Wagner, the lead organizer for the Quad Cities Interfaith, coordinated this letter sent to the local ICE director.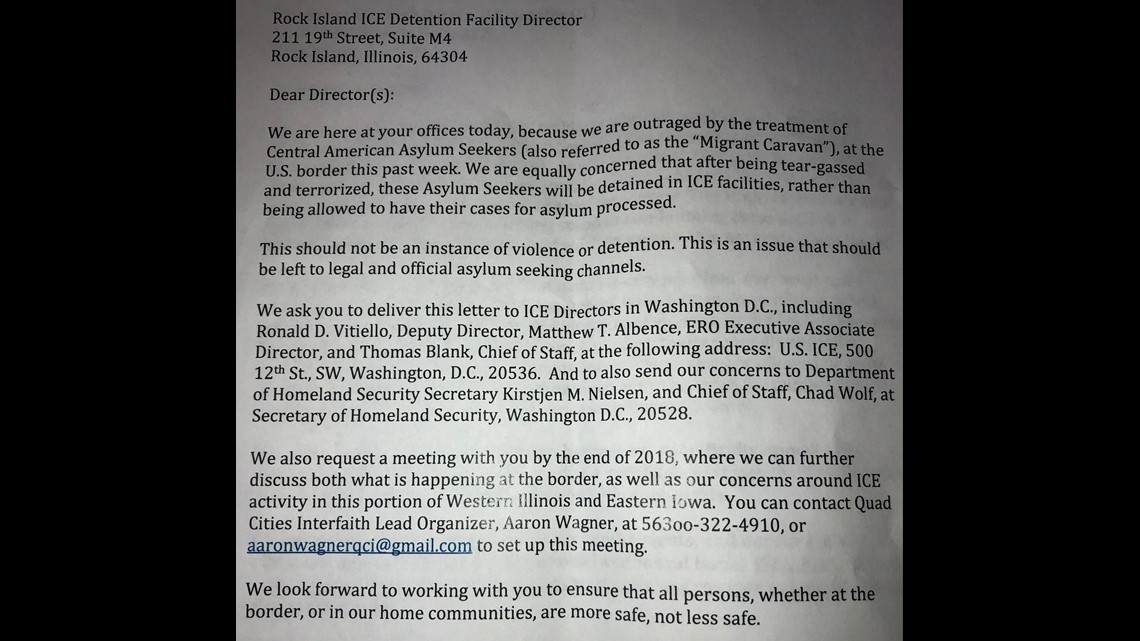 Other demonstrators say they want to see more financial resources and personnel on the federal level directed to processing asylum applications more quickly.
Members from Quad Cities Interfaith, SAGE Sisters, LULAC, Catholic Dioceses, Democratic-Socialists, One Human Family, Progressive Action for the Common Good and Quad Cities Sanctuary Coalition were at the rally.