UPDATE: Our Facebook livestream is up and running. You can watch it here.
Keep in mind, we don't know the exact time of the demo, so you may need to be patient.
Earlier: Today marks the end of an era for Eastern Iowa and Northwestern Illinois, as the original crossing of the Mississippi River at Savanna, Illinois and Sabula, Iowa comes crashing down. The bridge has spanned the Mississippi River for 86 years and will be imploded between 9am and noon today.
Click here to see how you can watch the demolition live with WQAD today.
Built in 1931 and 1932, construction of the bridge brought economic vitality to the region during and after the Great Depression. The original cost of the bridge was $750,000. Upon completion, the bridge was billed as the "Short Route" between Chicago and Cedar Rapids. But the bridge was designed during a time when cars and trucks were small and the twenty foot width of the roadway just wasn't wide enough.
The bridge had an open-grate bridge deck that meant that those crossing the 65-foot tall bridge could see right down to the water below. It was particularly treacherous during times of freezing rain when the steel would accumulate ice.
In 2017, the U.S. Department of Transportation spent $80 million to build a new crossing, immediately south of the existing structure. Opened last November, the link was only open for a few months though. A safety issue, discovered in February, meant travelers had to take a pause until new work is completed in May.
Residents we talked to remember the old bridge fondly, but admit it's time to let it go. Ron Mennenga, moved to the area in 1968, "they kept up the maintenance on that pretty good. But when they put salt down on the bridge, it would go through the grates and end up in the river."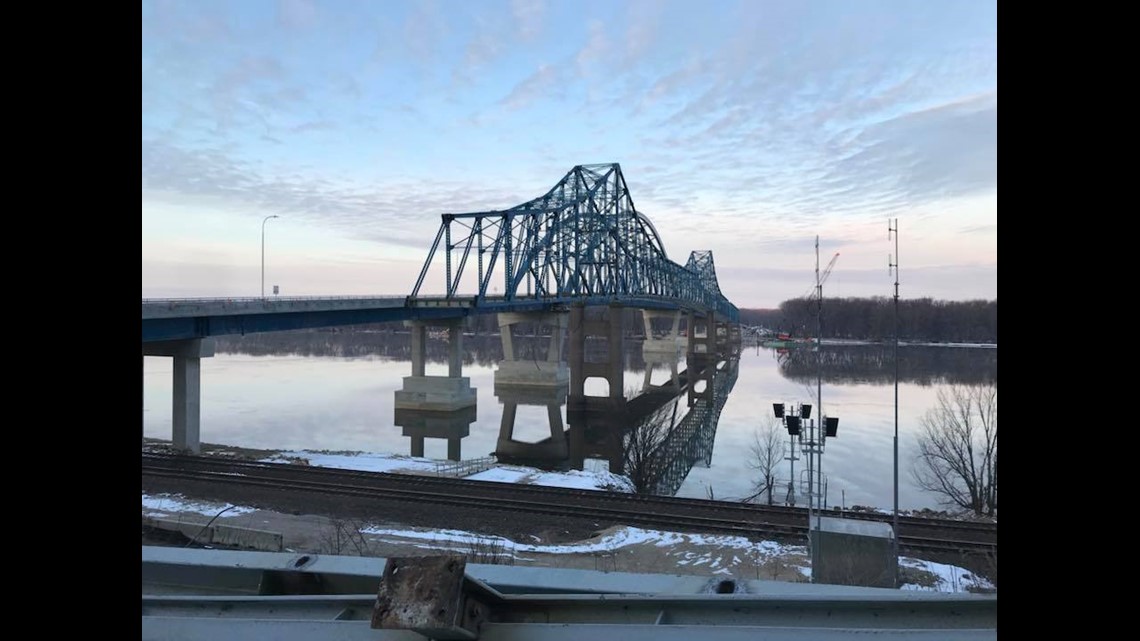 Savanna police officer, Nick Meeker, kept watch over the old bridge on its last night. "We want to make sure nobody goes near the bridge as there are explosives attached to it." Growing up in neighboring Mount Carroll, he remembers crossing it as a kid but admits, it's time to say goodbye.
WQAD News 8 will have live coverage on this morning's newscasts from 11 a.m. to noon and on social media platforms.