QUAD CITIES - According to a report by State Farm Iowa has the 5th highest chance in the USA of you colliding with a deer while driving.
Their annual report released October 1 states:
"The 16th annual State Farm deer-vehicle collision study has some good news. Overall in the U.S., drivers were less likely - one in 167 - to have a crash involving a collision with deer, elk, moose, or caribou. Last year's survey put that chance at one in 162. It is estimated deer, elk, moose, and caribou collisions dropped slightly to 1.33 million in the U.S. between July 1, 2017 and June 30, 2018 — down from 1.34 million in 2017. And, this is despite the fact that there are nearly four million more licensed drivers."
West Virginia is at the top of their list for the twelfth year in a row, with a 1 in 46 chance you'll hit a deer there. Surprisingly Illinois has a 1 in 200 chance. Illinois isn't even in the top ten, it actually ranks 32nd despite being Iowas next door neighbor.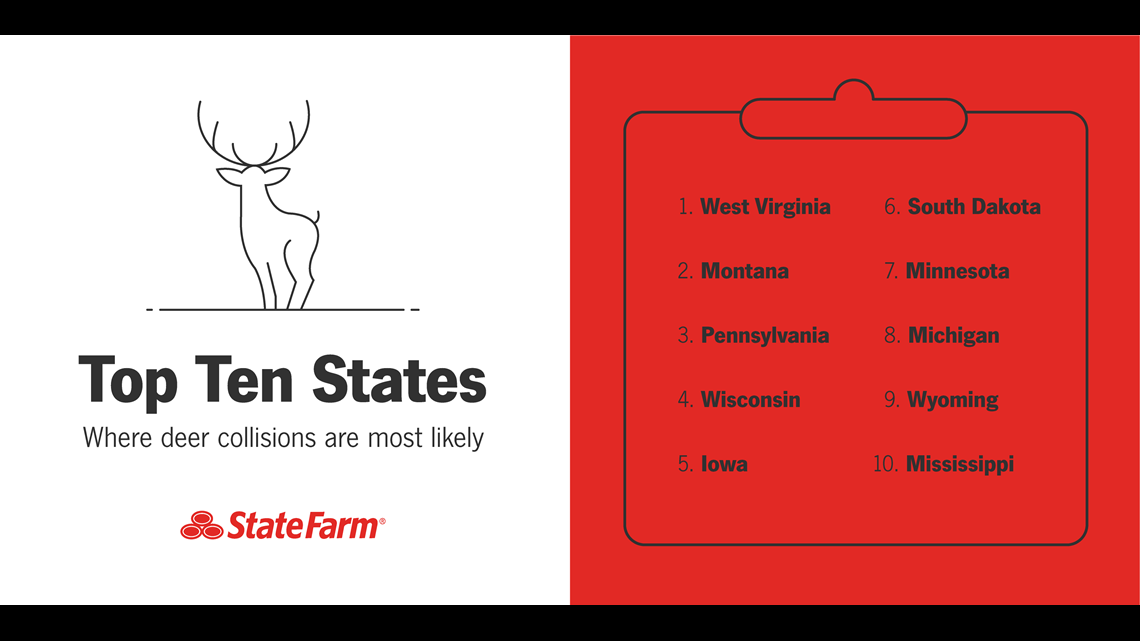 State Farm says, the chances of hitting a deer, or other large animals, doubles in the fall.
"The months with the most claims are November, October, and December, in that order."
"You're also more likely to collide with a deer when the sun starts to set. Drivers should be engaged, alert and on the lookout at all times. You never know when you may need to react to a deer or other obstacle that may cross your travel path."
State Farm had these tips to help keep drivers safe:
Slow down, particularly at dusk and dawn.
If you see one deer, be prepared for more deer to cross the road.
Pay attention to deer crossing signs.
Always buckle up - every trip, every time.
Use your high beams to see farther, except when there is oncoming traffic.
Brake if you can, but avoid swerving. This can result in a more severe crash.
Remain focused on the road. Scan for hazards, including animals.
Avoid distractions. Devices or eating might cause you to miss seeing an animal.
Do not rely on products such as deer whistles. They are not proven effective.
If riding a motorcycle, always wear protective gear. Keep focus on the road ahead.