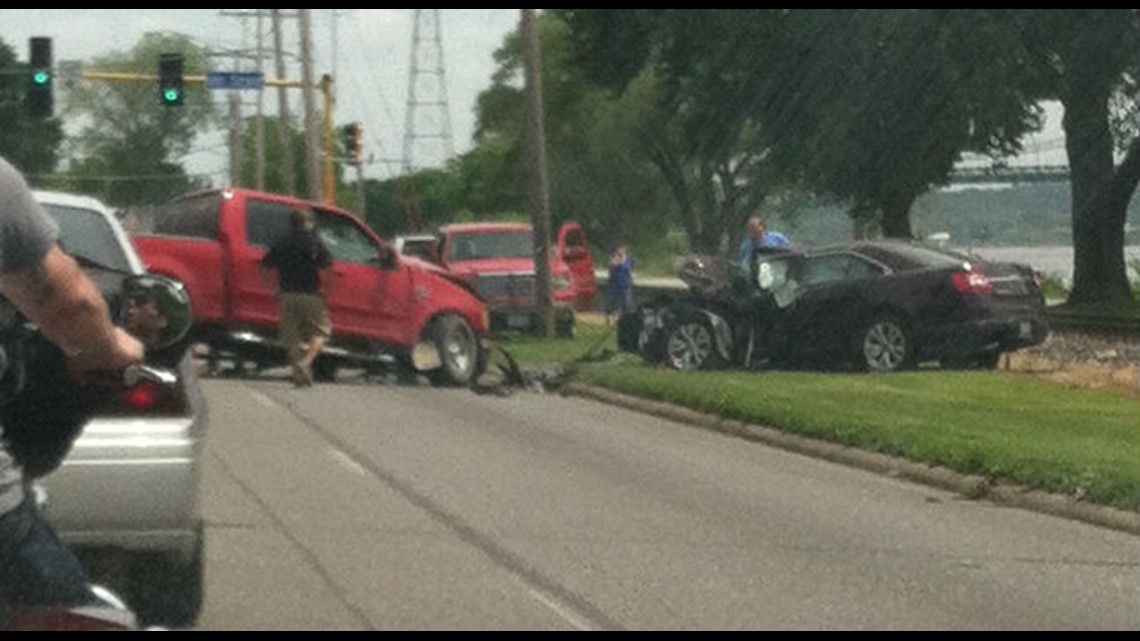 A head-on collision closed River Drive in Bettendorf, Iowa.
The wreck was reported at about 1:30 p.m. Monday, June 16, 2014.
The crash involved a pickup truck and a passenger car.  Initial information indicated the truck was westbound and cross the center line, colliding with an eastbound Ford Taurus.  Police said the truck driver may have suffered a medical problem immediately before the wreck happened.
Police said there was one person in each of the vehicles involved, and both of those people were taken by ground ambulance to a local hospital
A MedForce helicopter ambulance was summoned, and it was expected to remain on standby at the hospital.
Police indicated they would shut down all lanes of River Drive as rescue workers handled the scene of the crash.  A one-block stretch of River Drive remained closed just after 2 p.m.
Police were asking motorists to avoid the area of River Drive and 6th Street.
Emergency workers were clearing from the area and expected to reopen the road just after 3 p.m.  One lane each direction was open by about 3:15 p.m.  All lanes were reopened just before 3:30 p.m.
The day after the wreck happened, a city spokesperson said the 67-year-old woman who was driving the Ford Taurus was transferred to a hospital in Iowa City because of the severity of her injuries.
The names of the drivers involved were still withheld.