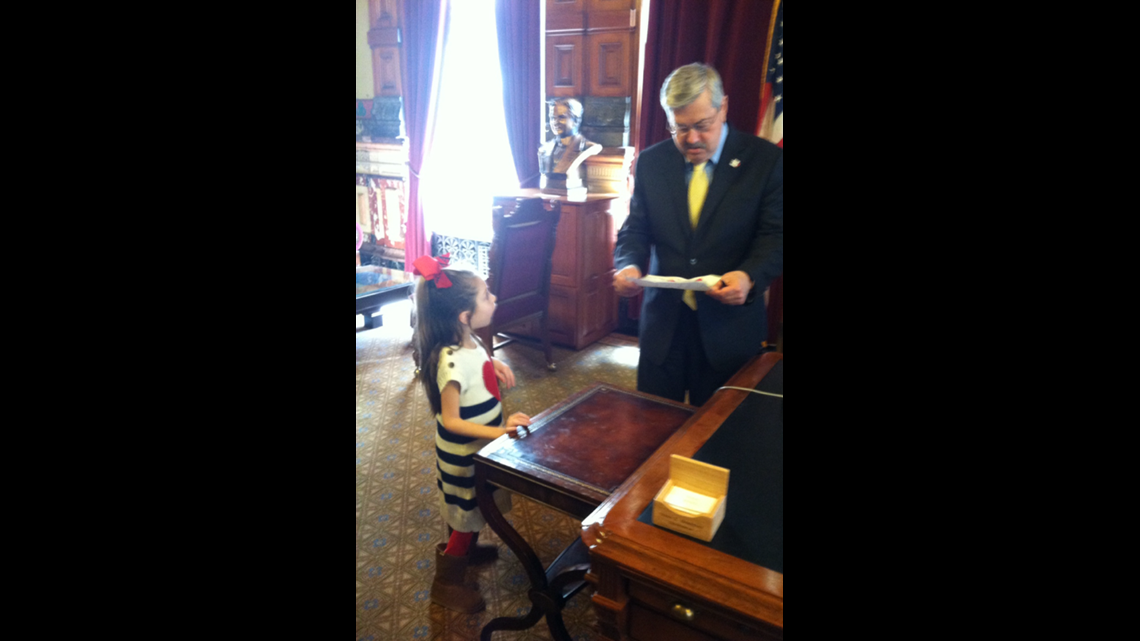 After students in her mom's class worked to raise money for her therapy dog, Madison Ramirez was on hand to meet Iowa Governor Terry Branstad as he signed proclamations at the capitol.
Four students in Megan Ramirez's fifth grade class launched a campaign to raise money to get a therapy dog for Megan's daughter, Madison, who has Type 3 Spinal Muscular Atrophy.   The girls walked dogs to raise money.
One local couple even donated $2,000 to the girls' dog-walking business.
Megan says they are in the process now of getting Madi's service dog, which will be trained to help her with everyday tasks that able-bodied people might take for granted, such as opening doors, turning on lights and retrieving items from cabinets and the refrigerator.   They are getting the dog through Quad Cities Canine Assistance Network.
Megan and Madison visited the state capitol Thursday, April 4, 2013 where they met Gov. Branstad and watched him sign several proclamations, including one declaring April as Disabilities Awareness Month.
Madi also gave a personal hand-written not to the governor, which said, "Thank you, governor.  I love you.  Love, Madi."