MOLINE - - Work is winding down on a new multi-modal station and hotel in downtown Moline which is supposed to coincide with the long-awaited return of passenger rail service between the Quad Cities and Chicago via Amtrak.
But while the building is almost done, no one seems to know when the trains might start rolling.
"It doesn't realistically seem like it would happen next year," Moline Mayor Stephanie Acri told WQAD News 8 earlier this summer. "I asked for when that timing exactly would be, what they've got for a projected date for when passengers would actually be riding on that rail, and I couldn't get that date."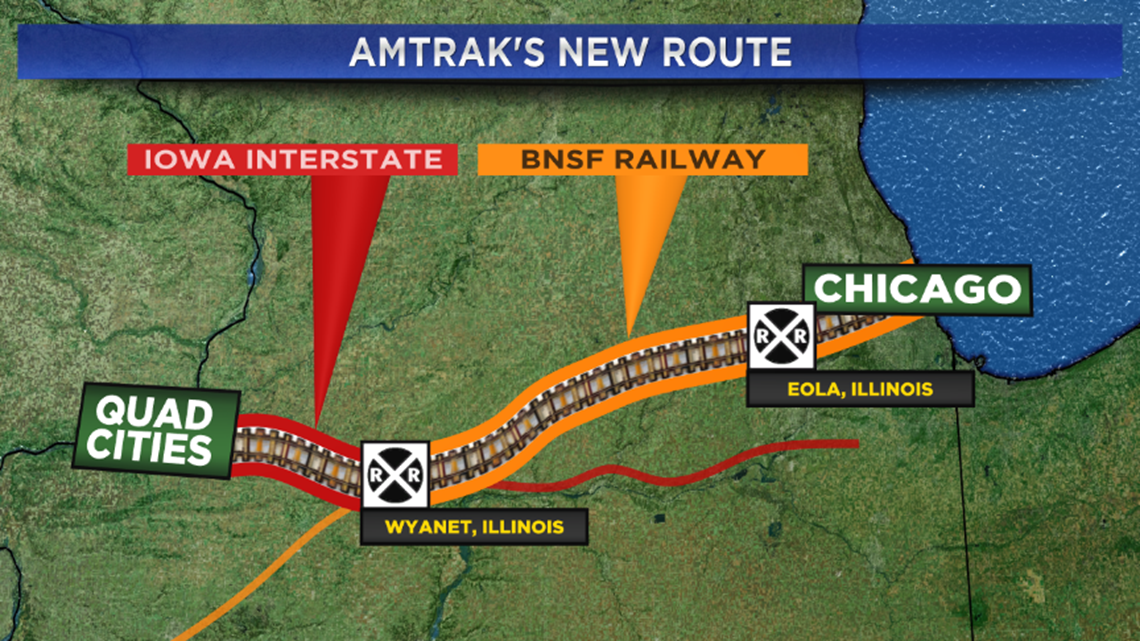 The proposed route is supposed to connect Chicago to the Quad Cities via two different rail lines. The route runs from Chicago to Bureau County on a rail line owned by BNSF railway. Work is being done at the Eola Railyard, in between Aurora and Naperville. In a tiny town called Wyanet in Bureau County, the rail line switches to a different owner - Iowa Interstate Railroad - that carries freight across the Midwest. And it's needed improvements in this area that are contributing to the delays.
The project has also been caught up in Illinois' ongoing budget battles.
"The reason why this project isn't done yet is because [Illinois Governor Bruce Rauner] put it on hold when he came into office,," said Midwest High Speed Rail Association spokesman Rich Harnish.
Rauner did put the project on hold shortly after his 2015 election, however he unfroze that spending last summer. Documents obtained through the Freedom of Information Act request show that more than $3 million was made available for high speed rail in the 2018 Illinois budget alone. However, Illinois DOT Spokesman Guy Tridgelltold WQAD News 8 the state has no timeline for the needed improvements on the Bureau County to Moline portion of the project.
Other documents obtained after a Freedom of Information Act request sent in by WQAD News 8 shows that the state contract with BNSF expires in September 2017 if work is not completed. The contract with the Iowa Interstate Railroad has been amended four times already, dating back to July of 2012. Tridgell says Iowa Interstate Railroad is working on the engineering stages of its project, and because that's not complete, there's no timeline on when the project will be done.
"The city, the city staff, the community members, we can't control what the state does or what the federal government does" Acri said in June.
Acri and other city leaders have to wait on the state's contracts with the rail lines, but Acri told us the multi-modal station is self-sustaining even run without the rail line.
"We'll be occupied appropriately and have retail space available and be operating independently of the rail system."