Each day, livestock are presented in the Claussen Building, Iowa Building and Fair Center by handlers of all ages. The Iowa Educational Building holds dozens of cattle, from Holstein to Brown Swiss.
Some handlers focused on showing a single animal. Oakly Mack, a young Scott County 4-H Winfield Whippenwills member, brought 3-month-old Zuri. He said the Holstein calf is one of the smallest cows in the barn.
Zuri was in the middle of a nap, chewing in her sleep. Mack said she was stressed out because his brother's cow had shoved her into a wall. Even so, she and Mack earned a second-place ribbon in their category for how Mack presented and posed the calf, and for the interview he gave in the competition.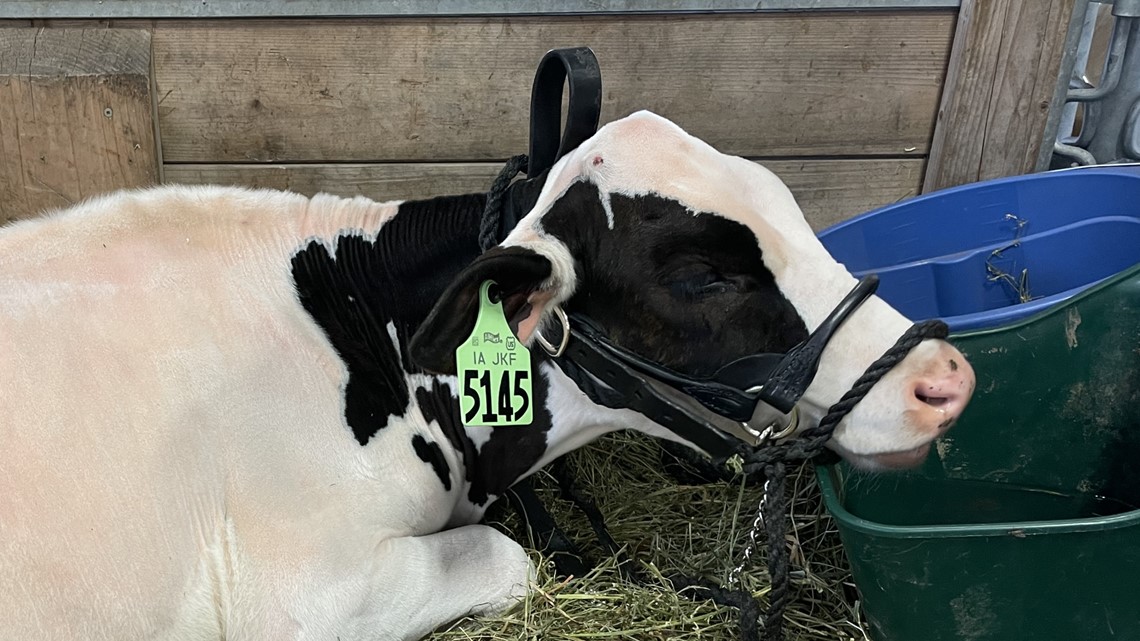 Mack said Zuri was his favorite thing about 4-H.
"I love her so much, she is the sweetest cow I've ever met," he said.
Across the barn, another young handler was a little less enthusiastic about calf raising. Madison, one of the grandkids from the Arp family's farm, showed her calf Morgan. The two-and-a-half-month-old Angus and dairy cross was lying down with the family's other brown calves Chuba, Hermione and Andrew.
Madison made a face when asked if she liked bottle-feeding the calf, but said she liked seeing what place she got in the competition.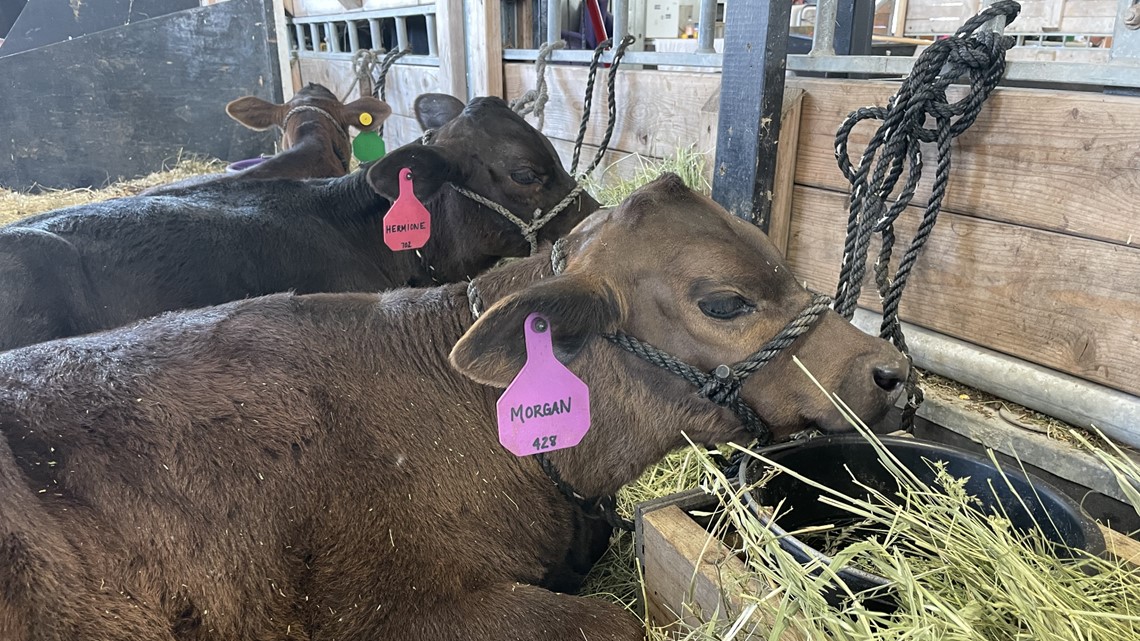 There were more than just calves in the Iowa Educational Building. Vanessa DeVore, her daughter Kayla Whipple and her baby grandson Garrett Whipple were showing their Brown Swiss cows. Kayla talked about Perfection and Promise first, twin sisters who had never been more than a few feet apart since they were born on March 10.
Vanessa and her family chose to raise Brown Swiss cows for their calm temperament so Kayla and her siblings could handle them easily when they were young. The DeVore family tried other breeds, but they were more high-strung and would spook easily.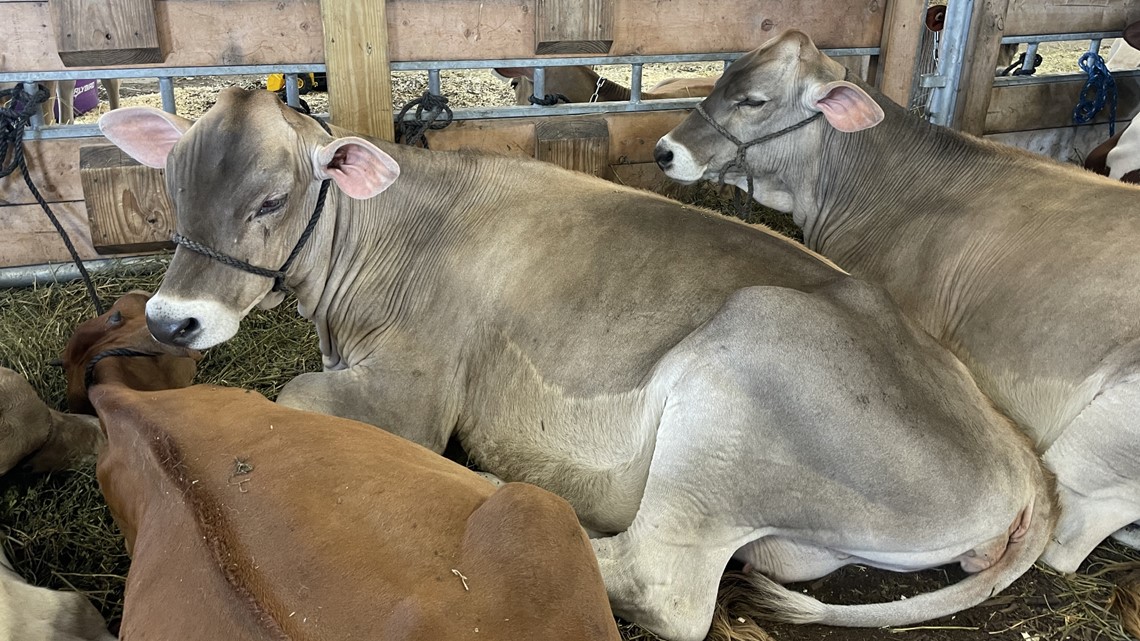 Now an adult, Kayla still enjoys working with Brown Swiss cows.
"They're like giant puppy dogs, they want to hang out," Kayla said.
DeVore Dairy also brought Jayla, a big 4-year-old female. At nearly four and a half feet tall at her shoulders, she towered over the neighboring cattle. She earned the title of Reserve Senior champion and Reserve Overall Swiss champion in the competition Monday.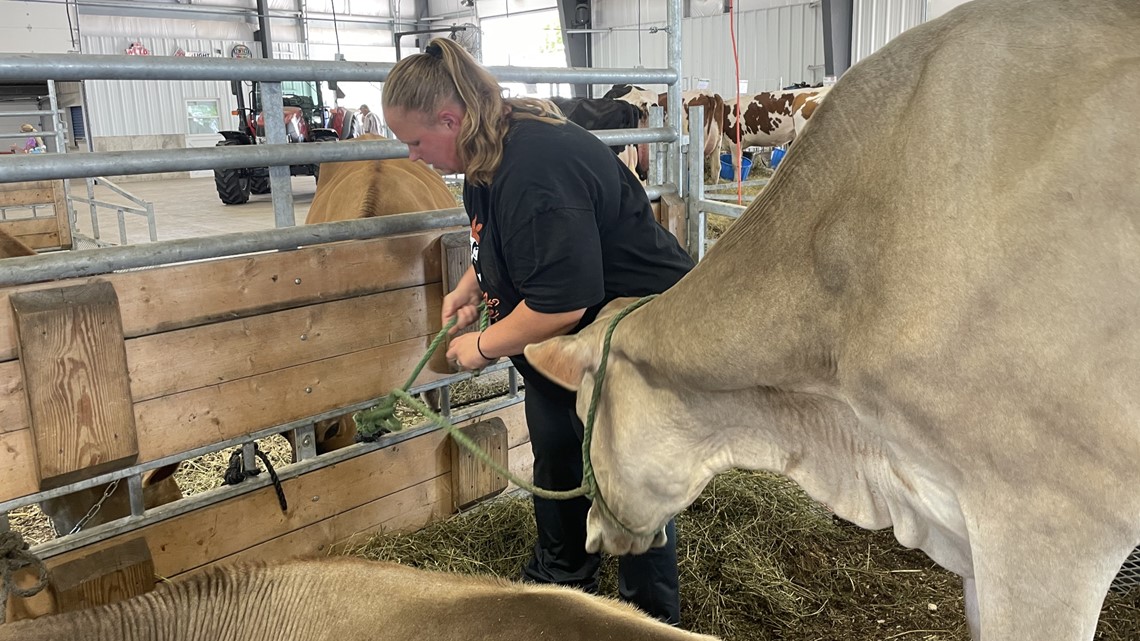 Over in the Belgian Barns, stables were filled with massive draft horses munching on hay. Jim Whisman of Whisman Family Belgians brought four horses to the fair — two aged mares, a stallion foal and a 3-year-old mare.
Whisman explained that Belgians are the biggest and strongest of the five draft horse breeds. They're typically sorrel, a reddish brown, or blond. The breed is favored by the Amish and is used to pull carriages and plows.
Three of Whisman's Belgians were entered in the breed category, while Candy was entered in the cart horse category. He pulled out Lily, showing off her even temper and pancake-sized hooves.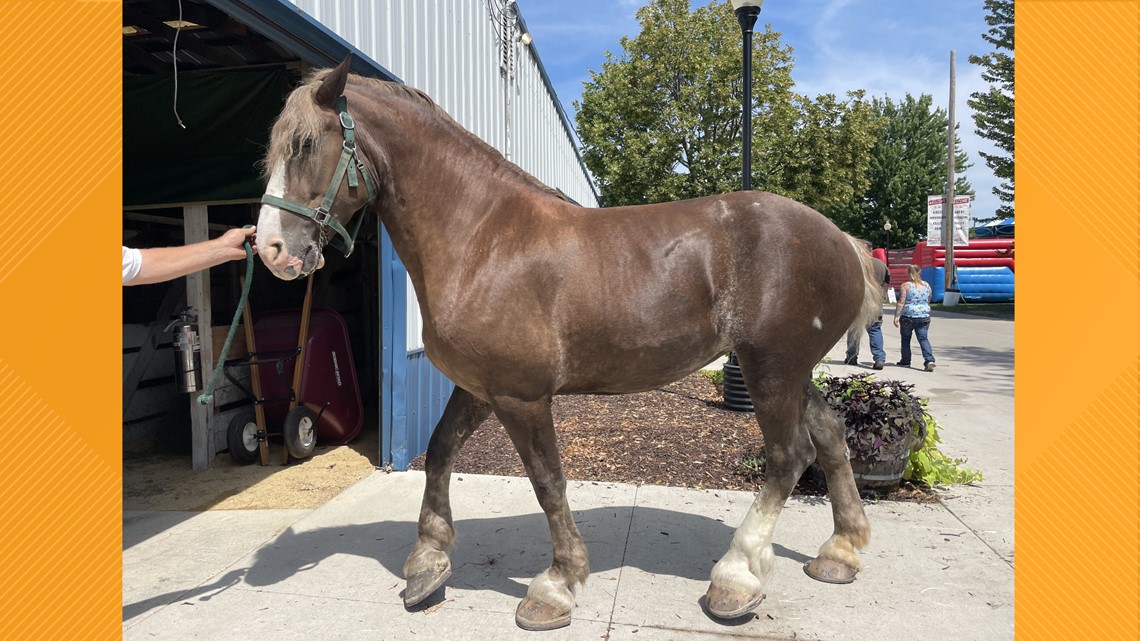 In another building behind the Iowa Educational Building, rows of sheep waited for showtime with fresh haircuts. Steve Peterson was representing the Peterson Sheep Farm from Kewanee as a fourth-generation sheep farmer. His father, Stan Peterson, had been raising sheep since 1957.
Peterson's family primarily raises and shows Oxford sheep, but they also have Southbound sheep at the farm. He's been showing at the Mississippi Valley Fair for 12 years now, and he said it's among his favorites.
His favorite ram is named Highway 309 (after the WCBU radio station), a natural-colored yearling.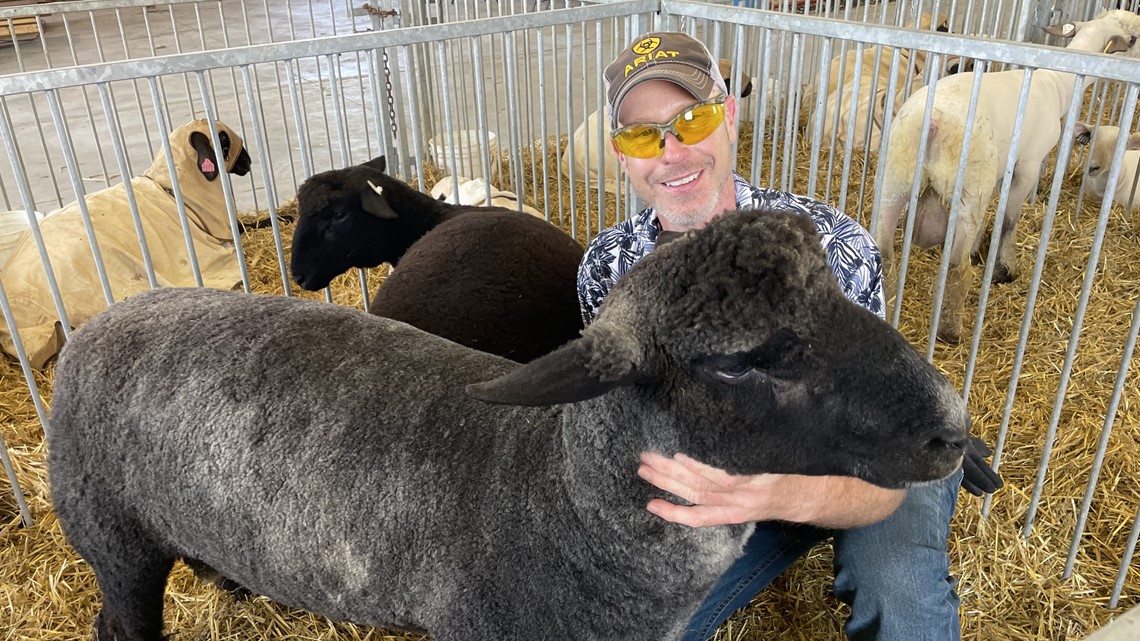 Peterson said he loves the slow-paced lifestyle of sheep farming.
"I like the rule aspect," he said. "It's peaceful, quiet, keeps me grounded."
After graduating from the University of Illinois, Peterson tried out city life in Denver. He found himself back in rural Illinois after four years, realizing he'd rather live in the country. He said sheep farming is part of his blood and is glad to have the opportunity to grow up the way he did.
Watch more news, weather and sports on News 8's YouTube channel