With the holiday season coming to a close, most families probably have an excessive amount of trash like wrapping paper and other Christmas related stuff. If you feel guilty about throwing it all away, here is a guide to what can and can't be recycled.
According to Scott County, holiday lights, as well as computers, monitors, televisions, printers, digital cameras, and video game systems, are considered electronic waste, or e-waste.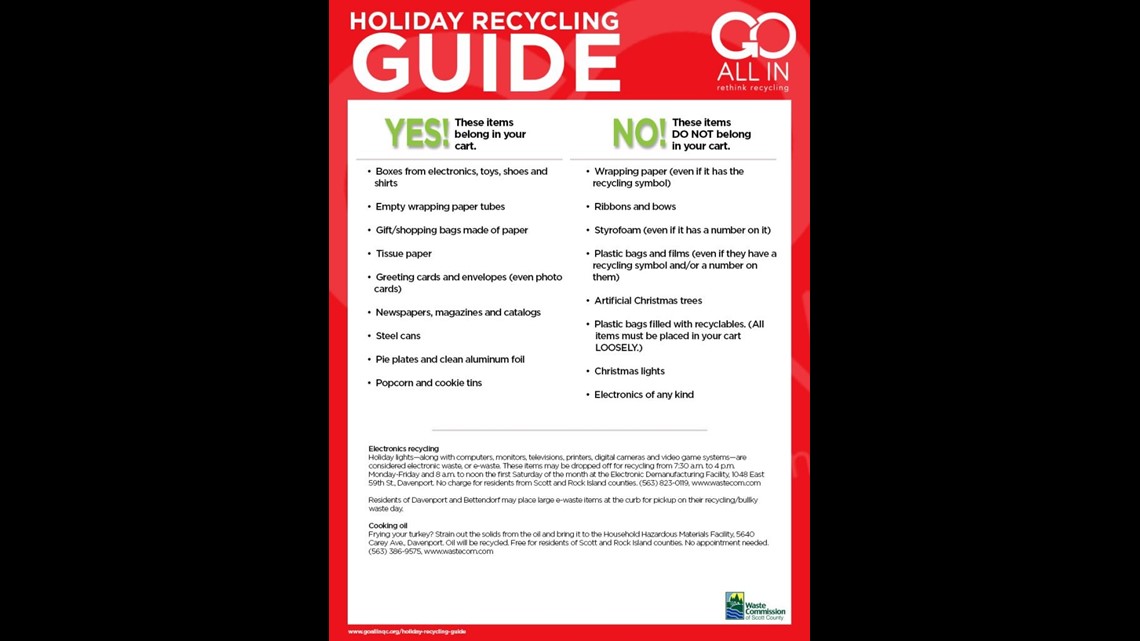 Wondering what's OK to recycle in your Go All In recycling cart this season? Check out the list!
YES, it goes in!

Boxes (such as those from electronics, toys, shoes and shirts)
Empty wrapping paper tubes
Gift/shopping bags made of paper
Tissue paper
Greeting cards & envelopes (even photo cards)
Newspapers, magazines & catalogs
Pie plates & aluminum foil
Popcorn and cookie tins

NO, it doesn't go in.

Wrapping paper
Ribbons & bows
Styrofoam (even if it has a number on it)
Plastic bags and films (even if they have a recycling symbol and/or a number on them)
Plastic bags filled with recyclables. (All items must be placed in your cart LOOSELY.)
Artificial Christmas trees
Christmas lights**
Electronics of any kind**