SPRINGFIELD, Ill. — Statewide Tier 3 mitigations - Day 1
The entire state of Illinois began operating under Tier 3 resurgence mitigations on Friday, November 20.
13,012 new cases of COVID-19
634,395 total COVID-19 cases
126 additional deaths
11,304 total deaths
6,111 hospitalized | 1,196 in the ICU | 604 on ventilators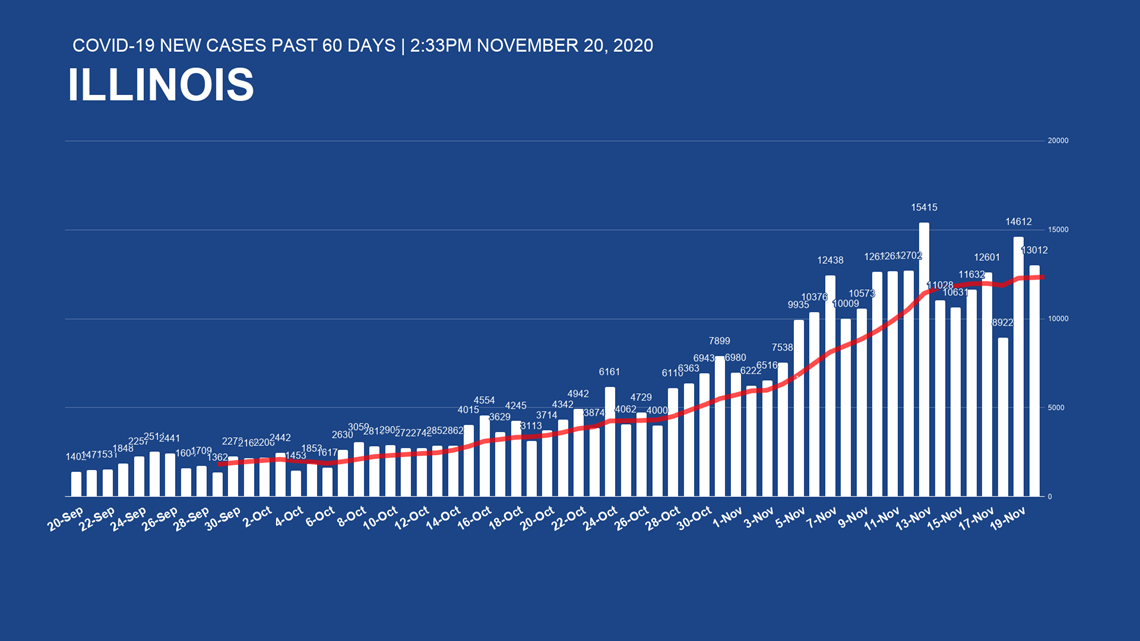 On the first formal day of temporary Tier 3 resurgence mitigations, the governor highlighted three "healthcare heroes" who have been working within the healthcare system during the pandemic.
One of those heroes is Debbie Freiburg, who Governor Pritzker said has been a volunteer contact tracer within the Rock Island County Health Department since March. Debbie is a retired nurse and has been working nearly full-time hours during this pandemic.
Governor Pritzker revisited the state's housing stability response. More than $300 million have gone towards rent and mortgages across the state.
As of Friday, the Emergency Rental Assistance Program has approved nearly $200 million in rental assistance to sustain 40,000 Illinois renters and landlords.
More than $40 million was approved from the state's mortgage assistance program to support about 10,000 homeowners by the end of 2020.
Currently, there is an eviction protection order in place through at least December 12.