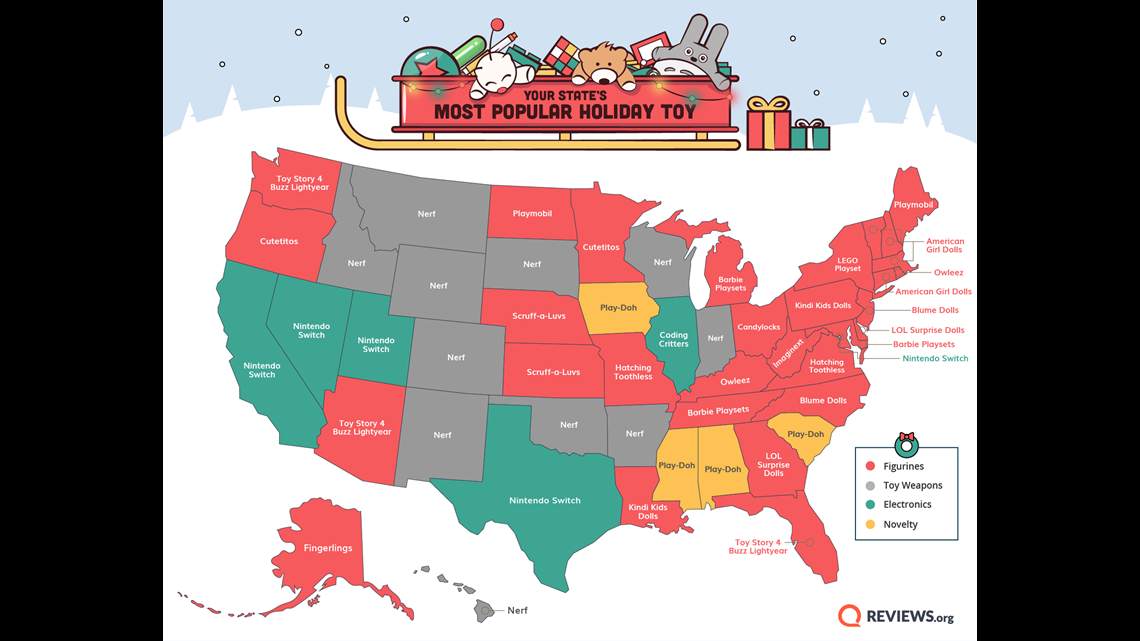 Are you struggling with last-minute gift ideas? Or just wondering if everyone loves the same toys and kid-friendly gifts as much as you? Well, you're in luck, thanks to a study by reviews.org we know what the most popular toys are in all 50 states!
The most popular toy in the United States
The most popular Christmas toy this season is the Nerf gun.
If you thought we'd left these bright plastic guns behind in the '90s (along with Starter Jackets, Goosebumps, and VHS tapes), you were wrong. Nerf was cool when your parents were kids and when you were a kid, and it's still cool today.-reviews.org
Nerf guns are the most popular Christmas toy in 11 states! That's more than one-fifth of the USA.
Arkansas
Colorado
Hawaii
Idaho
Indiana
Montana
New Mexico
Oklahoma
South Dakota
Wisconsin
Wyoming
Gaming has been popular since the '80s and has only become more popular into the 2010s, the second most popular toy-ish gift is the Nintendo Switch.
The Switch ranks as the most popular Christmas toy of 2019 in the following states.
California
Nevada
Texas
Utah
Washington, DC (we know it's not technically a state, but it's a state in our hearts)
So if you live out here in the Wild West, then your kid—or your spouse—is probably more interested in Super Smash Bros. Ultimate than Fingerlings (whatever those are, Alaska). And great news: since the Switch first came out, Nintendo's improved the battery life considerably. Sometimes it pays to not buy a game system right away!-reviews.org
#3: A $100 doll and a classic are a dead tie
American Girl Dolls are 18-inch tall collectible toys that teach kids about history. Play-Doh is one of THE most classic kid's toys. Needless to say, these toys don't have much in common. But they are both the favorite toy of four US states.
Connecticut
Massachusetts
New Hampshire
Vermont
Play-Doh takes the top spot in these states.
Alabama
Iowa
Mississippi
South Carolina
Through the magic of Google, we were able to extrapolate this data. More specifically, through Google Trends, we could see the most-searched toys on Google this holiday season. What we google speaks volumes about what we want to buy. Some might say Santa uses the same data to inform his gift-giving.