THOMSON, Ill. — Content warning: The following story refers to several instances of sexual assault and harassment.
Inside the walls of USP Thomson, calls for help are growing.
AFGE Local 4070, the federal prison's staff union, is alleging Thomson employees face a systemic pattern of sexual attacks from inmates. And over the past few months, Thomson's new warden is being accused of making the situation even more dangerous.
Workers consistently face sexual harassment and assault, most commonly in the form of inmates attempting to ejaculate on staffers, according to the union. Inmates have also been accused of exposing themselves and masturbating in front of prison employees.
During one alleged attack, the union says an officer was collecting food trays from an inmate's cell, when one prisoner stuck his penis through the food slot and attempted to ejaculate on her.
In a letter to the Bureau of Prisons, Local 4070 president, Jon Zumkehr, claimed there have already been 291 reported incidents of sexual attacks on staff so far this year. That number, he says, is expected to go up.
"We don't tolerate this kind of behavior in corporate America. We can't allow it to continue to happen to correction officers," Zumkehr said. "No women, no male, no person should have to go to work and be sexually attacked. No one should be put in that situation and items not be addressed."
He went on to say in the past week, three staff members have had to leave the prison to seek private medical and/or mental health treatment following sexual attacks.
The union is also accusing Thomson's new warden of making the situation worse.
Back in 2020, the union wrote there were 971 reported incidents of sexual attacks against staff. By 2021, that number fell to 535 harassment reports. While this year's numbers are even lower than that, Local 4070 says sexual attacks are trending back up again.
Zumkehr maintains the drop in attacks came after the union began implementing protective measures throughout the prison around April 2021. However, the union claims those tools were slowly phased out after Warden Thomas Bergami took over at Thomson in March 2022.
Local 4070 provided News 8 with month-by-month attack numbers from the last two years. This data has not been verified or disputed by prison officials.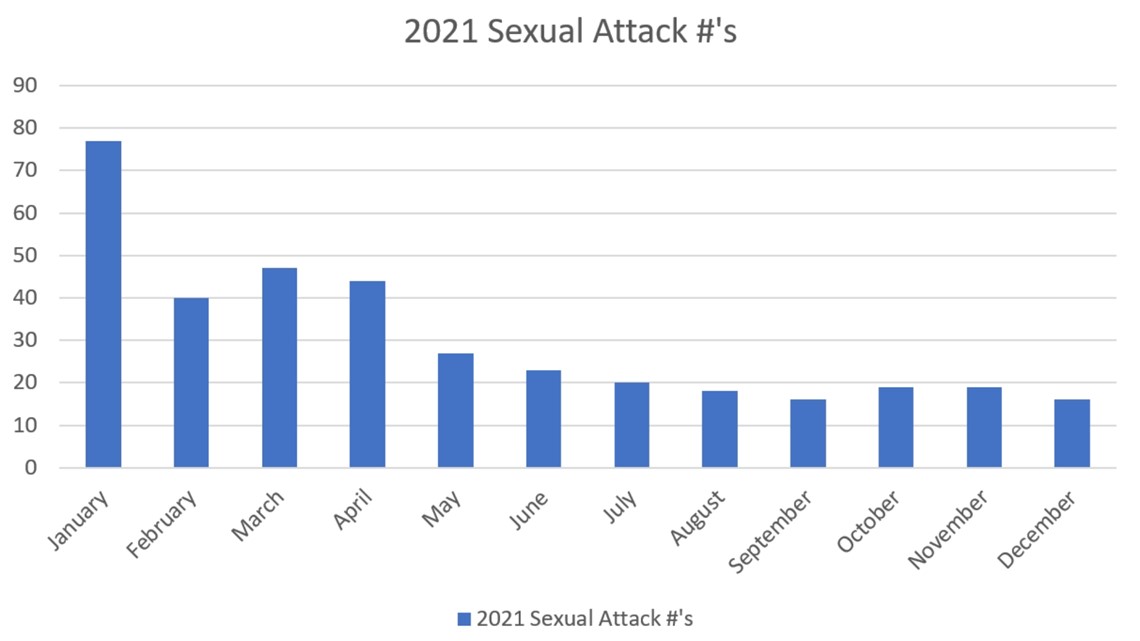 According to the union, there were 77 reported incidents in January 2021. Then there's a drop-off in attacks after the spring of that year, when the union says protective tools and punishments were implemented throughout the prison.
Now fast forward to 2022. There's a slight blip up in reports that January, followed by a few months of relatively low attack numbers. But by the summertime, harassment rates were starting to creep back up again.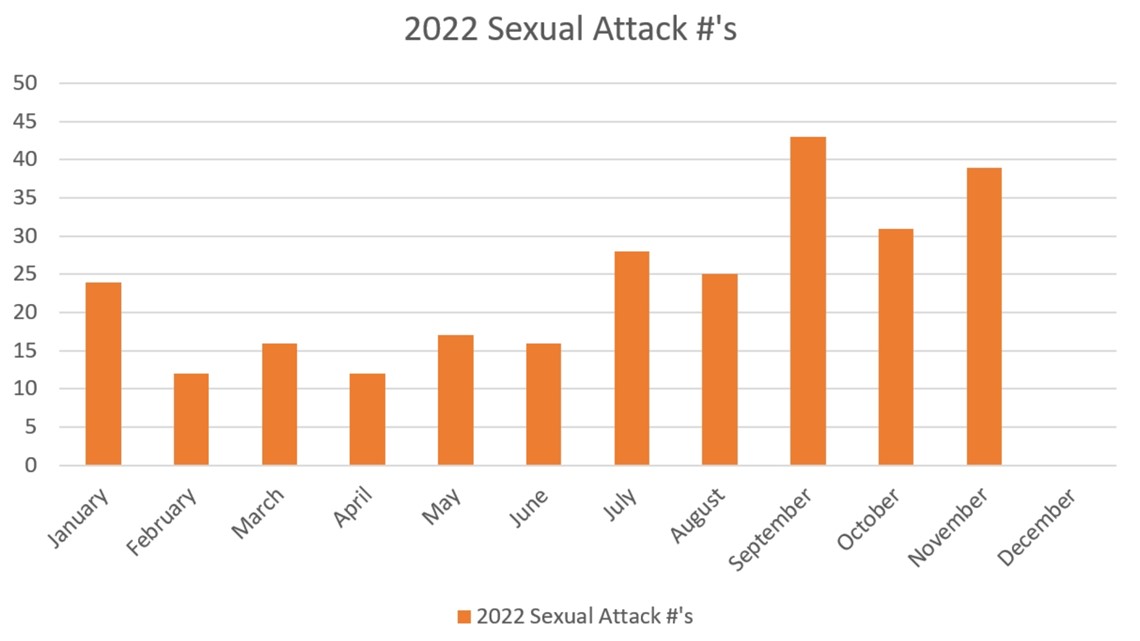 The union says that uptick can be attributed to the lessening of punishments and removal of protective measures, under the order of Warden Bergami.
Emails between a female staff member at Thomson and prison officials appear to show her expressing concern over a certain duty. She wrote she didn't feel safe doing that certain task, after being repeatedly attacked by those same inmates. The union claims her request was denied and she was forced to complete the duty anyway. Local 4070 also alleges this led to her being sexually attacked, again.
Union leaders also maintain they've reached out to Bergami several times, asking for answers on where the protective tools went, but have yet to receive an answer.
News 8 reached out to Bergami for comment, but we have yet to hear back.
"We have an opportunity to fix the failed leadership and the low staff morale at USP Thomson," Zumkehr said at the time. "That effort must start with new leadership at USP Thomson."
In the first four months under Bargami, Zumkehr said the prison had lost over 60 staff members due to a lack of morale.
The union maintains the bulk of these sexual attacks are being committed by a small population of inmates. According to the Bureau of Prisons, there are 891 total inmates at Thomson, including 761 at the penitentiary and another 130 at Thomson's camp. In a letter to the BOP director, Zumkehr wrote it's currently 16 inmates that are responsible for the recent attacks on staff.
While many of the attacks appear to be on female staffers at the prison, it's not only limited to one gender. However, the union reported to News 8 that roughly 40% of Thomson's staff are women.
"Warden Bergami has failed to take action," Zumkehr wrote. "Warden Bergami has also failed to show compassion for the staff that has been assaulted, nor has he offered any mental health service to include the Employee Assistance Program (EAP) that specializes in mental health for staff."
Now, the prison union is asking for stricter measures within Thomson's walls. This could include federal legislation that would protect staff members from sexual harassment.
"Sexually predatory behavior and sexual abuse is never tolerated in the community and we expect the same level of civility in our prisons and workplaces," wrote Shane Fausey, AFGE's national president. "This will require identification of all sexual predators, immediate engineering controls to protect our employees from abusive behavior, and a focused and concerted effort on prosecution of repeat offenders by the Attorney General and DOJ to deter future illicit behaviors. The BOP should use its statutory authority to civilly commit and keep sexually deviant inmates in prison to prevent further victimization in our communities."
And federal legislators are getting involved as well. Illinois Sen. Dick Durbin, a Democrat, and Iowa Sen. Joni Ernst, a Republican, have both been in contact with Thomson's union as well as BOP officials over this matter.
In a statement to News 8, Durbin wrote, "These allegations are serious and alarming, and the moment my office was made aware of them, we called on the Federal Bureau of Prisons to respond to these claims and to take immediate action to ensure the safety of its staff is protected. I take these allegations very seriously, and will continue to push BOP to get to the bottom of this and take any appropriate action."
Meanwhile, a spokesperson from Ernst's team told News 8, "Senator Ernst and her staff have been in touch with BOP officials and will continue working with them to help support a safe work environment at Thomson prison."
It's not the first time a federal prison has faced such allegations. Similar sexual attacks against staff members were filed within the last few years at Coleman Federal Correctional Complex in Florida.
But so far, USP Thomson officials are staying silent, keeping both inmates and information hidden behind its walls.