DAVENPORT, Iowa — As of June, 3 all curfews are until further notice.
Scott County is under a curfew after rioting Sunday night into early Monday morning led to two deaths and several injuries, including a Davenport police officer.
The Mayor of Blue Grass, Iowa also issued a curfew until further notice.
Clinton, Iowa Mayor Scott Maddasion also declared an Emergency Proclamation to implement a curfew.
Rapids City Illinois has implemented the curfew.
All residents are asked to stay home from 9 p.m. to 5 a.m. until further notice. Those traveling to and from work, members of the press and government officials are exempt from the curfew.
Davenport police said those who break curfew may receive a citation.
Businesses are not required to close, but Davenport Police encourages closing to help enforce the curfew.
Police said the officer who was injured in a shooting overnight is doing well and recovering. Davenport Mayor Mike Matson said around 100 vehicles were at NorthPark Mall protesting, leading to vandalism at several businesses.
There were four shooting victims; two people died and two people, including an officer, were injured.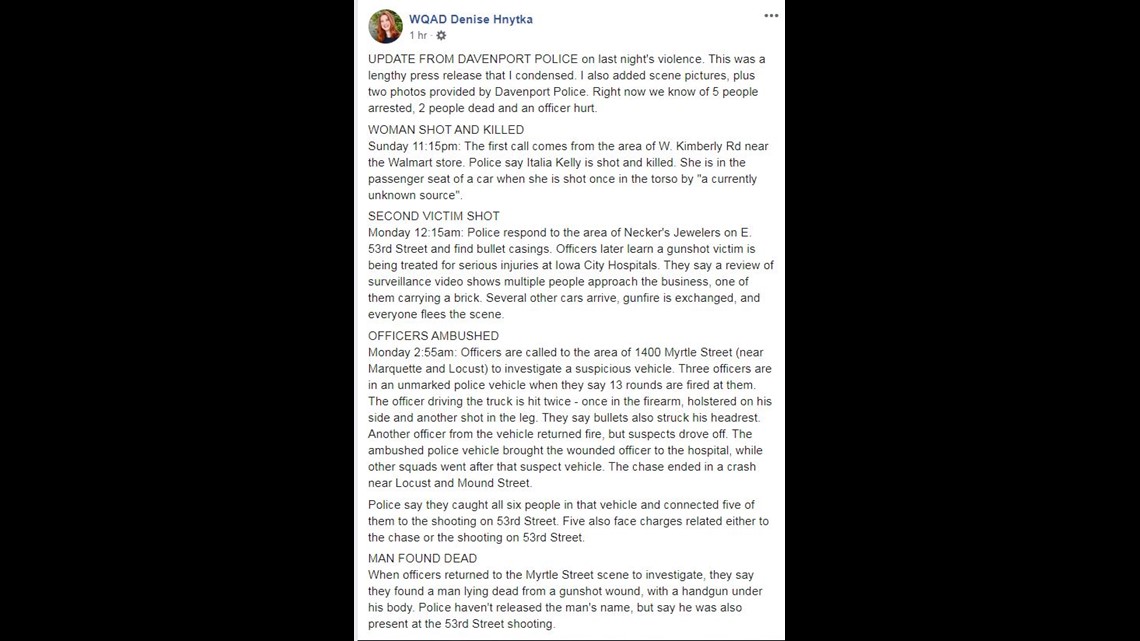 There were also three suspicious fires overnight, Matson said. Police also received more than 45 serious disturbance calls and more than 20 shots fired calls.