MOLINE, Ill — Over the last week, the benchmark S&P 500 stock index dropped 0.7%, NASDAQ fell 1.6% and DJIA fell by 2 points.
Mark Grywacheski with the Quad Cities Investment Group joined WQAD's David Bohlman to discuss economic factors that are affecting the costs of Thanksgiving meals and the holiday shopping season.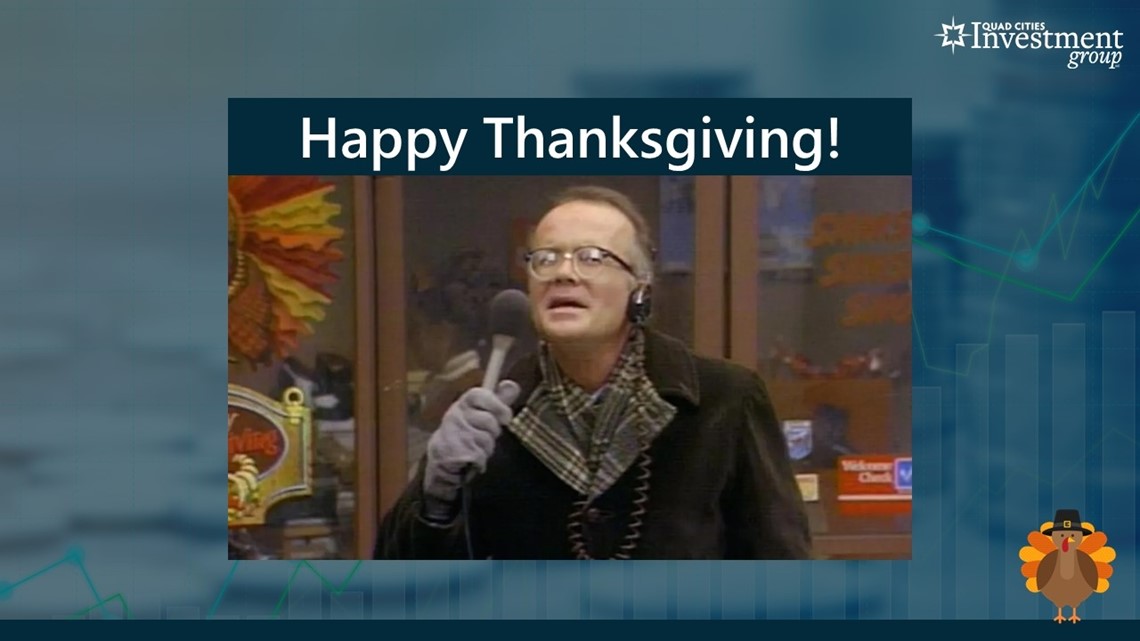 Bohlman: Good morning Mark and Happy early Thanksgiving!
Grywacheski: Oh and a very happy Thanksgiving to you not just to our viewers but also obviously to you and Andrew and and everybody in the control booth now being that it is Thanksgiving week, David you know, once again, I think it's only right to give a shout out to the news beacon of the Ohio Valley WKRP and Cincinnati's very own Les Nessman multiple winner of the copper cob award and the highly prestigious Buckeye news Hawk award. Now obviously WKRP in Cincinnati was a TV series that ran in the late 70s, early 80s. And believe it or not, it was 44 years ago this Thanksgiving, they're now famous "Turkeys Away" episode first aired. And in my opinion, David, Best TV episode, ever. If you haven't seen it, watch it. If you have, there's no better time of year to watch it again. It truly is one of the great all time TV episodes.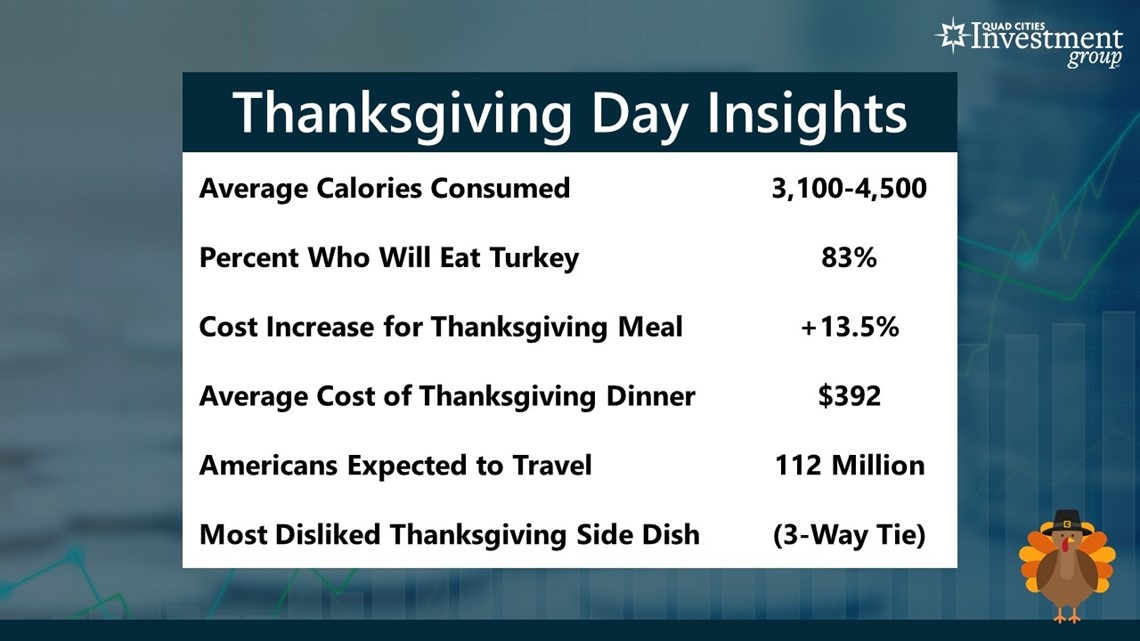 Bohlman: What are some of the more interesting statistics you've uncovered for this year's Thanksgiving holiday?
Grywacheski: Well, there really are a lot of you know, kind of interesting little facts and figures that most people didn't know about, about the Thanksgiving holiday, you know not to start things off and kind of a bad note, but we'll get the worst one out of the way. First, David, on average, each person will consume a gut busting 3500 to 4500 calories on Thanksgiving Day, not the week, on Thanksgiving Day, well above the 2000 to 2500 daily recommendation, 83% of all Americans are expected to eat turkey on Thanksgiving. Coming in at number two most popular, mashed potatoes and or dressing. Because of inflation, the average Thanksgiving meal will cost about 13 and a half percent more than last year. Each household will spend you know about $392 On Thanksgiving dinner, which includes you know, food and drinks and decorations. This Thanksgiving holiday, 112 million Americans are expected to travel. David, that represents about 43% of all Americans hitting the open road via you know planes, trains or automobiles. And finally, the most disliked Thanksgiving dinner side dish David it's actually kind of a three way tie. Depending on you know which survey you look at, but it's a tight race between, you know, candied yams, green bean casserole and cranberry sauce. I personally, personally not a fan of either the candied yam or the green bean. But how can you not like cranberry sauce?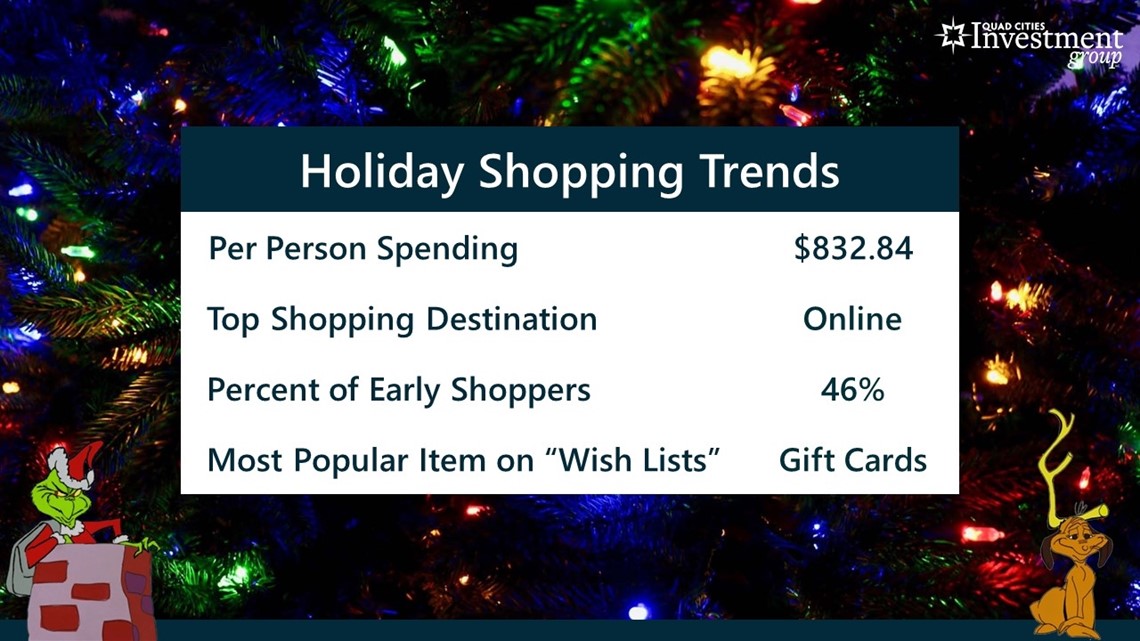 Bohlman: The Retail Holiday Shopping Season officially kicked off on November 1. What are some of the trends we're starting to see among holiday shoppers?
Grywacheski: The number one theme this holiday season David is definitely inflation and how are shoppers you know trying to you know, kind of navigate these high prices. On average, each person will spend you know just under $833 on on gifts and holiday related items this season. That's kind of in line with the 10 year average. Once again, the top shopping destination is expected to be online. 56 percent of shoppers said they will conduct at least part of their holiday shopping online this year. 46% of all shoppers are expected to kind of your point to start their their shopping season early this year. And the number one reason given for that early shopping David is to help people spread out the financial impact of inflation and these high prices on their budgets. And finally, for the 16th year in a row, and I'm a big fan of these the most popular item on everyone's Christmas wish list is gift cards.
Watch more news, weather and sports on News 8's YouTube channel