MOLINE, Ill. — Financial Advisor Mark Grywacheski with the Quad Cities Investment Group joined News 8's Angie Sharp Monday, May 23 on Good Morning Quad Cities to discuss another week of stock market declines and what investors can do to try to combat high inflation.
Find the full conversation below.
Sharp: Last week, we spoke about this ongoing sell-off in the U.S. stock market. But once again, we see yet another down week for the market. What's the latest news behind this week's decline in stock prices?
Grywacheski: This week was about the retail industry. A lot of big retailers reported their latest quarterly earnings: Walmart, Target and Kohl's. The results weren't good. Target's latest earnings were 52% lower than they were last year!
Many retailers, including Amazon, are starting to feel the strain of high inflation and rising interest rates. Consumers are becoming very sensitive to rising prices while operating costs — labor, transportation, warehousing — are soaring. Moreover, many retailers are starting to slash their earnings outlook for the rest of the year.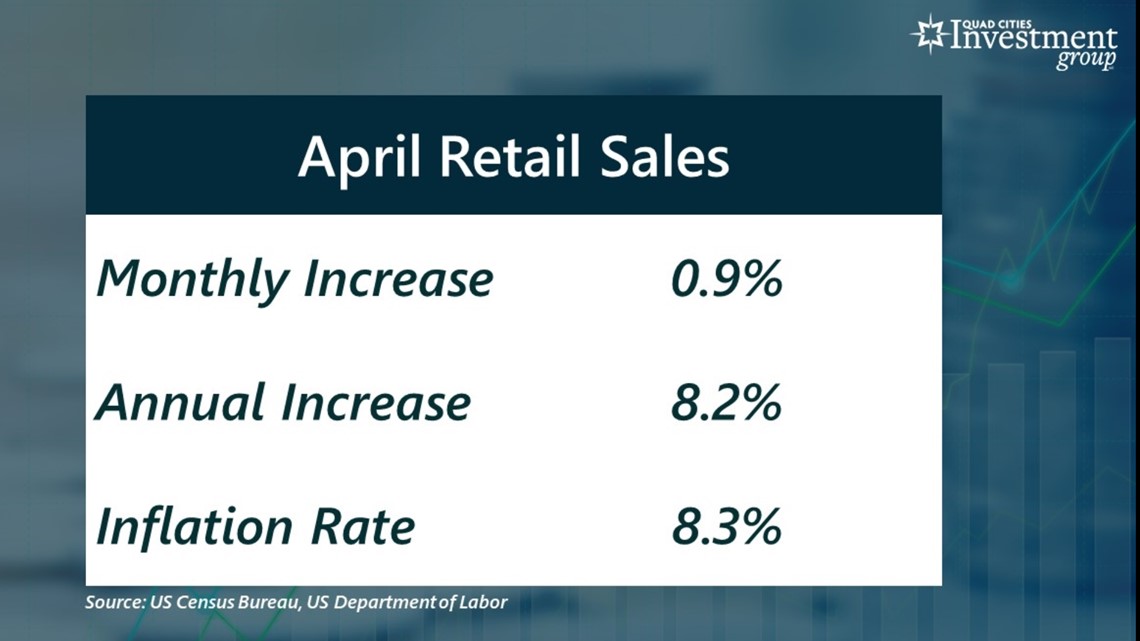 On Tuesday, the U.S. Census Bureau reported that retail sales increased by 0.9% in April and are up 8.2% from last year. That seems to indicate that retail sales are actually pretty strong. So, why are we hearing this concern from retailers?
At face value, these latest retail sales numbers look quite strong. Retail sales increased by 0.9% in April and are up 8.2% over the past 12 months. But retail sales aren't adjusted for inflation.
With inflation at 8.3%, this means that, on average, consumer prices are now 8.3% higher than they were 12 months ago. So, April's annual sales increase is simply due to higher consumer prices. Adjusting for inflation, consumers are not buying more goods and services than they did 12 months ago, they're actually buying less!
This next graph shows just how much pain many investors have endured since the start of the year. We hear a lot of discussion about investing in I bonds to help offset the declines in the stock market. Is that something that investors should consider?
An I bond is issued by the U.S. Treasury, so your principal and interest are guaranteed by the U.S. government. I bonds are unique in that they have a component that adjusts with inflation. So, as inflation goes higher - which it has - you'll receive a higher interest payment.
Now, there are a number of caveats. The most you can invest is $10,000 per year. You're unable to redeem them for one year. If you redeem them within five years, you have to pay a penalty which can significantly impact your return. But also, inflation is expected to start gradually declining within the next few months. Inflation is expected to remain historically high, but the interest you receive will start to decline.
Have a question you want Mark to answer? Email your question to news@wqad.com and add "Your Money" in the subject line.
DISCLAIMER: Quad Cities Investment Group is a registered investment adviser. This material is solely for informational purposes. Advisory services are only offered to clients or prospective clients where Quad Cities Investment Group and its representatives are properly licensed or exempt from licensure. Past performance is no guarantee of future returns. Investing involves risk and possible loss of principal capital. No advice may be rendered by Quad Cities Investment Group unless a client service agreement is in place.