MOLINE, Ill. — Over the last week, the benchmark S&P 500 stock index dropped 0.7%, NASDAQ rose by 0.6% and DJIA fell 2.7%.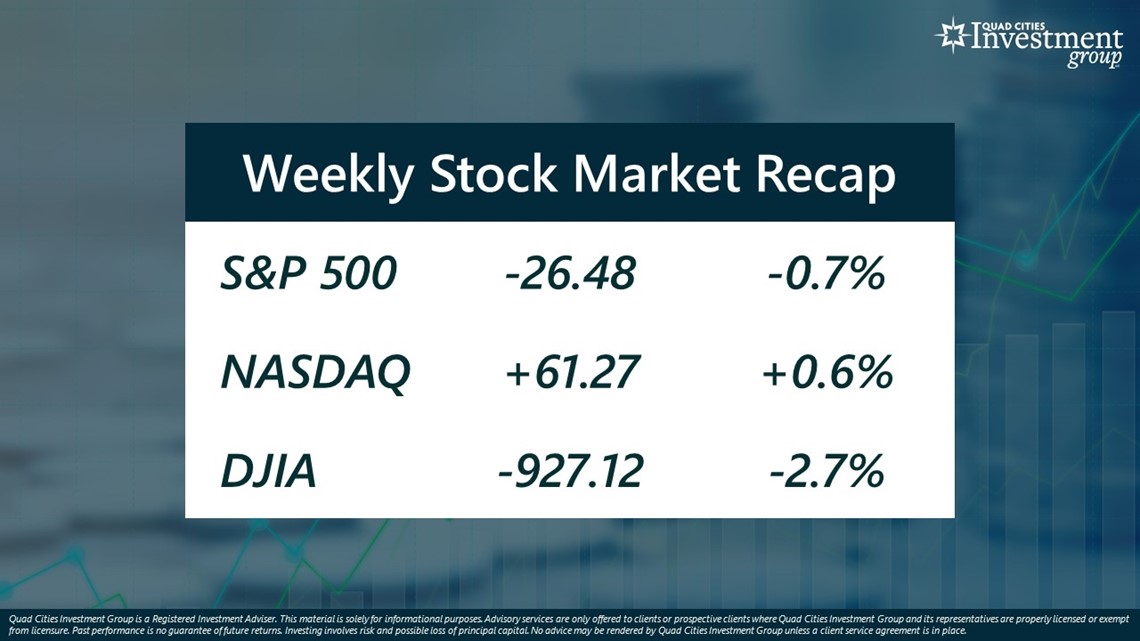 Mark Grywacheski with the Quad Cities Investment Group joined WQAD's David Bohlman to discuss why retail sales fell in December by 1.1%, despite the holiday shopping season.
The November-December retail holiday shopping season is one of the most significant events for the retail industry. Each year, consumers spend nearly a trillion dollars on gifts and holiday-related items. Despite concerns of inflation, initial reports suggested the 2022 holiday season would be a resounding success. But on Wednesday, the US Census Bureau reported that retail sales in December fell by 1.1%, the largest monthly decline in 2022.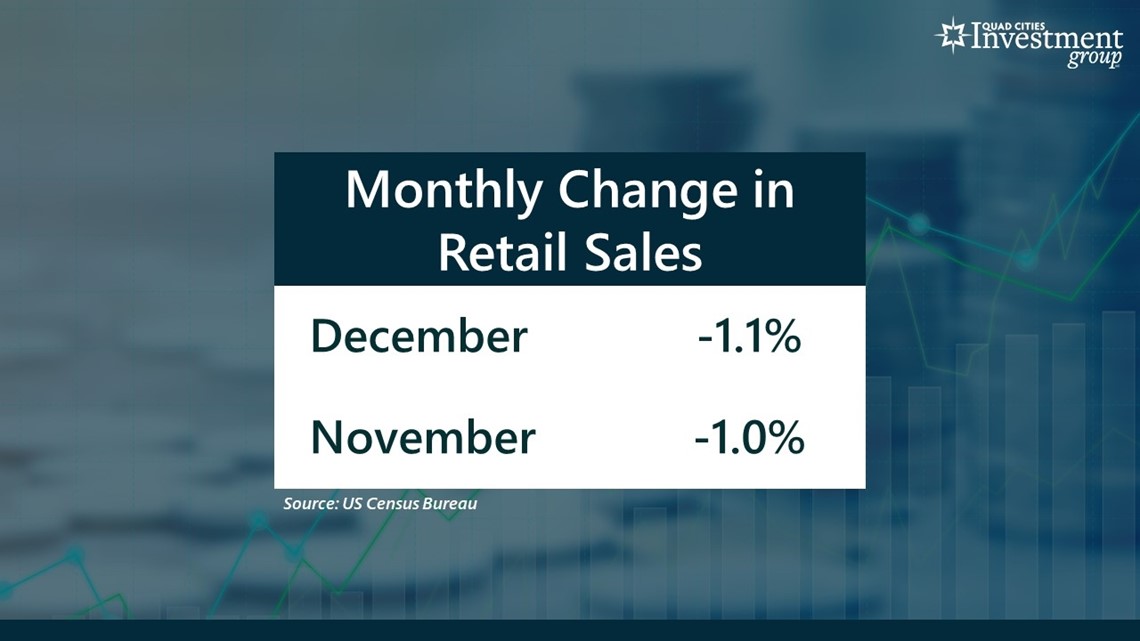 Bohlman: Walk us through some of the numbers that were in this latest retail sales report.
Grywacheski: This latest report certainly caught Wall Street's attention. In December, retail sales fell by 1.1%, the largest monthly decline of 2022. But also, November's retail sales were revised lower to reflect a monthly decline of 1%. When you expand that timeline a bit farther out, retail sales declined in three of the last four months of the year. Obviously, November and December is when retailers want to see that surge in retail sales during the holiday shopping season.
Bohlman: A lot of the initial reports showed record sales totals for the Black Friday and Cyber Monday shopping days. How can we have all these record-setting shopping days and end up with such bad numbers in these retail sales reports?
Grywacheski: Wall Street has always suggested caution in trying to predict the eventual outcome of the November-December retail holiday shopping season. They contend – it's a marathon, not a sprint.
We saw something very similar in 2018. You also had a very successful 5-day Thanksgiving shopping weekend (which starts on Thanksgiving, includes Black Friday and Small Business Saturday, and runs through Cyber Monday) but then sales quickly fall off a cliff for the rest of the year. This conveys that consumers were willing to spend their money, but only on those heavily discounted goods that are typically promoted during Black Friday and Cyber Monday. But without those heavy discounts/promotions, consumers were apprehensive to spend their money.
Bohlman: To what extent do you think inflation played a role in these disappointing sales numbers?
Grywacheski: I think it's one of a number of factors, either individually or collectively, that are starting to weigh on consumer sentiment:
High inflation
Rising interest rates
An uncertainty on the future outlook on the economy
Do we go into recession?
If so, to what extent? Will it be short/mild or longer and more severe?
The stock market continues to struggle.
Confident and optimistic consumers tend to spend their money more freely. And as the latest data suggests, consumers were hesitant to spend their money this holiday season unless it was on those heavily discounted items.
Watch more news, weather and sports on News 8's YouTube channel