News 8's Shelby Kluver and Hy-Vee Registered Dietician Nina Struss show you a flavor-packed vegan garbanzo shawarma salad! With just a few minutes in the kitchen, you can have a full week's worth of meals ready to go.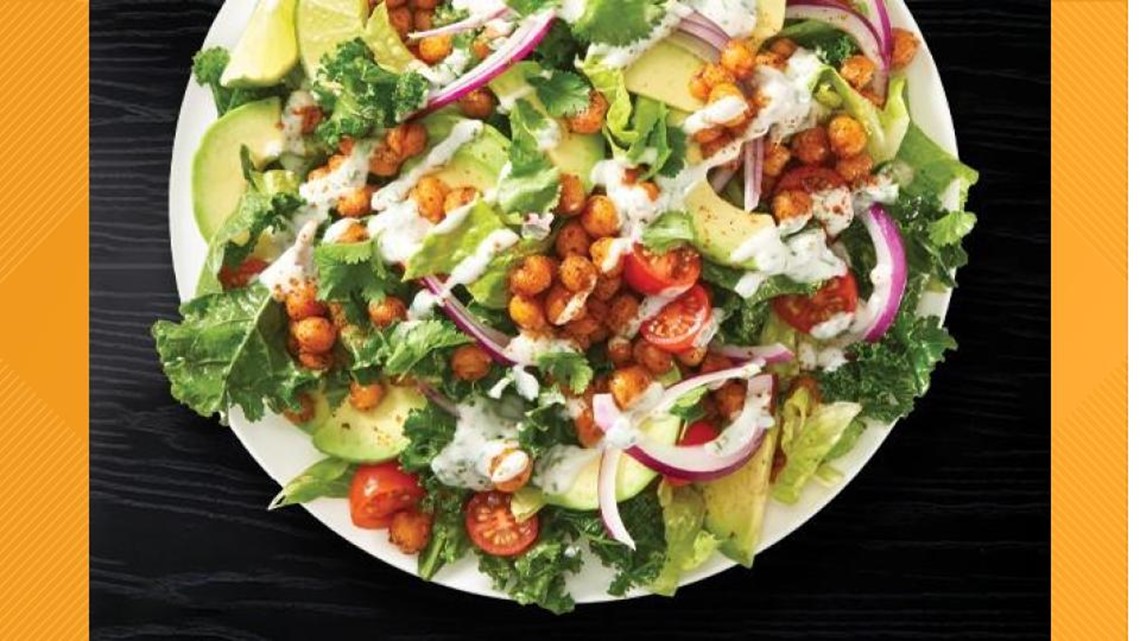 All you need:
2 (15-oz) cans Hy-Vee no salt added garbanzo beans, drained and rinsed
2 tbsp.Gustare Vita olive oil, divided
1 tbsp. harissa seasoning
6 cups kale, chopped
2 tsp. fresh lime juice
½ tsp. Hy-Vee salt, divided
4 cups romaine lettuce, chopped
1 cup cherry tomatoes, halved
1 cup red onions, sliced
2 avocados, seeded, peeled, and sliced
½ cup Fairlife plain Greek yogurt
2 tbsp. fresh lime juice
1 tbsp. cilantro, finely chopped
½ tsp. Hy-Vee salt
Lime wedges, for garnish, if desired
All you do:
Preheat oven to 425 degrees. Line a rimmed baking pan with foil; spray with nonstick cooking spray. Spread garbanzo beans on prepared baking pan; pat dry with paper towels. Drizzle with 1 tablespoon olive oil; sprinkle with harissa seasoning. Roast 10 to 12 minutes or until golden, stirring halfway through; cool.
For Salads: Place 6 cups chopped kale in a medium bowl. Add 1 tablespoon olive oil, fresh lime juice, and salt. Gently massage with fingers until kale is dark green and tender. Add chopped romaine lettuce and half of the roasted garbanzo beans; toss to combine.
Divide mixture among 4 serving plates. Top each with 1/4 cup halved cherry tomatoes, 1/4 cup sliced red onion, 1/2 avocado, and remaining roasted garbanzo beans.
For Dressing: Stir together yogurt, fresh lime juice, finely chopped cilantro, and salt in a small bowl. Drizzle salads with yogurt mixture. Garnish with lime wedges, if desired.
Check out more Meal Prep Monday recipes and hacks on News 8's YouTube channel